How to Use Ecommerce Marketing to Create a Profitable Business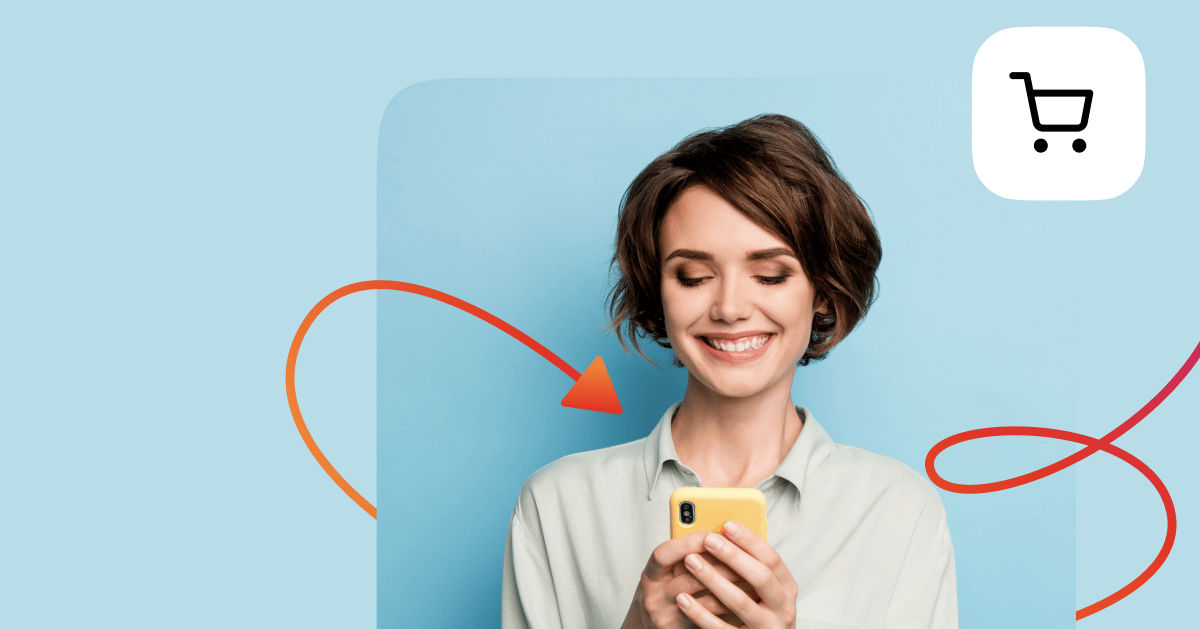 This year, Statista predicts that more than 2 billion people worldwide will make an online purchase. Additionally, Pipe Candy has reported there are currently 1.3 million eCommerce businesses in the US and Canada in total (and this number is growing). The trends are clear: Online shopping is on the rise, and more companies are moving toward eCommerce to meet consumer demand. 
But with more than 1 million eCommerce companies up and running, how can you make yours stand out? Never fear: We've rounded up the best eCommerce marketing tactics that will ensure your business beats out the competition in style, starting with a marketing plan. 
Create an eCommerce marketing plan 
You'll have to create a solid marketing plan if you want your eCommerce marketing efforts to succeed. 
An eCommerce marketing plan can be fluid depending on your business and your goals, but generally speaking, its essential elements should include: 
The channels on which you'll focus your marketing efforts, such as social media, paid advertising, email campaigns, etc. 

Content marketing ideas such as blog posts, videos, and user-generated assets

A plan to reward your loyal customers and brand ambassadors to encourage them to continue shopping with your brand

An approach to SEO, like leveraging keyword research data to learn what people search for and creating content around those searches

A way to capture customer reviews and testimonials

A method for offering excellent customer support, such as through live chat
Let's take a closer look at how your eCommerce marketing strategy can help expand your online reach. 
Broaden your online reach 
Virtually all eCommerce marketing plans should include ways to grow brand awareness and reach a larger audience. Specific tactics you use to accomplish this will depend on your eCommerce company. 
Consider the following methods to increase your online presence: 
Advertise on social media:

Platforms such as Facebook and Instagram have access to detailed user data that help advertisers achieve impressive results  

Launch paid ads:

Ad campaigns could include Google Shopping ads and pay-per-click, as well as paid promotion on TikTok, Twitter, Snapchat, Pinterest, and Amazon 

Work with bloggers and influencers:

Such individuals can help eCommerce businesses promote their products for a fee
You can also increase your reach by trying new tactics on platforms where your target audience currently spends their time. 
Meet your audience where they are 
Find out where your target audience spends time online. Are they on message boards? Do they subscribe to email newsletters? Do they engage in Facebook groups? 
A survey from Global Web Index showed that people spend anywhere from 45 minutes to 3.5 hours a day on social media. If your customers are spending time on social media, your brand should have a presence there, too. 
You should test various approaches to reach your target audience. The good news is that your business has total creative control over the available marketing channels. Consider the following options:
Social media marketing
Social media channels include Instagram, Facebook, TikTok, Twitter, Pinterest, and Snapchat. Try marketing tactics such as offering customer service (e.g., answering customer questions), ads, or sponsored posts.
Email marketing
A successful email marketing strategy can transform potential or new shoppers into loyal customers while nurturing existing ones. Get the most from your email list by continually adding to it and leveraging segmentation for the greatest impact on your revenue. 
Use automation for your email marketing campaigns to personalize messaging for each individual and improve conversion rates. Even simple automation for cart abandonment emails (when customers neglect to complete their purchase) can significantly boost your sales.
Affiliate marketing
Affiliate marketing is a way to utilize other businesses, brands, or influencers to promote your products in exchange for a small percentage of the sale. Affiliate marketing works best when the brand or influencer aligns with your eCommerce business and can reach new audiences. 
Referral marketing
Referral marketing is similar to affiliate and influencer marketing in that it relies on other people to advertise your products. However, referral marketing encourages individuals to push products to friends and family rather than followers or anonymous website visitors. The more referral sales an individual generates, the more free products, coupons, or points they'll earn.
Local marketing
Don't forget to promote your product locally. Local marketing may include advertising in a local publication, signage in high-traffic areas, or local SEO efforts (such as targeting local keywords). You may also consider talking to other local business owners and partnering for a promotion. 
SMS marketing
Thanks to the worldwide adoption of mobile devices, more customers than ever purchase items from their phones. SMS marketing needs to be strategic, but it can boost your sales when executed well. Use direct links to products, discounts, and surveys in your text messages, and your customer base will get more involved. 
Engage your target audience
Customers need to know that your eCommerce business is open to responding to queries and comments, which can be challenging when everything is online. Publicly engaging with potential and current customers is the best way to show that your brand is responsive. Here are a few ways you can interact with people online: 
Add

Chat Marketing

to your eCommerce website via ManyChat's Live Chat feature. When customers ask questions, they'll be delighted when you respond quickly.

Reply to your followers on social media. Sometimes you'll have to respond to complaints but, in doing so, other customers will see your brand resolving issues publicly and promptly.

Host contests and giveaways to excite customers about your products. These can be executed through social media or your website, but they expand your reach if you ask customers to share content or tag friends as part of the promotion's requirements. 

Send abandoned cart messages. When someone leaves your eCommerce store without completing a purchase, send them a text or an email to remind them what they're missing. You could also initiate a Messenger conversation to get them back to checkout.
Once you engage your audience, it's critical they land on an eCommerce site that makes them want to buy. And here's how to make that happen:
Audit your eCommerce site
Performing regular audits will help you maintain an objective view of your website. Turn the audit results into action items that will keep your site fresh and up-to-date. Here are some main things to assess during the evaluation:  
Your eCommerce competitors 
As part of your website audit, perform a competitive analysis on your current and potential competition. Look at what marketing tactics they're using versus what you're doing—how does your strategy compare? 
Mobile readiness 
According to Statista, more than 173 million people will make a purchase using their mobile devices in 2021. It's vital to ensure your website is accessible and performs well on mobile devices so customers can shop with ease. Use Google's Mobile-Friendly Test to see what improvements you can make. 
Site speed
Google suggests an eCommerce site should load in fewer than two seconds. Use Google's Page Speed Insights tool to test your site's current speed and identify areas for improvement. 
Website Content
Your website needs to present content that caters to customers wherever they are in their buyer journey. Depending on what stage of the sales funnel they're in, they'll be looking for specific information and content types. 
Blogs are an excellent content choice for offering insight into how to resolve a problem during the initial stage of the buyer journey. Content like how-tos and tips can be influential in positioning your brand as an authority on a topic. 
In the next stage, customers are actively looking to find solutions for their pain points. Here, videos are helpful because you can showcase how your products will improve their current situation. 
Before customers decide to buy, they'll probably want to look at customer testimonials, user-generated content, and knowledge bases (such as an FAQ page). 
All of the content on your website should be unique, current, and helpful. Not only will great content attract potential customers as they move through their buyer journey, but it's an essential part of your SEO efforts (more on this later). 
Personalization
Consumers know websites and eCommerce stores continuously collect their data; they expect a highly personalized online experience in return. No sweat! You can deliver a customized experience on several different pages of your eCommerce website. 
Homepage
A customer usually lands on the homepage first, which means you need to make a good impression. Personalize the homepage experience by offering a custom coupon for first-time buyers and showing returning customers items based on their interests or previous purchases. 
Product pages 
If it makes sense for your business, you can personalize any product page depending on a visitor's location. For example, if someone is viewing your site from Hawaii, the site might display warm weather gear, even in January. Product pages are also an excellent place to feature product add-ons and upgrades to a previously purchased item. 
Interior pages 
You can personalize additional pages of your site by offering custom guides, product recommendations, or an aggregated list of favorite items—all based on website cookies and data. One potential guide could be a list of "Amanda's Favorite Things" that contains all of the items she has looked at multiple times, plus product recommendations based on those items. 
Search engine optimization (SEO) 
SEO has many different elements, each requiring a proper plan to rank well in the search results. While this can be challenging, improving your website for search engines also creates a better customer experience on your site. 
Technical SEO 
For any search engine to properly crawl and index your website for the purpose of ranking individual pages, your site must be technically sound. Technical SEO covers the accessibility and functionality of your site. This means ensuring your site is public and visible to search engines, no broken links exist, and you have proper redirects in place.  
On-page SEO
On-page SEO (sometimes called on-site SEO) is all about improving the customer experience, which search engines also use as a ranking factor. On-page SEO includes some of the items discussed in the website audit, such as page load speed and mobile readiness. 
Solid on-page SEO means ensuring no duplicate content exists on your site, you've optimized your images, and you have organized your structured URLs in a hierarchy that makes sense to users. 
Local SEO
Improving your local SEO is beneficial if you have a physical store location, which will help customers find critical information like address, hours, and phone number online. 
Optimizing your site for your physical location(s) will help customers find you when they perform an online search for stores near them. Start sending local signals to search engines by claiming your Google My Business listing. 
Backlinking
Backlinks are a vital part of a successful SEO strategy because linking from one website to another puts the "web" in the World Wide Web. A backlink connects your site to another site, and search engines view these connections as "virtual approval." You'll get bonus points if the sites linking to yours are relevant, credible, and popular. (Beware of toxic backlinks from spammy or malicious sites—they'll actually hurt your credibility with search engines.)
Examples of backlinks include a link from a blogger's website or social media profile to your product pages, a link from your author profile on an article you wrote or contributed to, or a link from an event website featuring your business.
Social media 
If you already have social media profiles, take them a step further by integrating them into your eCommerce website. (If you don't have them, add them to your to-do list asap!)  All told, eCommerce businesses can seriously benefit from using social media marketing. 
Integrating your profiles into your site showcases the content from your other channels to create a more dynamic website. Featuring your social media content also brings an element of the networking experience to your homepage and encourages visitors to follow you on your other channels. 
Once you've completed your entire evaluation, prioritize your tasks and schedule your next audit. You should conduct a thorough site analysis annually.  
Record, report, and repeat
Because eCommerce marketing primarily involves digital efforts, you can use data to evaluate and refine campaigns—a significant benefit! For the best results, consistently review what has worked (and what hasn't) to guide future efforts. 
Before you start implementing any eCommerce marketing strategies, be sure to determine your key performance indicators (KPIs). An indicator is any measurable metric that offers perspective on how actions contribute to a goal, such as higher website traffic stemming from a specific campaign or the number of purchases made using a targeted promo code. They can help you make sense of collected data by turning it into meaningful insights. 
When considering KPIs, you should be able to answer "yes" to all of these questions:
Can the goal be measured?

Is the goal specific?

Is at least one person or a team accountable for its success?

Is there a detailed timeline for reaching the goal?

Can you realistically achieve your goals?
Measuring KPIs is vital for successful eCommerce operations. Determining which KPIs to consider is the first step. Next, look at your data to see how your results stack up against your goals. Finally, decide how to adjust your efforts for even better results.
KPIs alone won't give you the big picture of overall performance. That's why it's essential to understand your goals before you worry about tracking numbers and percentages. Here are some popular KPIs for eCommerce marketing:
Cost per acquisition
This value represents how much you spend to acquire each customer. It is a helpful metric to track because the last thing you want to do is run extensive (and expensive) campaigns that only convert small numbers of customers. Determining how much you're spending to generate sales makes this KPI essential. 
Cart abandonment rate
The abandonment rate includes shopping cart and checkout abandonment. Shopping cart abandonment refers to people who put something in their cart and leave the site without completing a purchase. Calculating the shopping cart abandonment rate can reveal issues with the checkout process, such as a lack of payment options or an unclear return policy. 
Checkout abandonment looks at the number of people who leave your site after starting the checkout process. The checkout abandonment rate could reflect an error in the process itself or even sticker shock from high shipping costs. Statista estimates that shoppers abandoned 88% of online shopping orders in March 2020 alone. 
Tracking (and lowering!) your abandonment rate is critical because you spend significant time, effort, and usually money to convince people to visit your site. If you manage to attract potential customers to it and even nudge them into the shopping cart or the checkout process, the last thing you want is for them to leave and not return. 
Conversion rate
An eCommerce conversion rate is the percentage of website visitors who purchased something from your online store during a set period. Conversion rate is an essential KPI because it directly relates to business growth. 
The average conversion rate is generally industry-specific and can fluctuate throughout the year. (Other environmental factors can also influence it.) That said, average eCommerce conversion rates in 2020 ranged between 2-3%. You can calculate the conversion rate for any goal your company finds valuable, such as email newsletter signups, social media shares, or someone adding an item to their cart. 
Average order value (AOV)
The AOV is the average total of every order placed with an eCommerce store over a defined time. Keep in mind that this is the average amount per order, which is not the same as the amount spent per customer. By increasing the AOV, an eCommerce business boosts its return on investment (ROI) for its marketing efforts. 
AOV is an important metric that every company should monitor frequently (ideally, daily or weekly). If there are sharp decreases in the AOV, you should examine every part of the customer journey to determine what caused the sudden dip. Likewise, if there is a meteoric increase, you'll want to know why so you can scale your efforts!
Gross profit margin
Gross profit margin is the profit each product generates from a sale. Although this is an important KPI, small eCommerce businesses often deprioritize it because they are more focused on revenue growth.
Gross profit margin is an essential KPI because you need to produce enough profit to grow your business (unless your investors are okay with sacrificing profit for growth in your early stages). If you cannot generate enough profit to run your business without relying on debt long-term, you may struggle to succeed at all.  
There are copious eCommerce marketing tactics that will help you create a profitable business. Start with a solid eCommerce marketing plan and work toward expanding your online reach. Next, figure out where your audience spends time and make sure your brand has a presence there. Engage your target audience via conversations and contests, and make sure your eCommerce site makes customers want to stay and shop. Finally, track your results and see what changes you need to make before starting your next marketing campaign. 
Level up your eCommerce marketing today with ManyChat. Start free today. 
O conteúdo deste blog foi preparado de forma independente e destina-se apenas a fins informativos. As opiniões expressas são de responsabilidade do autor e não refletem necessariamente a posição do ManyChat ou de qualquer outra parte. Os resultados individuais podem variar.