Facebook Messenger Changes and The Future of Chat Marketing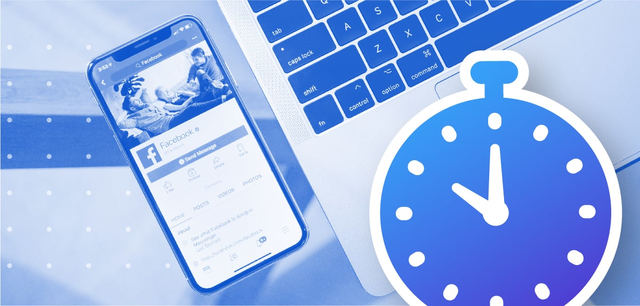 "At Messenger, we want to help people and businesses connect in meaningful ways. We remain committed to helping businesses continue to grow and thrive on our platform. That's why we are making updates to our platform to improve the user experience for people, and to help businesses drive more effective outcomes on Messenger. ManyChat has been a valuable partner in business messaging and we look forward to growing our partnership with them."


– Ze'ev Rosenstein, Head of People to Business Messaging, Messenger
Hey ManyChatters,
Today we've learned that Messenger is making updates to their platform to help businesses deliver relevant, personalized and timely messages to people. Messenger is making these changes to improve the user experience for everyday people (protect against spam and abuse) and drive more effective business outcomes.
We know that even though that won't make a big difference for some of your use cases (e.g. lead gen that happens inside 24 hours, live chat, etc.), for many others it will have an impact. This means that as an industry, we have to adapt and find new, better ways of connecting with our customers while staying compliant with the changing policies.
Before we dive deep into solutions, let's talk briefly about what will change on JMarch 4, 2020.
Read our complete guide to Messenger Policy Changes for March 4, 2020.
The changes
Here is the list of the revised policies that will take effect on March 4, 2020:
"24+1" rule is getting trimmed to just "24", so the "+1" follow-up is going away
Subscription Messaging is being deprecated even on the Page-level and will be available only for News Pages
Message Tags are being streamlined from 17 tags to 4
Ok, that's a lot of incoming changes! Let's talk about each of them and what it means for your business.
The "24+1" rule will become the "24" rule
Most of you are already familiar with the "24+1" rule which says that you can send more or less any message inside the 24-hour window following the last user interaction and 1 follow-up message after that 24-hour period (the "+1").
Messenger is updating its standard messaging window to 24 hours and will deprecate the "+1" follow-up message. This means that you will still be able to connect with your customers, send rich messages and follow up with them inside that 24-hour period, but won't be able to send the "+1" message once that time window is over.
ManyChat was one of the first platforms to implement "follow-up" messaging inside its product. Follow-ups are very useful in certain conditions but our data shows that not a lot of businesses are actually using them.
Out of all the pages connected to ManyChat, less than 2% of pages have sent a follow-up message in the past 30 days. Moreover, if you count this in terms of volume, of all the many messages businesses sent through ManyChat, less than 1% are follow-up messages.
Since ManyChat is driving a large part of all business messages on Messenger, we expect that Facebook sees similar numbers and wants to simplify the policy since the feature didn't get wide adoption.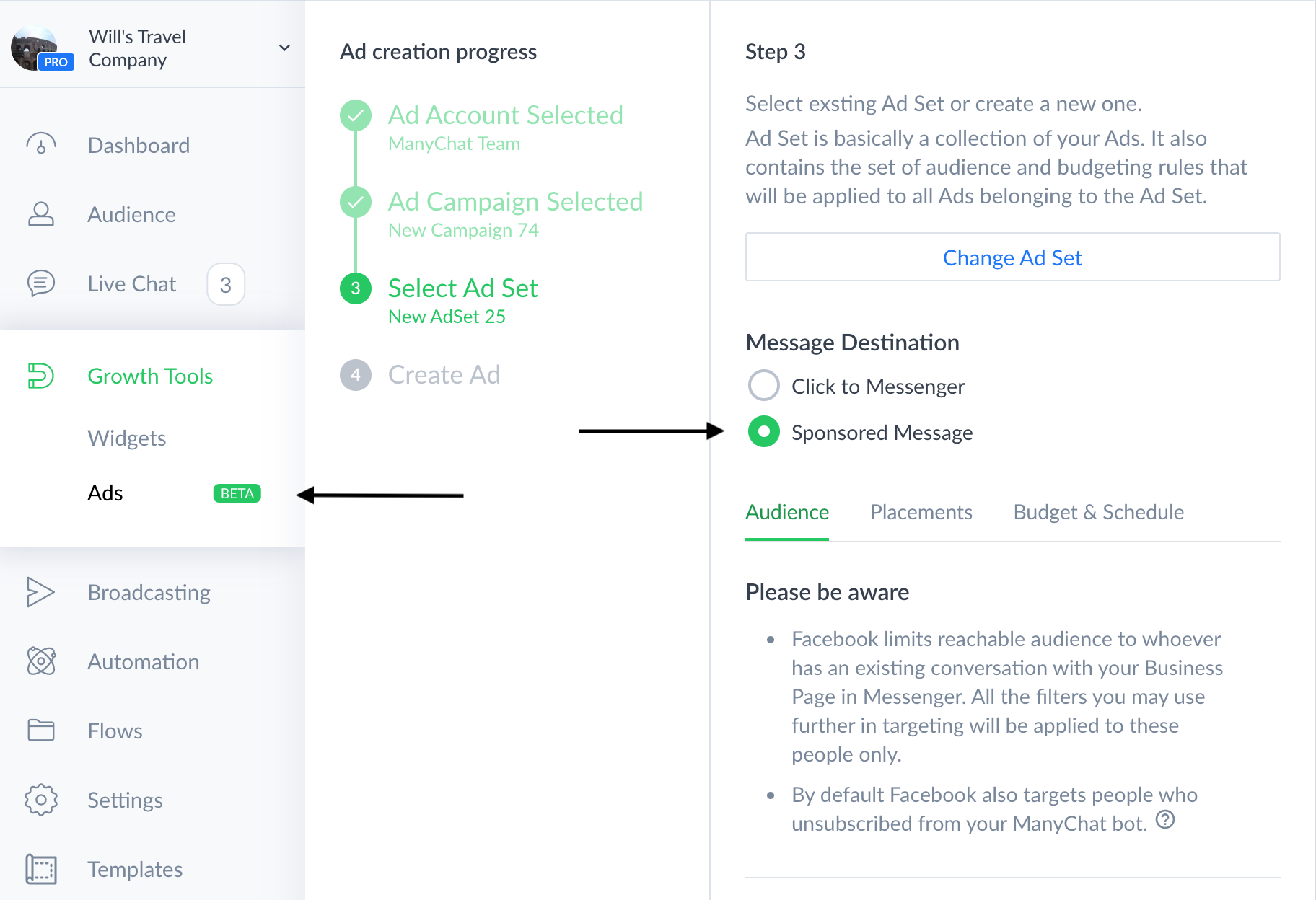 For those of you who are looking for a solution to broadcast targeted messages to many people, we suggest switching over to sponsored messages. Yes, it's a paid solution, but once the end-user engages, the 24-hour rule kicks in and you'll be able to message freely.
Lastly, make sure to make the most of the 24–hour rule, e.g. try using our Smart Delay or Sequences to wait for 23 hours and send that follow-up message.
UPDATE AS OF 12/20/19: Facebook is planning to introduce a one-time notification API in February 2020 that will allow you to send timely relevant notifications to a subscriber given their explicit opt-in. The one-time notification will allow you to support use cases that don't fall into the definition of the four Message Tags. The way we expect this to work is that you will be able to request a one-time notification opt-in from a subscriber and then send them one message outside the 24 hours.
Subscription Messaging is getting deprecated for businesses
Subscription messaging allowed businesses to send messages that fell under the use case of News, Productivity, or Personal Tracking.
It used to be that a platform like ManyChat could get app-level subscription permissions and pass it on to Pages (businesses). This allowed us to provide a seamless experience to the hundreds of thousands of small and medium businesses that we serve.
Messenger changed this policy as of August 1, 2019, and currently, each page that wants to use subscription messaging for broadcasting has to go through a review to get page-level subscription permission.
Today, Messenger announced that with the new changes on March 4, 2020, subscription messaging permission is going to be available only for News Pages and deprecated for other types of businesses.
Once again, we looked at our data to see how that will affect current use cases and found that less than 0.5% of businesses using ManyChat have received page-level permission. In other words, our data shows that most of our customers have already switched to Message Tags for their broadcasting needs, which brings us to the next change.
Going from 17 Message Tags to 4
Messages Tags are a way for businesses to reach their customers after the 24-hour window is over. Each message tag is designed to support a specific use case, like confirmed event reminders, shipping updates, account notifications, etc.
With this new update, Messenger is streamlining the number of Message Tags from 17 to four. Let's look at what's coming.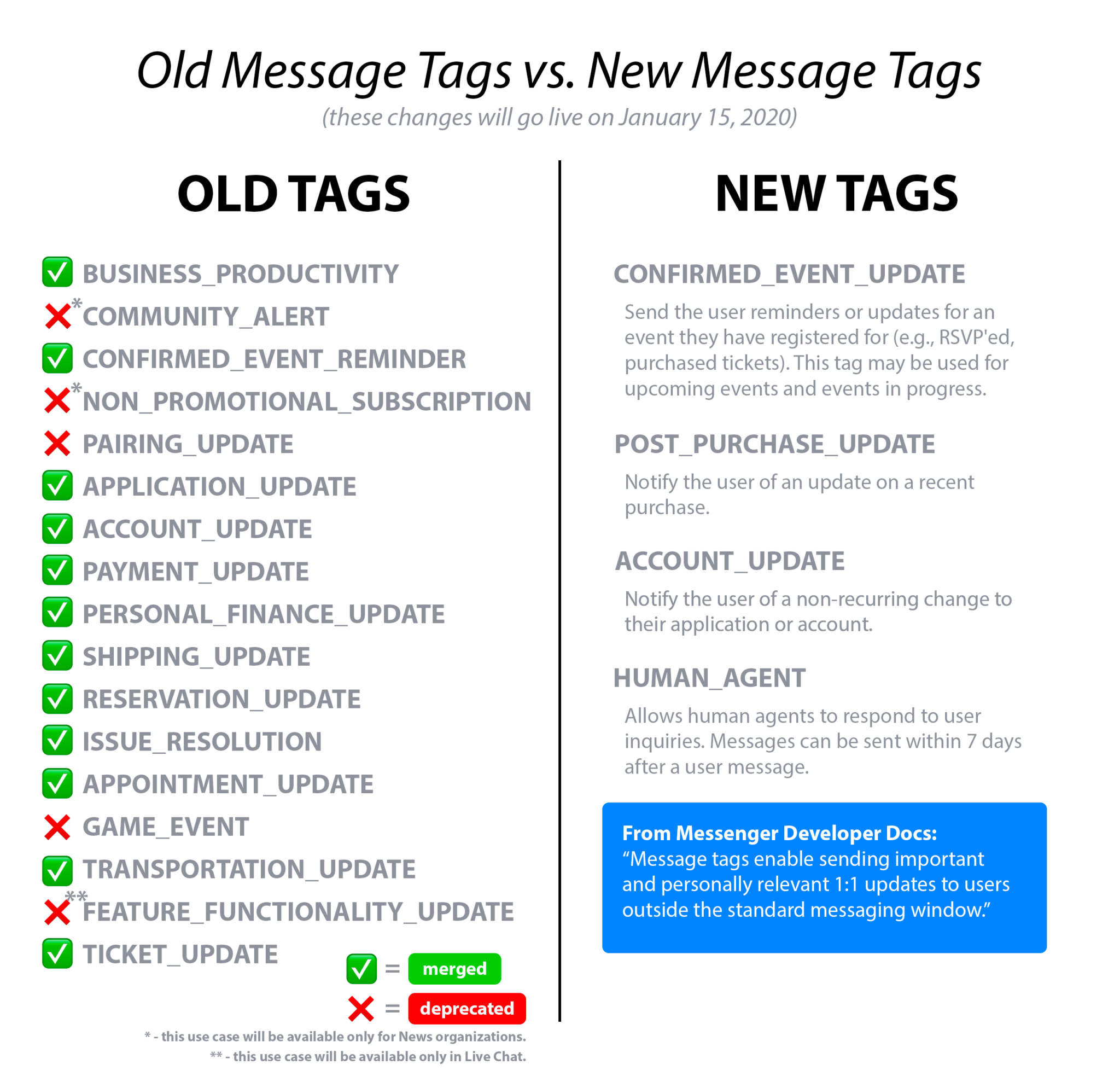 As you can see, after the change there will be four Message Tags for specific use cases:
Confirmed Event Update: This can be used to update customers on an event they registered for, remind them about an appointment, confirm an upcoming reservation, notify of a schedule change, etc.
Post-Purchase Update: This tag is intended for non-promotional communication after a purchase. Things like purchase confirmation, shipping, and tracking updates, as well as delivery notifications. Payment notifications also fall into this tag, so updates like "payment was declined" also fall into this tag. If you want to send a promo code or an "other products you might like" follow-up, you'll want to consider using sponsored messages.
Account Update: This tag is for notifying customers about account updates, like a reminder that a bill is due, suspicious activity in the account, or that an application is pending more information.
Human Agent: This tag is meant for live conversations with your customers. You'll be allowed to send a live (non-automated) message to the customer for up to seven days after their last message to you.
These four tags are broader in their definition and partially include 12 of the 17 tags that we currently have. This makes the list simpler and easier to choose from.
The five tags that didn't make the cut are Feature Functionality Update, Community Alert, Game Event, Pairing Update, and Non–Promotional Subscription that we've covered earlier. Messenger is deprecating these tags on March 4, 2020, and you won't be able to use them anymore.
We believe that this change will have the biggest impact on the businesses using Messenger since so many of you are leveraging tags like Business Productivity and Community Alert for non-promotional broadcasts to connect with your customers.
So, what are we going to do about this?
I'm glad you asked.
First of all, let's make sure we understand the actual implications of all of these changes. Let's start at the top. As a business, what do we actually need from a platform like Messenger? What are the most important use cases?
We need to be able to chat with our customers manually. We need a way to send a broadcast to multiple people at once. We also need to send timely 1-to-1 messages (think sequences and trigger & action rules).
We can summarize this list as follows:
Live Chat
Broadcasts
1:1 Triggered Messages

Non-promotional
Promotional
Messenger gives us a solution for live chat (Human–Agent Message Tag), part of the non-promotional 1-to-1 triggered messages (the other three message tags), and broadcasts (sponsored messages).
Sure, sponsored messages is a paid solution, but Messenger has committed resources to enhance the product and make sure you get results just like with other types of Facebook Ads.
We are having a meeting with the Messenger team next week to discuss your feedback about sponsored messages so that they can make them better for you. If you have any experience with sponsored messages and would like to share it — please go to the ManyChat Community and let us know.

From the ManyChat side, we are already in the process of implementing sponsored messages right into the Broadcasting interface to make sure it's simple and easy for you to leverage this tool.
As with any Facebook Ad type, it's going to have the highest ROI while nobody else is using it. Once everybody starts to leverage this channel, the prices per delivered message are going to get higher, so the best time to take advantage of this instrument is right now while the rest of the market is still adapting to the change.
Remember that unlike the old broadcasts, sponsored messages can contain promotional content right from the first message which should raise your conversion numbers.
What about 1-to-1 messages that don't fall into the new message tags?
We've just covered a solution for broadcasts, live chat, and many of the non-promotional 1-to-1 use cases, but what about the other use cases that are not covered in the new Message Tags?
We have two answers for you.
First of all, as you can see, Messenger policies are not set in stone. The Messenger team is trying to find the right balance between giving businesses the tools to engage their customers, while also making sure that the end-user has a great experience on the platform.
This means that we are likely to see more changes coming from the Messenger team in the future which will enable all of us to build better relationships with our customers.
That said, you can now send SMS and email inside of ManyChat to help reach your prospects and customers. So if a message isn't covered by Message Tags, you can use one of the above channels. Granted you have proper opt-in.
See more about it in this video:
Mikael & the ManyChat Team
Helpful Resources:
Facebook Messenger Platform Changelog
For questions or to continue the conversation, go to our community page.
O conteúdo deste blog foi preparado de forma independente e destina-se apenas a fins informativos. As opiniões expressas são de responsabilidade do autor e não refletem necessariamente a posição do ManyChat ou de qualquer outra parte. Os resultados individuais podem variar.