7 Tips for Writing the Best Facebook Ad Copy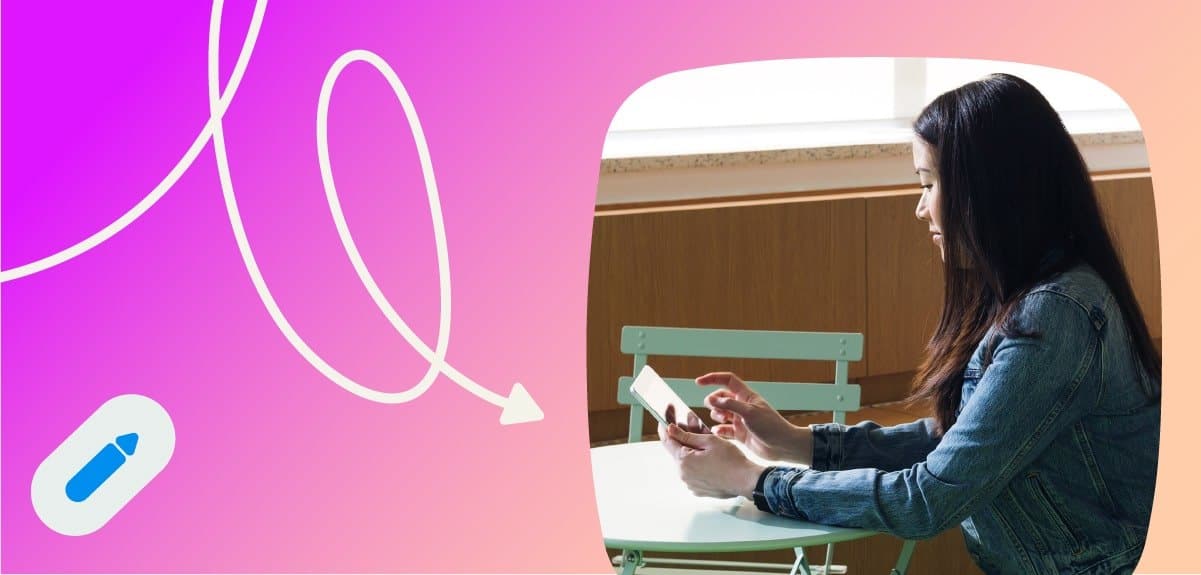 Imagine seeing a new Facebook ad in your news feed for the first time, knowing little to nothing about the brand, the quality of their products, or even the price.
Yet something about the ad caught your attention. You stopped scrolling, the message resonated with you, and now you're convinced to buy a product from this new-found brand.
But when you run your own Facebook ads, they don't seem to encourage people to take action. You have a beautiful image and CTA, but your campaign doesn't seem to convince and convert. How do you overcome this gap and build confidence with a new audience?
This is a problem every marketer and store owner has to face. And part of that puzzle is the ability to write effective Facebook ad copy.
Here are seven tips to crafting the best Facebook ad copy and ad examples you can use to inspire your next social media campaign.
1. Relate copy and ad creative to tell a story
Storytelling is a powerful tool for connecting with potential customers who have no idea who you are, giving you the opportunity to get your message across without being intrusive. When it comes to writing Facebook ad copy, your image and text should tell a story and relate to each other.

A creative story can also help grab the attention of your audience and become more familiar with your company, especially if you establish a clear brand voice. Both of these things will show the personality behind your company on social media channels and help people feel like they know you and can trust your product or service.

This ad from Digital Marketer not only speaks to the marketing managers' personal experience with building a great department by asking an important question (Act 1), but also explains how they'll get you from problem to solution (Act 2) and the benefits you'll experience after (Act 3).

The ad copy builds an emotional connection with DigitalMarketers' audience through a narrative. Both ad creative and text working together can help an audience feel better about clicking through on your offer.
2. Make different ads for different audiences
The more tailored your ad is for the right person, the more likely they're going to act on your offer.

For example, if you're targeting people who may not have heard of your brand, you can build a series of lookalike audiences based on people who've bought from you or are on your Messenger subscriber list. Then use different copy and ad creative for each segment to create more relevant ads.

Connected Apparel, for example, was able to create ads specifically for a lookalike audience based on their top 25% website visitors. Narrowing down these specifics — knowing who the segment was and what dresses and jumpsuits they liked — allowed the online retailer to create copy that resonated with potential customers.

When writing Facebook ad copy, it helps to create different ads for different audiences. This helps different types of people picture the product in their own lives in different ways. And the better they can envision it, the more likely they'll believe it's for them and buy it.
3. Write for your audience
Identify your audience and write copy as if you're having a face-to-face conversation with them. Use the language your audience speaks and feels comfortable with.
When writing for different audiences, take into account their level of knowledge about the product or service you are trying to sell. Know their pain points and interests and use that information to tell your story and show them how you can provide solutions, because the best way to catch and hold your audience's attention is to know who they are, put yourself in their shoes, and let them know how your product applies to them.

The first line of the Parachute Home ad below speaks directly to their target audience and a problem the brand knows the audience has, by asking the question: "Sleep hot at night?", and gives the offer as the answer immediately after.

The ad continues to highlight specific features that their potential customers care about when buying bed sheets. In this case, Parachute sheets contain no harmful chemicals or synthetic softeners, and more.
Think about how you can guide your audience through the steps they need to take to make a purchase. Ask yourself the following questions before you begin crafting your campaign:

Who is my audience?
What do they already know about the product?
What do they need to know?
What questions will they have?
What's the best outcome for them?
What information do I need to share to get this outcome?
This can be a lot of stuff to pack into one ad. If you want to keep your ad copy short and sweet, you can run click-to-Messenger ads attached to a bot flow that helps you share the information a customer needs to encourage a purchase.
Want to create more effective Facebook ads? Do it with ManyChat. Sign up today for a free account.
4. Stay on tone with your brand
The first three strategies focus on demonstrating how you understand a target audience. That's an important place to begin. But you'll also want to make sure your copy is recognizable and in line with your brand.

Distinct messaging helps a new audience become familiar and at ease with your brand. They also know what to expect from you. So it only makes sense to have the same tone across all your customer touchpoints from Facebook ad copy to bot persona and even product descriptions.

One way to achieve a consistent brand tone is to use Facebook Messenger ads to not only create a conversation after someone clicks your ad, but also creates a more fun and inviting experience for consumers, which can help with conversion rates.

Miller's Roast Beef, a family-owned sandwich shop based in Rhode Island, offers this conversation flow after sending a Sponsored Message to maintain a consistent tone, but a big part of its value is that the message is recognizable and connects with the potential customer.
Consistent messaging can help you win your audience's trust and make them feel a little more comfortable redeeming an offer or buying from you.
5. Keep it short
Consumers come with short attention spans. If they're scrolling through their news feed, you may only have a few seconds to get your point across, so it's important to keep your ad campaign as short and sweet as possible.

What are you more likely to click on: A snappy, witty message with a video of the product or service attached to the ad, or a long wall of text explaining three different concepts with an image at the bottom?

Short Facebook ad copy is extra important today, where attention spans are notoriously lower for people on social media. eep your message focused on one concept, and aim to use minimal copy.

TrinaTurk's Facebook ad copy highlights an effective short message for a broad audience of luxury shoppers, which decreases the chances of overloading their audience and encouraging high click-through rates. The copy, together with dynamic Facebook ad targeting, helped the retailer achieve a 75% increase in return on ad spend, and a 33% decrease in cost per purchase.

6. Use one call-to-action
A strong CTA button can accomplish a lot. It can invite an audience to respond to your ad and your products, and inform people what will happen after they click.

CTAs are often integrated as a button in your ad.However, there are cases where a brand will add a CTA in their ad copy in addition to the button. Stick to one format and choose one that is relevant to your offer.

Many e-commerce ad campaigns, like Sweaty Betty London, will test different call-to-actions based on the offer.
In one Facebook campaign, the online retailer ran one introductory sales offer with the CTA "Learn More" for shoppers who want to know what the business could offer them. They ran a separate Facebook video ad with a "Shop Now" call-to-action button to encourage potential shoppers who were ready to buy to go ahead and make the purchase.
There is no one call-to-action formula that can convince potential customers to convert. Test different CTAs with each audience when putting together your ad campaign to get closer to the conversion rates and sales you're looking for.
7. Include a timeframe
If you're not sure about making a purchase, what's one thing that might encourage you to jump on a deal? A limited time offer.

Limited time offers can provide an incentive to the lucky customers who get them. They add a sense of urgency to the message and keep the offer top-of-mind to consumers, since they only have a short time frame to take advantage of the offer.

Including a timeframe in your Facebook ad copy immediately triggers anticipatory regret, which in turn can lead into a conversion. For example, like the 5 Napkin Burger example below. The restaurant includes the phrase "limited time" to encourage people who receive the ad to take advantage of it.

Some common urgency phrases you can use to capture potential customers attention include:
Limited time
Last time
Now
Today only
Deadline
Seconds
Minutes
Offer expires
One day only
Writing the best Facebook ad copy for your business
When it comes to your social marketing on Facebook, the goal is to get creative with your content and show how your product or service benefits an audience. Whether you're new to ad copywriting or an experienced copywriter, these tips and ad examples above can help improve your social media campaigns, create brand awareness on social, and fill your funnel with warm leads.
Want to boost the ROAS of your Facebook ads? Do it with ManyChat. Sign up today for a free account.
O conteúdo deste blog foi preparado de forma independente e destina-se apenas a fins informativos. As opiniões expressas são de responsabilidade do autor e não refletem necessariamente a posição do ManyChat ou de qualquer outra parte. Os resultados individuais podem variar.