Ecommerce Email Marketing: Build Memorable Loyalty Campaigns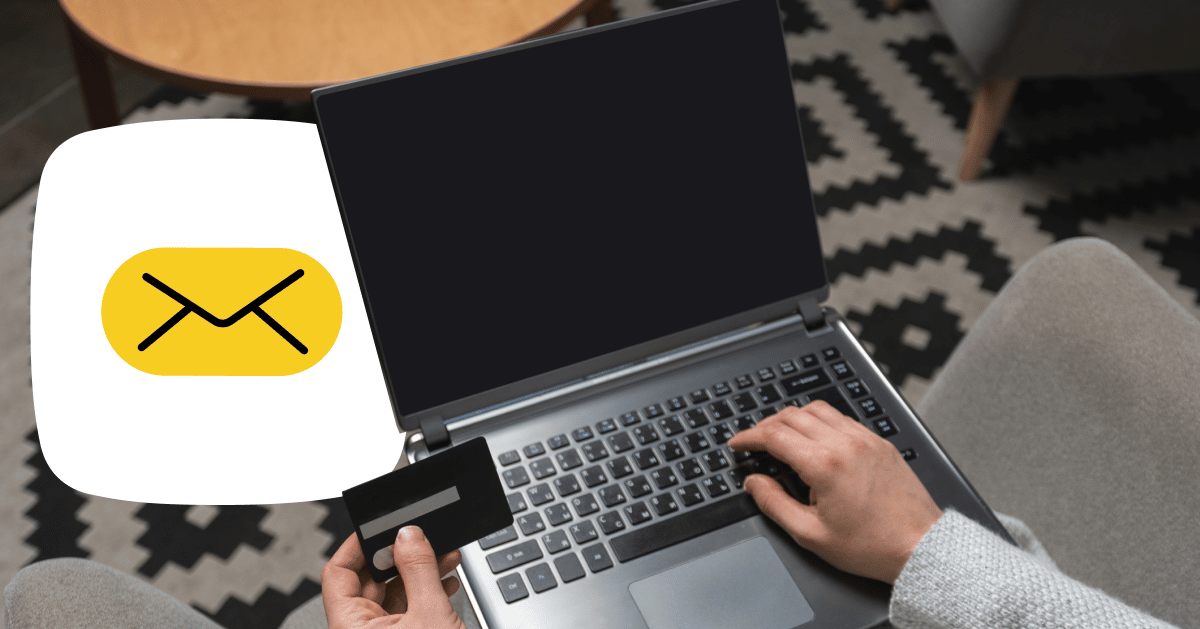 Customer loyalty is one of the most valuable growth drivers for your business. One study found that about 40% of a business's revenue comes from repeat customers, while another found that even a 5% increase in retention can result in a 25% or more lift in profit.
Email marketing is a valuable channel for building and maintaining loyalty campaigns. These types of promotional emails are also straightforward to automate, making them highly efficient and scalable marketing initiatives.
Here are some tips to help you implement this invaluable eCommerce email marketing strategy into your own company.
Why loyalty programs matter
One of the challenges eCommerce brands will face in the coming years is greater competition and market fragmentation. In 2020, US eCommerce businesses experienced a 30% increase in growth and accelerated the online shopping market by nearly two years.
This change to online shopping dynamic results in a heightened level of competition. Consumers are only a few clicks, taps, and swipes away from finding an alternative option, especially as new retailers enter the digital economy everyday. So even though the market is growing, eCommerce business owners face a severe time crunch to gain a loyal following before the space is too saturated. 
Brand loyalty is more crucial than ever. A loyal customer is someone who advocates for your company, writes reviews about your products, participates in marketing initiatives, and recommends your business.
As one management consulting leader, Rob Markey,  explained in Harvard Business Review, "Earning customer loyalty is firmly in the interest of both shareholders and management."
In his research, Markey found that companies with strong brand loyalty, measured by having the top Net Promoter Scores (NPS) in their industry for three or more years, grow revenues 2.5x faster than their peers, and develop higher shareholder returns over 10 years.
If you're a solopreneur or self-employed business owner, you may not be subject to the same benchmarks as large companies; but you do need a mechanism to build a sustainable business and generate more returns.
A customer loyalty program can help. Building a loyalty focus into your eCommerce marketing strategy can help ensure that your business remains top of mind. 
The components for a successful strategy
A loyalty program is more than a series of promotional emails. It's an integrated marketing strategy that accounts for the many touch points that a customer is likely to have with your business.
For eCommerce companies, personalization is a great way to tailor rewards to fit individual preferences and interests. Use past shopping data to inform how to tailor your offer and communications. 
You may choose to integrate multiple marketing platforms into an overarching brand strategy. Examples include:
Private customer-only communities.

Online events that feature brand ambassadors.

Brand-sponsored conferences that connect customers with each other.

Special offers or discounts.

Cash back or points that offer financial rewards.

Product samples or exclusive products.

Exclusive freebies (i.e. a hotel loyalty program).

First-in-line access to sales.

Discounts to pass along to customers' friends and family.

Social media campaigns with customer shout outs.
In addition to a well-defined marketing strategy, the components of a successful strategy include carefully selected technology; tools may include chatbots, marketing automation software, community management platforms, membership directories, and other resources. Integrating these programs into your eCommerce marketing strategy allows you to maintain a direct line of communication with your customers.
Take a look at Overtone, an eCommerce brand that specializes in colored and treated hair conditioners, for example. Items like hair dye or conditioner is something that people will likely need to purchase more than once., so Overtone manages a Color Club rewards program for collecting points. Loyalty program members earn points for making a purchase, creating accounts, and referring friends — all actions that support high-level brand strategy and growth goals.
Brand loyalty email campaign ideas
So how do you take your best steps forward, especially if you're in the early stages of building out your campaign? 
When you're just starting out, your goal is to generate maximum value for a minimum investment threshold. For this reason, your eCommerce email marketing platform is a great place to start testing messaging and concepts. And with marketing automation technology, you can easily scale up the parts of your strategic plan that are successful.
Here are some examples to inspire you:
1. MeUndies feedback campaign
One way to show people that you value them is to ask for their opinion by actively asking shoppers for their thoughts. Or, even better, share exactly how you intend to translate these ideas into your business. In contrast to a promotional email, a feedback campaign shows your customers that you're listening.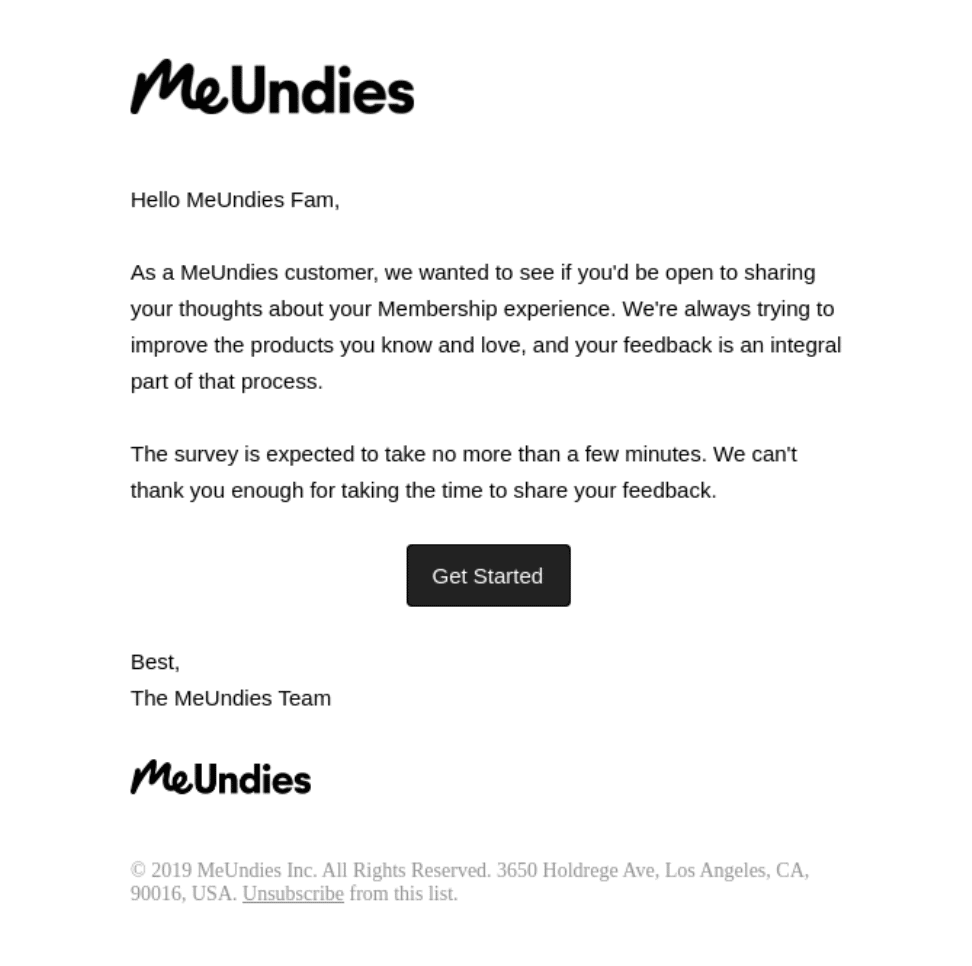 2. Thrive Market's free gift program
There's a concept in human psychology known as reciprocal altruism — the idea that when you give more, you get more. When your brand offers something of value to a customer, you'll make that person happy and receive something in return.
So why not give more?
One way Thrive Market aims to turn more first-time customers into repeat buyers is through its free gift program. Be generous without the "gotchas." People will remember and value the gesture.

3. An appreciation campaign from DavidsTea
Show your customers that you care about them without a material exchange. Take a look at this campaign from DavidsTea where, using personalization data, the company sent customized, uplifting messages to its contact list.

Get started
Loyalty starts with giving, so what can you give to your best customers that shows them they are appreciated and valued? 
Remember that relationships are two-way dynamics, and if you're not sure where to start, build trust through conversations. Learn about your customers' lives offscreen, find out what loyalty programs they like, and ask them how your brand can add more value to their lives.
A great way to spark meaningful conversations with your customers is through a chatbot or an email. Human interactions matter more than ever, and marketing is about building upon these relationships at scale.
Level up your brand communications with a chatbot. Sign up for a free trial with ManyChat.
O conteúdo deste blog foi preparado de forma independente e destina-se apenas a fins informativos. As opiniões expressas são de responsabilidade do autor e não refletem necessariamente a posição do ManyChat ou de qualquer outra parte. Os resultados individuais podem variar.