Chatbots for Customer Service: Why You Need AI Customer Support in 2020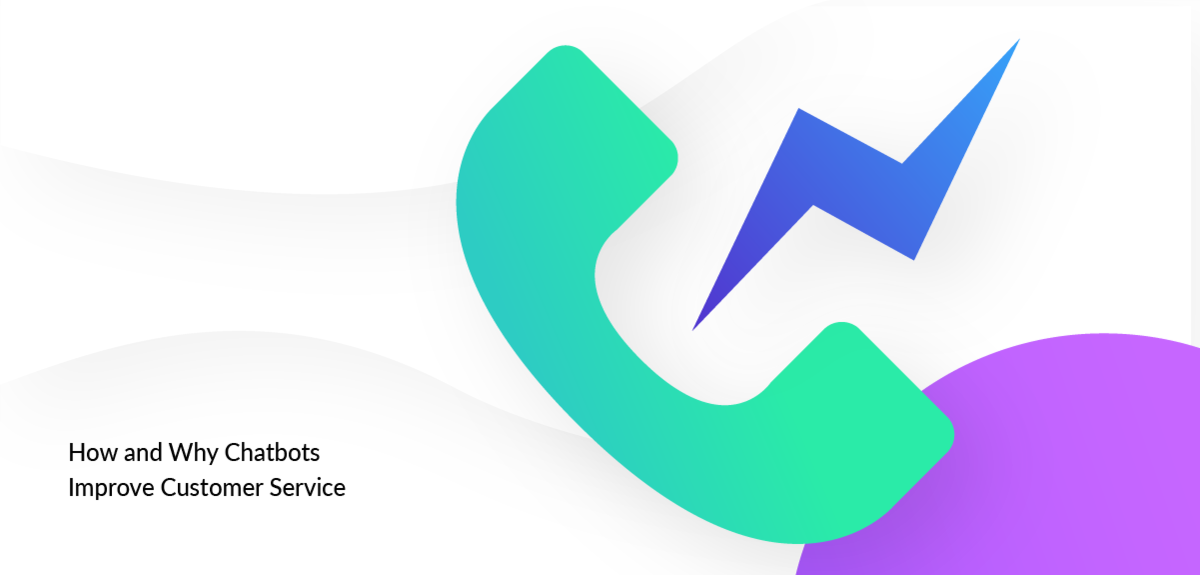 If you're like any other business today, you likely struggle to improve customer service — and have lost money because of it.

To keep up with the speed of customer conversations today, most businesses end up throwing time, effort, and headcount to deal with it.

What if there was another way to handle tons of customer requests, without having to hire more employees?

Well, there is.

Chatbots are not only used by more than 67% of consumers worldwide, but people actually prefer them for many different reasons.

The best part?

Chatbots for customer service are estimated to save businesses nearly $11bn in support costs by 2025.

So if you want in on the action, here's everything you need to know about using chatbots in your customer service to reduce support costs, improve productivity, and give your customers what they want — convenience and speed.
Why chatbots are good for customer service
Chatbots are a powerful artificial intelligence tool for improving communication with customers via mobile messaging. Brands use them to improve customer service in a fun, yet valuable way across any chat platform including Facebook Messenger, Slack, text, and more.
Facebook Messenger chatbots are quickly gaining popularity across many industries in customer support. This is because customers want fast responses to their questions, and chatbots offer an instant solution.

Bad customer interactions can cost your business both financially and in reputation. According to Microsoft, 47% of consumers chose to switch to a different brand because of bad customer service in recent years.
So if you want to improve your image, increase sales, and customer loyalty — then good customer service is fundamental. And chatbots can help you get there.
Is there a place for chatbots in customer service?
A chatbot at its core is a software that simulates conversations, and AI plays a critical role in its use. But only if you want it to.

Chatbots can be divided into two separate types: simple and AI-focused.

Simple chatbots spot keywords in a customer's simple question and respond with a pre-determined answer. A practical use for them is to provide quick solutions to straightforward problems.

While a chatbot powered by artificial intelligence can perform more sophisticated actions and are quite flexible. An AI chatbot uses natural language processing and machine learning to create conversations that replicate human agents.

There are no pre-packaged answers, and they learn and grow from each customer conversation to better help customers achieve their goals.

Here's an example of a simple chatbot response
Versus a more AI-powered bot …
Clever, right? A chatbot that aligns with your customers' goals will give you the basis you need to bring value to their lives — and in turn, reduce support costs and drive customer loyalty.
How can chatbots improve customer service?
Whether you're considering a chatbot to enhance customer experience. Or freshly built one and looking to get some background. Here are five ways chatbots help to improve your customer service.
1. Chatbots provide fast and convenient customer support around the clock
So you've probably got a team of support experts responding to customers. Or maybe it's just you handling all the requests – and you're managing okay.

So why bother with a messenger chatbot?

The answer to that is simple: Speed.

Granted you might be responding in under 24 hours and getting good reviews online in return for your efforts.

But what if you could respond in under a minute?

… to more than one person at a time?

… and solve their problems in your sleep?

69% of customers want quick answers to simple questions, and you're making a big mistake by not giving customers what they want and expect.

That's because faster response times:
Makes customers feel important
Boost your company's reputation
Incites customers to spend more in the future
And if you consider that 40% of decision-makers wait 60 minutes before trying to contact you on another channel.

So doesn't it make sense to meet them where they are, when they are there? Hint: it's on Messenger.

In a paper published in The International Conference on Internet Science, one participant described the chatbot experience as:

"It saves me the hassle of having to place a call, have to wait to speak to a person, then trying to get the information from that person. It also saves time in having to look through tons of text to find answers."
Let's see an example:

Say a popular travel company typically gets questions about reservations, rewards programs, and finding deals.

Traditionally, customers would have to pour over pages of information, call the company to get more info, or even worse, go see them in person. Talk about a huge waste of time.

Multiply that by 75 different inquiries per day, across 50 cities around the country, at a minimum of 2 minutes per customer interaction. That's 7,500 minutes per day you need resources for, just to answer simple questions.

A practical task that a Messenger bot can tackle— so you can handle larger volumes with fewer resources.

You follow? That frees you and your support team up to more challenging work than checking bank balances and talking about the weather.
2. Chatbots offer real-time, one-to-one conversations that engage customers
In a world of uncertainty, customer engagement and relationships are everything.

Ready to be shocked? Customers expect the same from brands as they do from friends, a study finds. Part of that is warm one-to-one conversations that make them feel valued and heard.

The traditional approach involved redirecting customers to clunky FAQ's. Or long wait times that nobody has the patience for anymore.

But more importantly, it misses the engagement your brand needs to provide top notch customer service.

The best chatbots also:
Responsive chatbots give customers an interactive experience that's convenient and familiar. Because we mostly live on messaging apps and social media, a proactive approach to customer service is invaluable.

Chatbots can proactively start the conversation with visitors beyond the routine "Welcome To Our Site".

For example, AI chatbots can recommend a specific jean or t-shirt that goes with an item they're looking at. Asking for help is hard, but reaching out with a chatbot is easy. And in return can offer you more sales, customer loyalty, and a better reputation.
Plus, you can always offer a live chat option for those want to speak to a human.
3. Chatbots help track customer satisfaction, so you can make more strategic decisions
41% of companies struggle to compile and use customer satisfaction data.

Did you know chatbots can help track it?

When carried out correctly, chatbot surveys can tackle two big problems in customer research.
Tapping into younger crowds. Because your survey is sent through Messenger, responders are more likely to engage with it versus traditional routes like email.
Improving response rate. Surveys sent through Messenger are less likely to cause respondent fatigue. Between bots' conversational nature and interactive survey design, you can get more actionable and reliable data.
Live chat. If anyone has a customer question your chatbot can't answer, you can jump in and response in real-time.
It's easy to build a follow-up message to poll customers. Remember the "how was your conversation" emails after you'd get a support call?

Now imagine that in a clean and straightforward survey right in Messenger.
4. Chatbots handle a high volume of queries at once. Meaning you spend less money on support costs, and more time on customer experience.
Whether you're a small business or fleeting enterprise, customers will have questions. And when they do, you'll want to be armed and ready for them – even if there are 100 coming in at once.

One benefit of chatbots is that they can instantly handle large volumes of queries without needing to hire a customer support agent.

Austin Witte of Blur Media, a chatbot marketing agency, weighs in on this:

"ManyChat is really easy-to-use chatbot platform and makes sure the customer has a good experience. Tagging and custom fields are what make conversations personal and custom. Especially when you're dealing with hundreds of thousands, if not millions of customers and messages."
For you, this means saving time and support costs versus traditional query management. In fact, a study published by Business Insider shows chatbots cut customer service costs up to 29% — 46%, depending on your business.
5. Chatbots respond and solve redundant questions. But won't replace humans for complex problems.
One big question around chatbots is will they replace humans? The answer is no.

Chatbots thrive in handling common questions. So instead of your support team answering the same pricing question 50 times in one day — a bot can answer it for you.

Sometimes your customers have more personal questions, that require a real person to answer them. That's where live chat comes in.

Chatbots can recognize this and recommend they call direct to a person. Or, they can prompt an agent to join customer in the live chat. Ultimately adding another personal touch to the experience.

As chatbot development continues to grow, they'll be able to recognize customer needs at lightspeed. Giving them what they need, when they need it, and how they need it.
So, what companies currently use customer service chatbots?
Many companies from bootstrapping entrepreneurs to large corporations use AI bot-powered customer service these days. Below are some customer service chatbot examples being done in fun and engaging ways:
And finally, how will chatbots affect customer service in the future?
Chatbots have a reputation for rapid growth beyond messaging services.

James Melvin, Head of Technology Innovation and Security at Rattlehub Digital, further explains to Search Engine Journal:

"One should not look at a chatbot as a simple messaging service.

Chatbots today are designed to not only perform natural language understanding but are also able to perform cognitive service functions such as:
Speech to Text
Computer Vision
Language Recognition and Translation
Content Moderation
Speaker Recognition
Text Analytics
It is when you look at a chatbot with this context that you discover that the chatbot is nothing more than a conduit to all the services you offer."

Gartner predicts that by 2020, 85% of customer interactions will be powered by chatbots. So basically, you'll have more conversations with bots than you do with your friends and family.

But will you know the difference?

With advancements in artificial intelligence and machine learning, customer support bots will further be able to take in what customers say, understand it's meaning, and respond back in the users language.

Where chatbots need to improve is comprehending unstructured conversations. Humans grasp quirky language and slang like "go nuts" or "feeling blue". Chatbots do not yet.

For them to create empathy for users', they need to learn how to feel what customers feel. Today, that's still something only human-to-human conversation can pick up on. Think body language, but in the form of chat interface.
What can you do about it?
Are you convinced to start making your customer support work smarter, not harder?

Speed and empathy account for a huge chunk of any successful customer service strategy, and chatbots are one of the easiest ways to improve customer service. So you can provide better, faster, 24/7 customer service on your Facebook Page or Website.

Sign up for a free ManyChat account and build your chatbot today.
O conteúdo deste blog foi preparado de forma independente e destina-se apenas a fins informativos. As opiniões expressas são de responsabilidade do autor e não refletem necessariamente a posição do ManyChat ou de qualquer outra parte. Os resultados individuais podem variar.