Why Social Media Marketers Should Go to Conversations 2019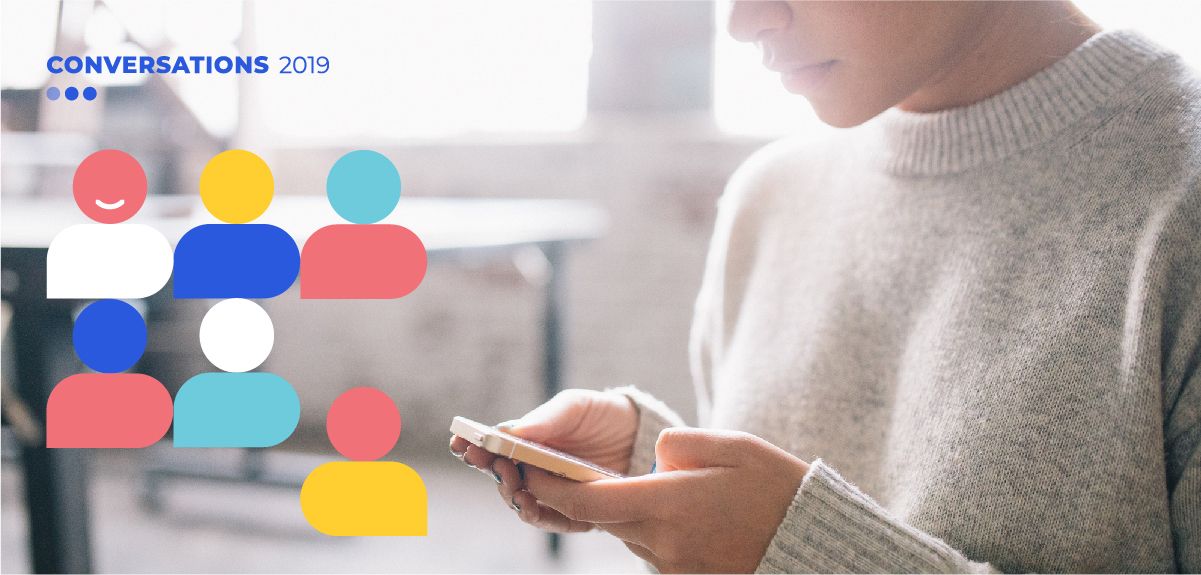 Take your social media skills to the next level.
The world of social media is ever-evolving. Keeping track of the latest technologies and best practices takes time and energy. And as a social media expert, you know the work you did last year may not be effective this year. It changes fast!
Regardless of the industry you're in, social media is a channel you invest time and energy on. So, you've got to stay on top of the latest product updates and trends.
Lucky for you, we are throwing the largest Messenger Marketing conference—Conversations 2019—where you can learn new tactics, improve skills, and be in the know of cutting edge technologies for social.
No matter your social media marketing level, marketers at Conversations 2019 will learn how to be the best at the social media craft. After all, don't you want to be a social media rockstar?
Here are the nine top reasons social media marketers should go to Conversations 2019.
Hear From Facebook Leadership
Discover the latest Facebook updates, insights, and Messenger Marketing trends straight from the source. At Conversations 2019, a team of Facebook leadership members will discuss current products as well as what's to come. Plus, it's an opportunity to ask questions to help you fine-tune your Facebook expertise.
Connect Facebook Ads to Messenger Bots
Walk away with actionable and unique tactics so you can connect your Facebook ads to your bot almost immediately. There will be hands-on demo opportunities, Q&A sessions, and experts to help you achieve your goal.
Learn How to Use Messenger With Your Social Strategy
Regardless of the social channels you're building, you'll learn how bot experts connect their Messenger bot to other channels. This will help you create a stronger social media funnel to increase brand awareness, subscribers, and ROI. Plus, you'll be ahead of the game in this new area.
Convinced yet? Grab a ticket today.
Understand How to Increase Engagement
One goal many social media marketers have in common is engagement. You want to increase how many eyes see your campaigns as well as the number of comments and shares you get. Well, at Conversations 2019 you'll gain knowledge of how to build creative ways to increase engagement in a cost-effective approach.
Improve Customer Service Via Social
Don't you hate phone automation customer service? We do too. Which is why Messenger Marketing is such a handy tool to use to handle customer service inquiries. Learn how to build flows for different situations to be the best at customer service. You can also understand best practices and conversations to build with this approach.
Listen and Learn From Amazing Keynote Speakers
Don't miss out on a fantastic opportunity to be in the same room as incredible role models—this year's keynote includes Randi Zuckerberg and Neil Patel! In a fun and fresh conversation, Randi will discuss real-world advice on how to make tech work for you and your business in areas such as recruiting, managing employees, marketing your brand, and engaging customers.
During Neil's keynote, he will share his thoughts on the future of marketing, multi-channel marketing, and how Messenger fits into the larger picture. He'll provide significant industry trends and what they mean for end-users, how small businesses and agencies can prepare as the industry evolves, and much more! Seriously, this will be one for the books.
Network, Network, Network
Meet social media marketers who are working just as hard as you to run a social media agency or social media business pages and have more meaningful conversations with audiences. Hear their stories, best practices, and tips while making connections and growing your network of bot support.
Have a Fun Weekend That's Not All Work
Ready to work and play? We chose Austin, Texas, for its gorgeous weather, laid-back vibe, great music, and an environment where we can enjoy geeking out about Messenger, social media, and marketing.
Celebrate At Our Big Bash
Raise a glass to how far you've come! Whether it's your first business or tenth, you've worked hard to learn new skills and get your company to the next level. That deserves a toast. Live it up at this year's Conversations Bash with great music, food, drinks, and dancing.
So, ready to have some meaningful Conversations with industry friends and experts? Join us at Conversations 2019 this September 13–15 in Austin, Texas. Can't wait to see you there!
Los contenidos de este blog han sido elaborados de forma independiente y sólo tienen fines informativos. Las opiniones expresadas son las del autor y no reflejan necesariamente los puntos de vista de ManyChat o de cualquier otra parte. Los resultados individuales pueden variar.