Innovating Forward: Inside One Wedding Photographer's Successful Pivot Amid The Pandemic [Case Study]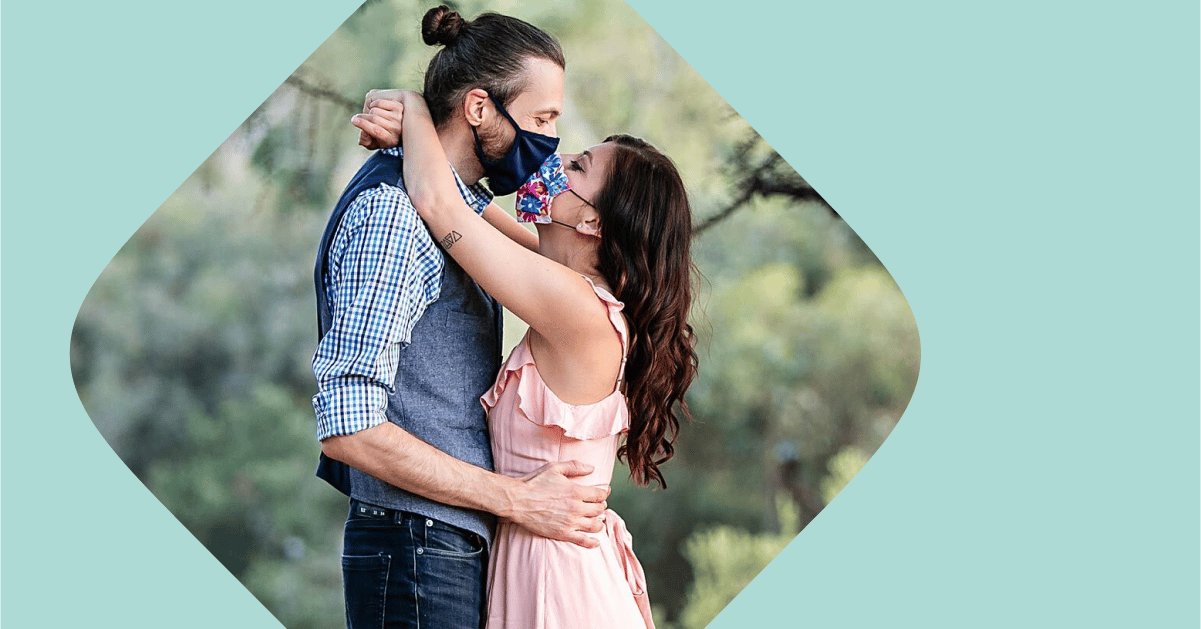 Overview
Henry Chen runs a 14-year old wedding photography business in Los Angeles called Aevitas Weddings.
In 2018, he was attempting to harness the power of chatbots in his wedding business, but it still left him with a never-ending flood of tasks and demands from clients. As just one person who had to do everything, Henry knew he needed a more streamlined way of managing his marketing, which led him to ManyChat.
Since implementing ManyChat, Henry has been able to keep his annual gross income for Aevitas Weddings stable throughout the COVID-19 pandemic, bringing in between five to seven organic leads per week, despite having all of his wedding shoots postponed.
This extra time in his schedule gave him the opportunity to create Wedding Chat Marketing, a training and services brand for wedding professionals, venues, and creatives. He's also built new streams of revenue for his brand—from speaking gigs to licensing marketing templates, and more—to improve his bottom line during a challenging business year.
Results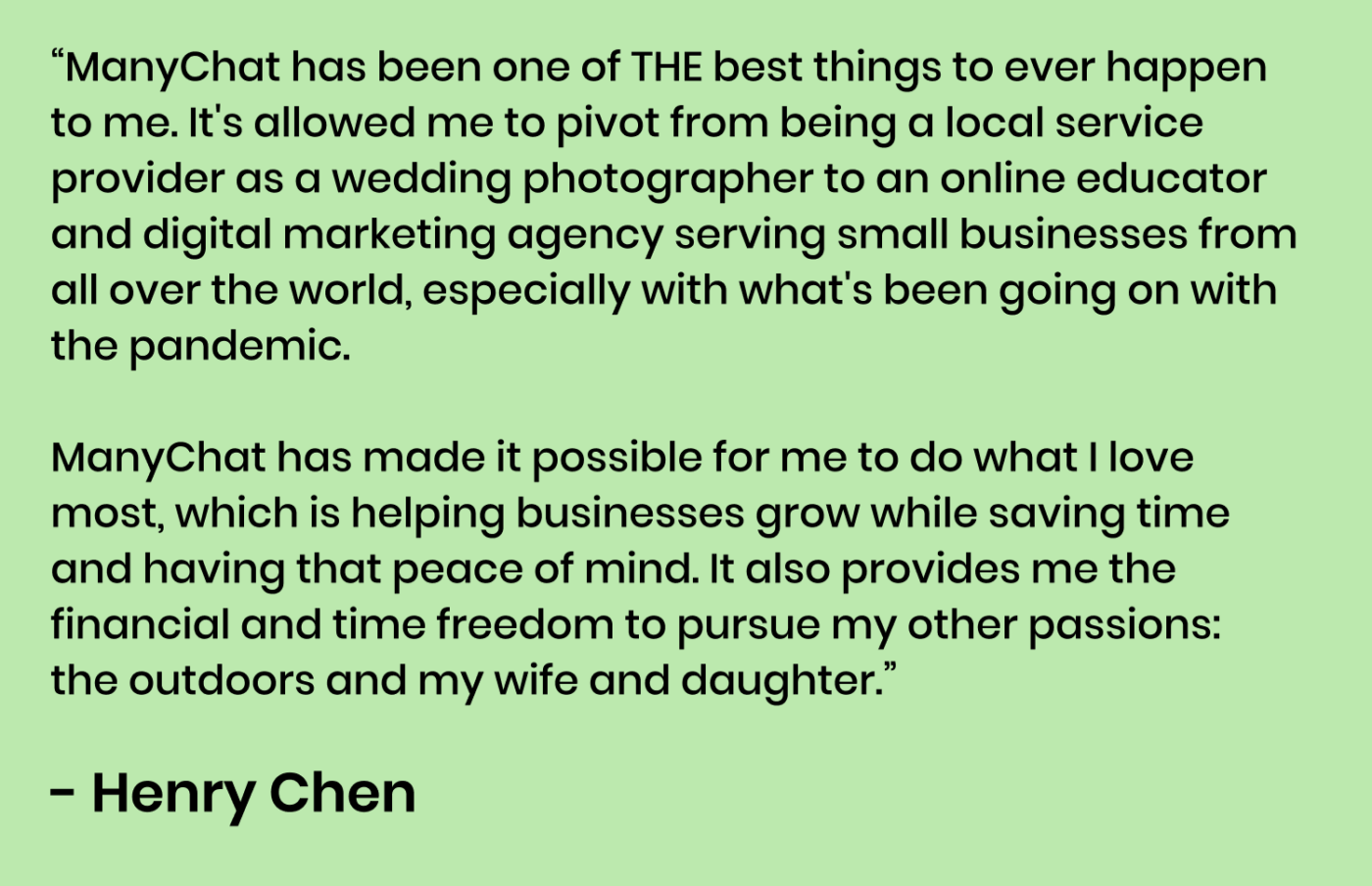 The challenge
Henry faced three big barriers to growing his business:
He needed to manually follow up with leads within a few hours to qualify them
He spent valuable time responding to the same repetitive questions around pricing, availability, and services
He always needed to be at his desk to respond quickly and lacked a way to be productive on mobile
Their goal
Henry wanted to generate leads that would build a client base for his wedding photography business. He also wanted to create scalable, automated revenue streams so he could spend more time doing the things he loves, like spending time with his family and hiking.
Approach
Testing the waters of automation. As Henry's business scaled, so did its demands, complexity, and daily processes. He used ManyChat's automation solutions and workflows to connect his business tools and operations to allow him to focus the majority of his time on building his brand, not on manual, repetitive tasks.
Executing omnichannel engagement strategies. Henry used a mix of Growth Tools and automated workflows in Flow Builder to connect with leads for his photography business. Using these tools, he was able to identify, tag, and segment customers who engaged on specific channels, like SMS and Messenger. Henry also created his own in-house systems to generate leads and streamline operations, which he could build and deploy in minutes, saving him valuable time.
Selling education and consulting services. Once Henry tasted success with automation for his own business, he was able to focus on growth. He saw a marketing education gap in the wedding industry and began offering training and consulting services through Wedding Chat Marketing.
Licensing templates. Henry continued to grow his brand by offering chatbot templates to other wedding business owners. This helped generate another stream of revenue with minimal capital requirements and cost output, and without having to devote time to selling in person.
Testing automation with ManyChat
Henry Chen's goal was to turn manual tasks like lead generation and customer support into automated workflows, so he could turn his attention to growing his business. He'd been a wedding photographer for 14 years, adapting to the ever-changing marketing and customer service trends, but this role no longer afforded him enough time for his desired work-life balance.
As a solopreneur, it was challenging to manage a wedding business operation and even harder to grow it. And on top of that, Los Angeles is one of the most competitive places in the world for wedding photographers. He wanted a way to differentiate his offerings, better connect with leads, and automate some parts of his business.
"As far as automation goes, I had nothing," admitted Henry. "Everything was done manually—responding to leads, qualifying them, and providing value. I do use a CRM for my own wedding photography business, but that's more to keep track of the questionnaires, proposals, contracts, and payment.
I was a one-person business, and I had to do everything."
His original plan was to use ManyChat to build a database of people interested in his wedding photography services at Aevitas Weddings. He added a Customer Chat widget to his website, created a few FAQ flows, and began to learn what automation could do for Aevitas.
"I thought it would be great to learn out of curiosity," Henry explained. "Then one thing led to another, and I remember it was the third week of January when my Customer Chat Growth Tool went live. One day later, I got my first bride contact coming in.
I thought, Wow, this is really awesome. It works!"
"I picked up the ManyChat basics quickly and put together my wedding photography chatbot from scratch within a few days."
The lead flows he created for Aevitas featured beautiful images and creative copy, along with calls to action that, when clicked, would prompt a contact to enter their contact information. He also built flows to respond to common questions about availability, pricing, packages, and more.
"Approximately 99% of my audience are brides, and they want information right away. There are a lot of vendors in Southern California, so if we don't give it to them immediately, they'll likely go elsewhere," says Henry.
Since the entire conversation between the chatbot and his customers was on Facebook Messenger, it was quick and easy for people to connect and submit, especially if they were on their phones. Once people submitted their information, Henry's bot would qualify them based on pre-established requirements—saving him time he would have previously wasted on connecting with low-quality leads.
Aevitas Weddings garnered over 1,100 leads during its two-year sprint using ManyChat.
Adding new revenue streams
After his initial success using ManyChat for Aevitas, Henry decided to expand his business to include training and services for wedding professionals under the brand Wedding Chat Marketing. His program teaches wedding professionals how to generate more leads and revenue with ManyChat, and he also sells chatbot templates.
Henry has also become a subject matter expert in Chat Marketing for the wedding industry, growing a popular YouTube channel and building his online presence.
The educational branch of Henry's business has been a big source of motivation and pride for him. He's continued to learn about chatbots, AI, and automation, and best of all, he now has more time to do the things he loves.
"ManyChat came at the perfect time. I'm able to do what I love and share it with my audience. I'm also able to spend more time with my wife and daughter and go on day hikes and backpacking trips with little to no reception (but a lot of peace of mind)."
Conclusion
What started as an experimental Customer Chat widget on his website blossomed into a multi-stream revenue powerhouse in the wedding industry. Henry now sells agency services, templates, training, and speaks at conferences on Chat Marketing and how people can use it to grow their own business.
Ready to grow your business? Start free with ManyChat today.
Los contenidos de este blog han sido elaborados de forma independiente y sólo tienen fines informativos. Las opiniones expresadas son las del autor y no reflejan necesariamente los puntos de vista de ManyChat o de cualquier otra parte. Los resultados individuales pueden variar.