[Case Study] How The Crawfish Hole Increased Sales by $23,000 Using Curbside Pick-Up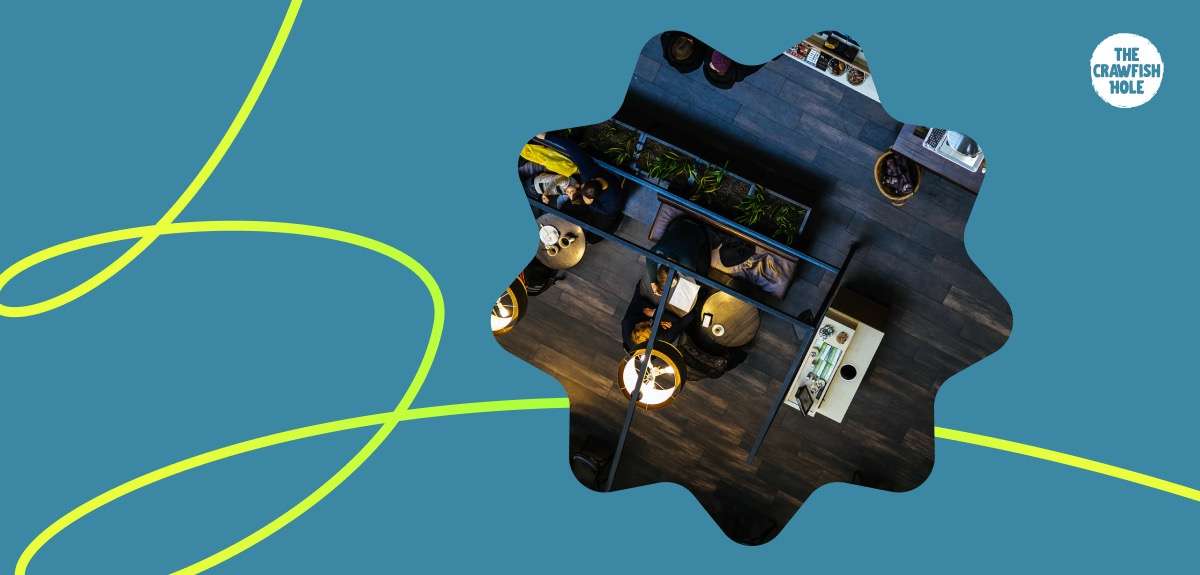 Overview
In March 2020, the United States shut down due to the rapid-fire spread of COVID-19. In Bridge City, Texas, restaurants like The Crawfish Hole quickly shuttered under mandatory government closure of non-essential businesses.
Tracey Matney, Founder of Restaurant Victory, knew she had to pivot The Crawfish Hole's marketing strategy ASAP to keep the business afloat. She was already helping them build a database of fans to drive sales, but when every dining room in Texas was forced to close, she knew ManyChat could help promote curbside orders to new customers through click-to-Messenger ads and a Messenger bot ordering system.
From March 21st through April 2nd, 2020, Tracey offered a "buy one, get one" (BOGO) coupon as a click-to-Messenger ad to local residents, resulting in over $23,000 in additional sales through pick-up orders for the restaurant—with only $15 ad spend per day.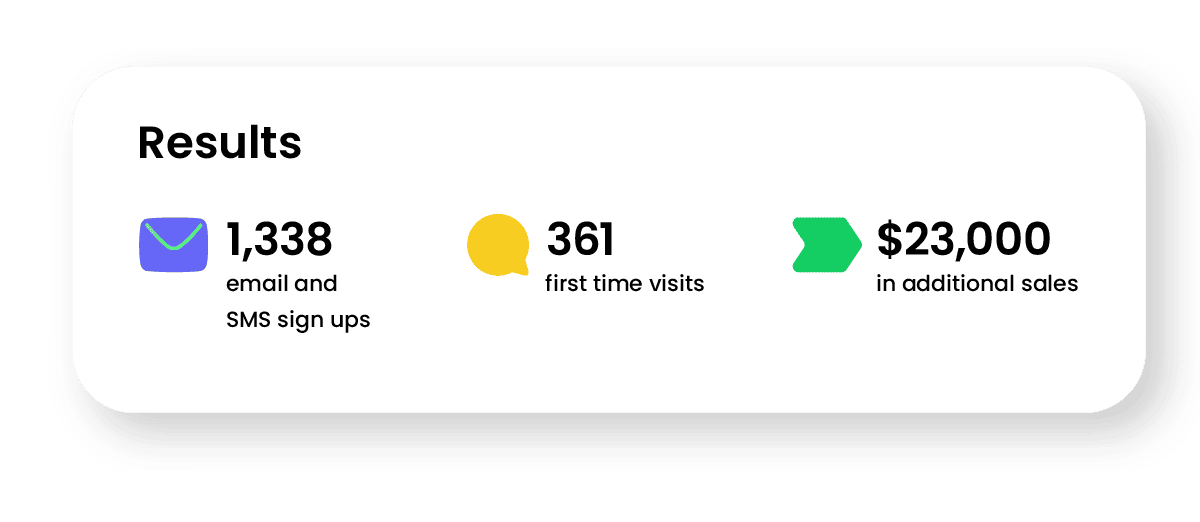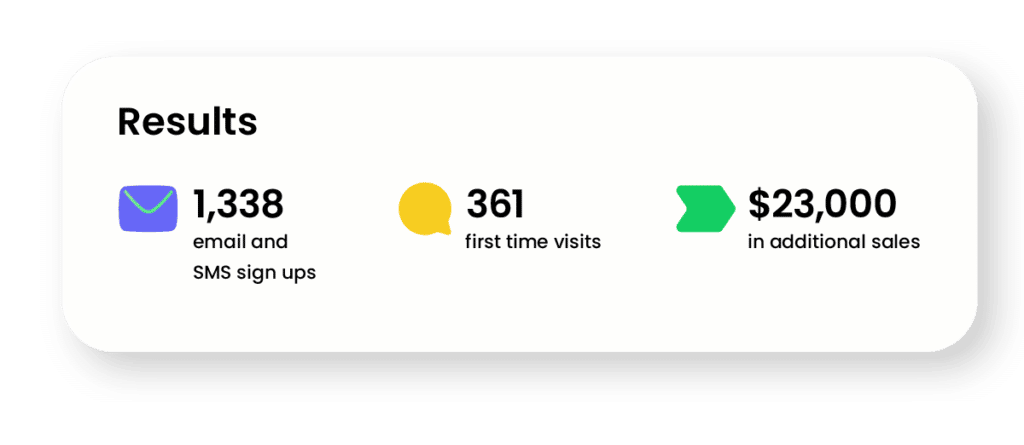 The Problem
After the COVID-19 shutdown, The Crawfish Hole dining room was closed until further notice. The local restaurant was forced to offer curbside and delivery only. To make up for the loss of foot traffic, they had to adjust their messaging and Facebook ads strategy to drive curbside sales.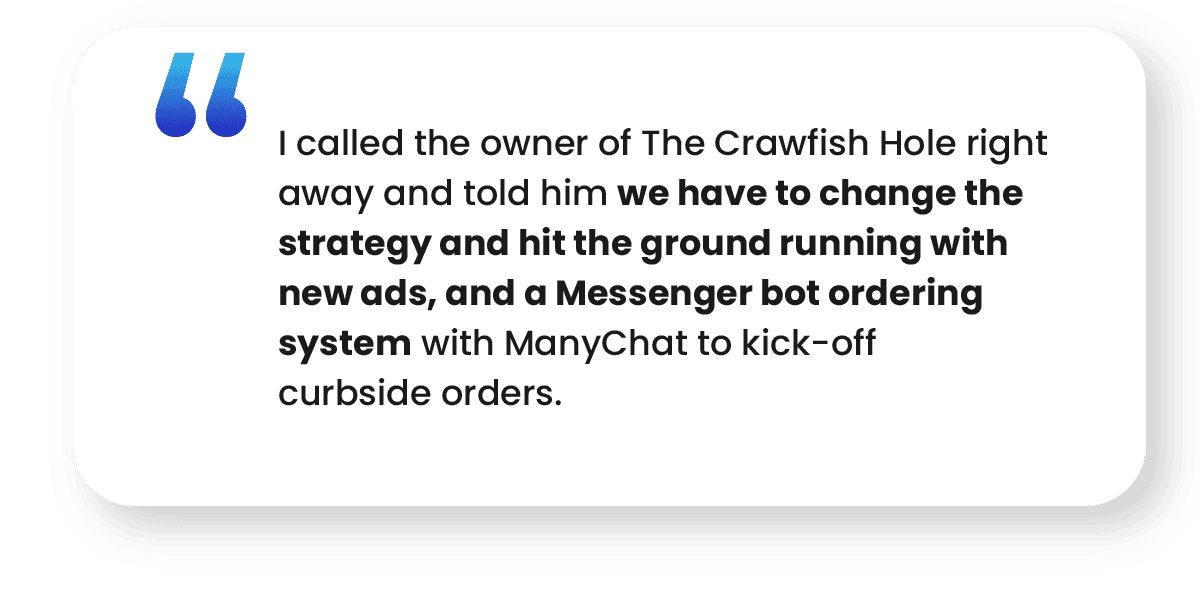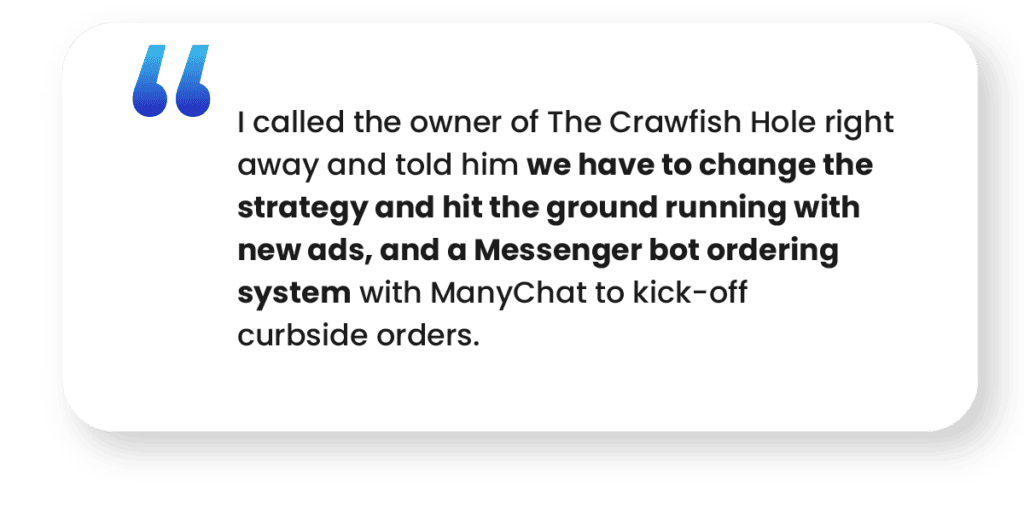 Their Goal
The Crawfish Hole wanted to generate curbside sales through Messenger by encouraging customers to redeem a "buy one, get one" offer.
Approach
Curbside pick up. Customers ordered their meal through Messenger and could pick it up at The Crawfish Hole's "curb". People didn't have to leave the car. This was more convenient for their customers and helped minimize person-to-person interactions.
Multi-channel follow up. If a potential customer didn't place their order right away, Tracey set up a smart delay to trigger a reminder on Messenger, SMS, and email during lunchtime the next day. When someone clicked the message, they were sent to Messenger to place their order.
Irresistible offer. The restaurant ran a "buy five pounds, get three pounds free" crawfish deal the local people couldn't help but click.
Easy redemption process. All customers had to do was tap "Redeem Now" in their Messenger window when they arrived at The Crawfish Hole.
Ready to scale your restaurant? Learn how ManyChat can help you succeed.
How The Crawfish Hole Increased Sales by $23,000 Using Curbside Orders with ManyChat
Curbside pick up allows local customers to buy something online or through Messenger and pick it up at your store. No one has to leave the car. For The Crawfish Hole, this was more convenient for their customers and helped lower person-to-person interactions.
Tracey ran a six-step program for The Crawfish Hole to capture new audiences and encourage them to redeem the BOGO deal.
Step 1: Tracey ran a Messenger objective in Facebook ads with a quick reply to trigger the opt-in sequence. They chose to send the ads to everyone over the age of 18 within a 5-mile radius of the restaurant since crawfish is a popular food in her small hometown in Southeast Texas.
Step 2: Once a person clicks through the ad, they enter a Messenger bot which collects email address, phone number, and consent to receive messages, offers, and reminders.
Step 3: The bot then sends the "Buy five pounds, get three free" offer inside Messenger. Included in the message is a link to the menu and the phone number to call in their order. The user is told to click «redeem now» only when they are at the restaurant.
Tracey set up two conditions:
Condition A. If someone doesn't place the order right away, a smart delay triggers to remind them of the offer at the next lunchtime between 11 AM and 12 PM. The message is delivered through Messenger, SMS, and email. Once clicked, the potential customer is sent back into Messenger to complete the order.
Condition B. When someone places an order, they move further through the flow.
Step 4: After placing an order, the Messenger bot sent a link to the restaurant's Google Maps location inside the chat window. Customers were then asked to add their car make, model, and color so the staff could bring the right order to the right car when they arrived.
Step 5: When the customer arrives, they show their phone with the offer, tap the redeem button, then enter the total order amount. Tracey tagged them as «redeemed» in Flow Builder and sent them a thank you message.
Customers were then asked to provide feedback about the experience using 1-5 quick reply buttons in Messenger. If they clicked 1-3, the bot sent a notification to the admin so they could handle negative reviews in private. If they chose 4 or 5, they were sent a thank you note and a link to the restaurant's Facebook Business Page to leave a public review.
Step 6: Lastly, recent customers were then sent another offer in Messenger 23 hours later to encourage them to return to The Crawfish Hole. Wash, rinse, and repeat.
Conclusion
Despite market uncertainty and a multitude of layoffs, the restaurant still thrives making more sales than before the shutdown. By implementing a Messenger bot ordering system and running Facebook ads, Tracey helped The Crawfish Hole drive over $23,003 in sales from March 10th through April 9th, with only $332 on ads.
Ready to scale your restaurant? Learn how ManyChat can help you succeed.
Los contenidos de este blog han sido elaborados de forma independiente y sólo tienen fines informativos. Las opiniones expresadas son las del autor y no reflejan necesariamente los puntos de vista de ManyChat o de cualquier otra parte. Los resultados individuales pueden variar.