How to Sell Using 2-Way SMS Live Chat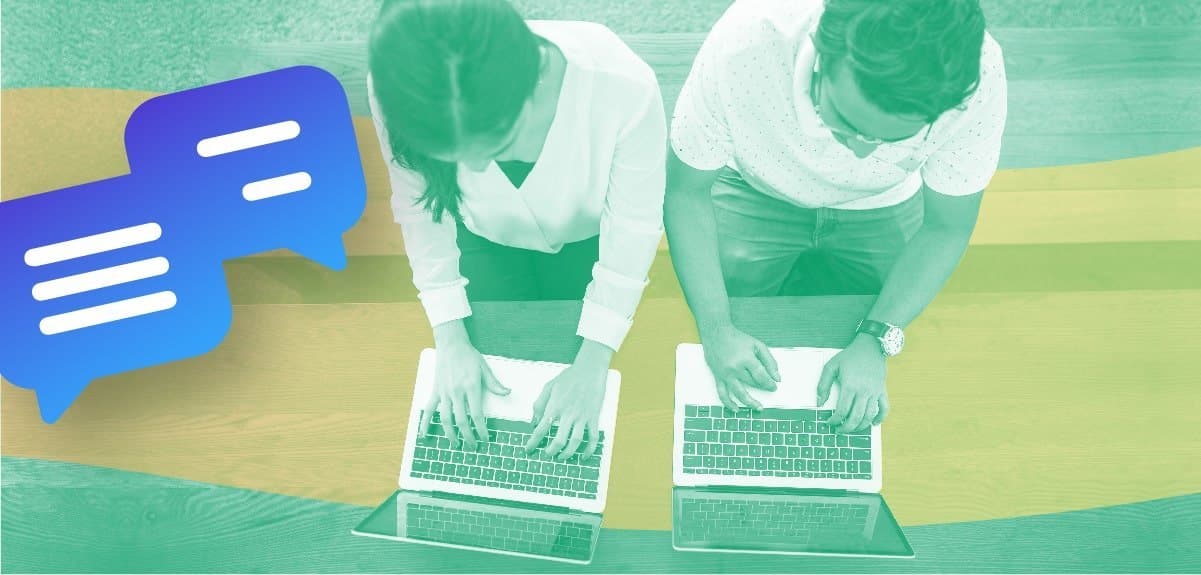 Many companies consider SMS marketing a cost, something eating away at margin and not taken too seriously in the organization. And because SMS typically sits underneath an umbrella of other costly marketing channels, it's less known as a profit center for teams — for now.
However, hidden in SMS marketing is a great conversion rate optimization that, with the help of ManyChat's 2-Way SMS Live Chat, can boost sales, build affinity, and help collect more information on customers and prospects in order to serve them a more personalized experience.
If you want to create a personal touch with every customer, here's how to sell more using two-way SMS live chat.
1. Be a relentlessly helpful guide to your customer
When it comes to selling over SMS Live Chat, ask yourself, "What information does this customer need to win?" Understand the problem they are reaching out to you about, and earn their trust by helping them solve it. You'll need to empower SMS users and not push a sales message too early.
Pre-sales is a sensitive time period for people considering to buy your product. If they don't get their answer now, they'll go somewhere else. If they feel pushed, they'll abandon the sale. This is where the biggest gap between what you should be doing and what most companies do with Live Chat lies.
Imagine you're a sales rep inside a department store. Guiding a user through the aisles, helping them try on shoes, showing them what's on sale, what's in-stock. Unfortunately, most customers are faced with bad automation or half-ass agents. There are so many barriers to conversion online these days. Don't let your conversation be the same. Be there for every query.
2. Make sure the right people are in place to answer product questions
One of the concerns about using SMS Live Chat is knowing who should field responses: Sales or customer support? The answer is both, but support needs to be able to answer product related questions.
Here's an example of what you don't want to happen: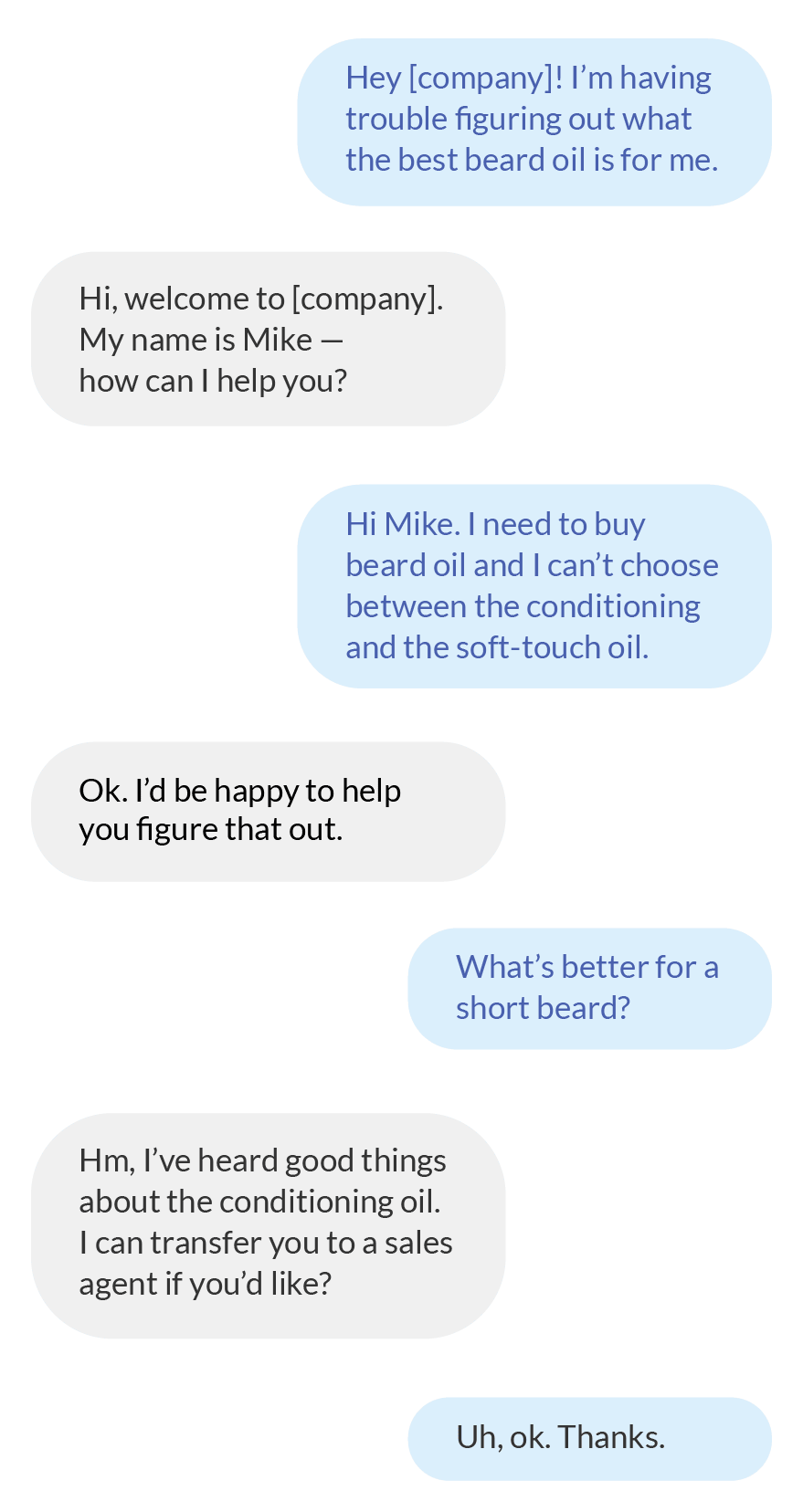 When someone specifies what they need help on, they assume they are being routed to the right team. If you send an SMS broadcast with a promo and people respond with a question, the team receiving the query should be able to answer. You don't want to stall the journey to conversion; instead, you want to use SMS Live Chat to help them figure out their issues.
3. Learn about your customers to recommend the best products
Live Chat support used to only be about queueing up customer complaints. Now it's about getting to know your customers and making recommendations for better products. Doing this encourages customers to buy once, and also come back and buy again.
To learn more about your customers in SMS Live Chat, you can open up the conversation with some exploratory questions. Let's say you sell beard supplies. You could ask questions such as:
Are you currently using a different beard oil? Tell me what you don't like about it.
What style facial hair do you want?
What kind of grooming products do you typically use?
What fragrances do you like?
Do you like this beard oil here? It's a best seller in our fragrance-free oils.
These questions help you figure out the person behind the screen. Make sure the questions you ask are relevant to the product in question, so you can make the best recommendation for the customer.
4. Upsell and cross-sell to boost average order value
The basics for selling anything in Live Chat. Don't forget to use your sales team whenever you know someone is ready to buy:
An upsell is where a customer ends up buying an upgraded or more advanced product after messaging with you. For example, if a person wants to buy regular beard oil, but instead decides to buy the premium cold-pressed, fragrance-free one for more money, they are upsold on the idea that this better beard oil will give them the look they want.
A cross-sell happens when a customer ends up purchasing a product that complements the initial one. For instance, once they get that cold-pressed beard oil, they're reminded a great face-and-beard wash can help keep their skin and beard healthy and clean.
To achieve this type of conversion, provide some basic sales training to teams using SMS Live Chat so they can identify and act upon sales opportunities.
5. Recover from running out-of-stock
One of the great things about Live Chat is the ability to keep the conversation going. In the event a product goes out-of-stock, you can redirect customers to a new and relevant one. Maybe they haven't found everything on your site easily and need help. Or maybe they want a notification when it comes back in stock; regardless, keeping the conversation rolling is likely to turn into a sale.
Take the example below between Chris (customer) and Sarah (Live Chat rep).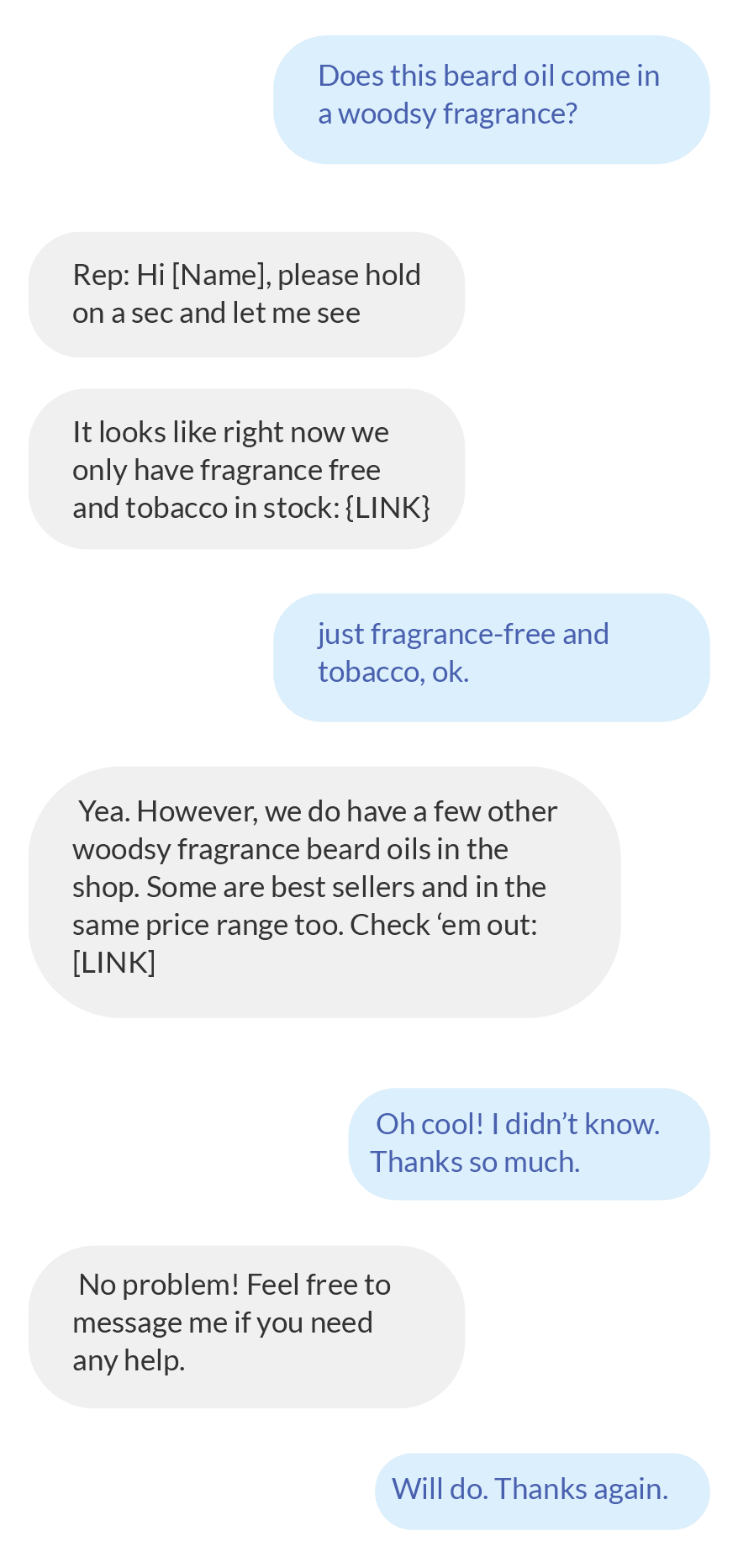 It's clear Chris is interested in buying even though the product she wants is out of stock. However, since Sarah knows sales, she helps Chris out by offering up similar, best-selling products he might be interested in. Clearly from the conversation, Chris is delighted. Even if he doesn't buy now, the experience will bring him back to the site next time he's looking for a new grooming product.
6. Help customers transition into the final step
Once a customer makes their decision, you can guide them through the next steps to complete the purchase. Here's an example of how this works live: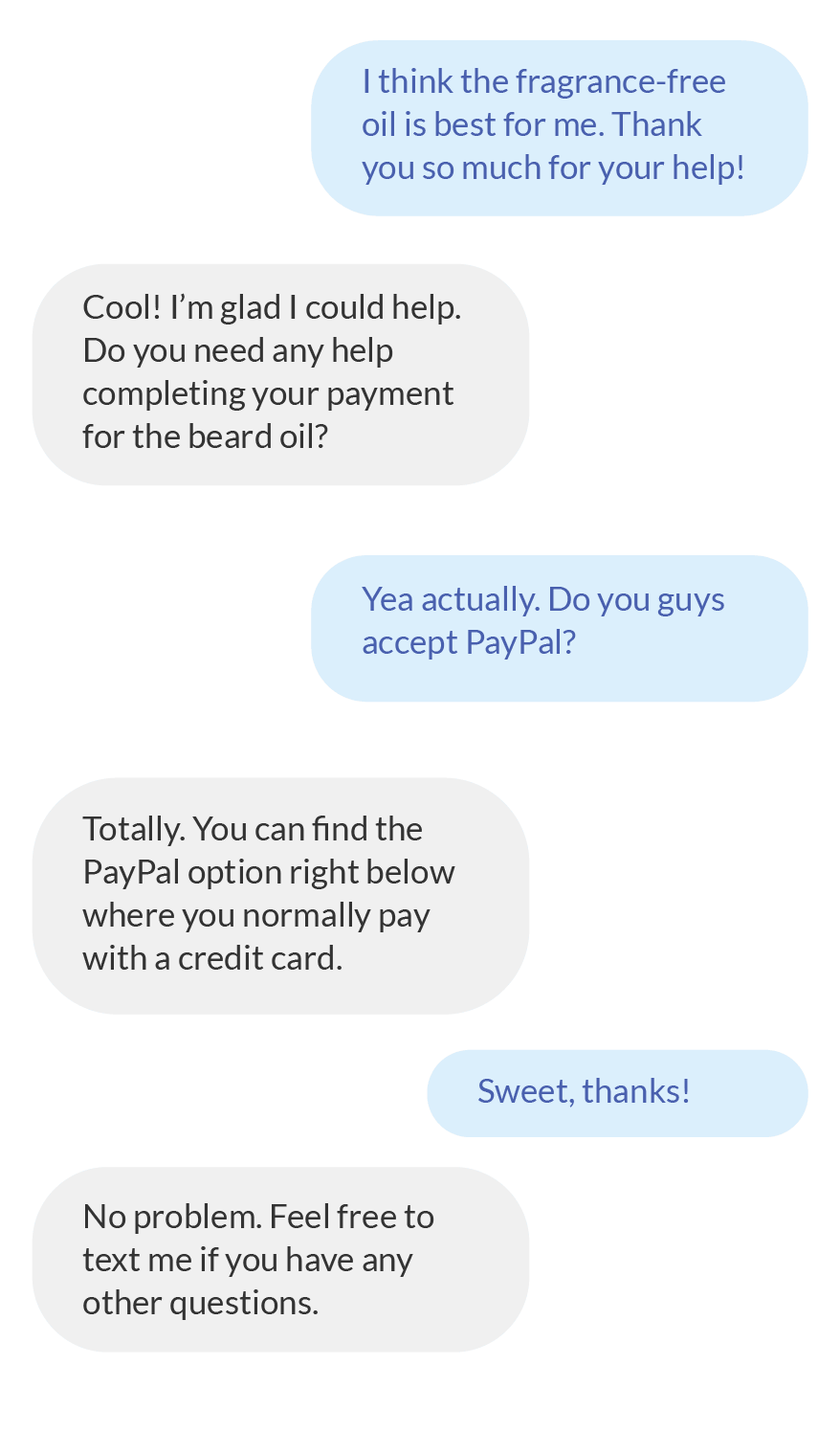 Notice how the rep helped move the customer towards purchase. Every conversation won't flow like this, but you can always use different phrases to get the same effect:
Awesome that you went with the beard oil [Customer First Name]. We'll get it shipped to you ASAP.
Now that you've got that in your shopping cart, is there anything else I can help you out with?
Thoughtful phrases like the ones above show that you're there to help throughout the entire journey. If a customer has any trouble with their order, they know they can text you and you'll fix it, rather than getting better support after buying from your competitor.
How to start using 2-way SMS Live Chat
Thankfully, with ManyChat's Chat Marketing platform, businesses can provide a quick and delightful experience for customers through SMS. From the moment a shopper has a question to handling support issues and closing the sale, you can use two-way SMS Live Chat to get the job done.
Start selling more with 2-way SMS Live Chat. Get a ManyChat Pro account today.
Los contenidos de este blog han sido elaborados de forma independiente y sólo tienen fines informativos. Las opiniones expresadas son las del autor y no reflejan necesariamente los puntos de vista de ManyChat o de cualquier otra parte. Los resultados individuales pueden variar.