Conversations 2019 Meet the Speakers: Derric Haynie (Recap)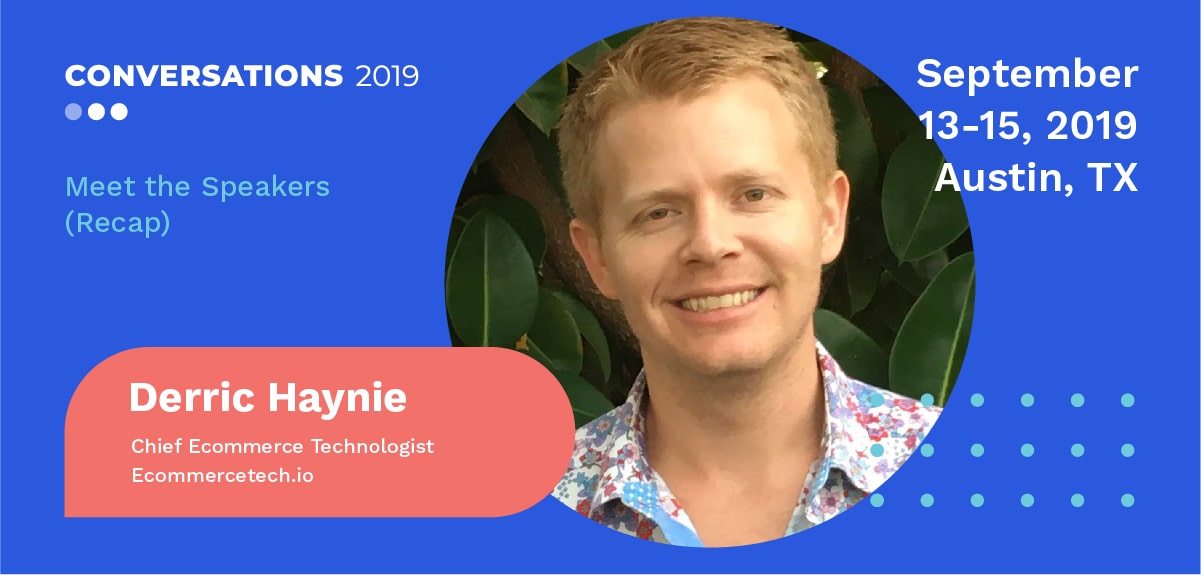 The past few months we've offered our Facebook Live Meet the Speaker series to help you have a more intimate conversation with some of the top bot builders in the industry. From creating bot personalities to generating over a million dollars per month, we've definitely learned new bot strategies and how to bring in more revenue. 
And now, we're excited to discuss integrations, specifically Shopify and the tech you can use to better your e-Commerce store. Derric Haynie, Chief Ecommerce Technologist at Ecommercetech.io, took an advertising budget from zero to over $300,000 per month and beyond.  
In case you missed our latest Meet the Speaker featuring Derric, it's OK. We have the whole thing for you right here, plus some actionable tips you can apply immediately, as well as show notes.
Don't forget to register for Conversations 2019!
Show Notes
From a professional poker player to Chief Ecommerce Technologist, here's Derric's story and advice. 
How did you go from poker to tech?
Derric Haynie: I always knew that I couldn't do poker forever. But a lot of the values that I learned from poker carry perfectly over into business. 
Facebook ads are very similar to poker because you're risking money in like a short-term game that you could be a loser. And in fact, a lot of people who have invested in advertising have lost, right? Especially when you go at it with a low budget and low skill set, which is exactly the same as poker. If you go into playing poker with low budget and low skill set, you really only have one guaranteed outcome, which is you'll lose all your money.
Now, if you have a great budget and even a reasonable budget and, the skills that you need to succeed, then you're playing a game that's positive ROI. You shouldn't be able to make more money than you spend, but a lot of times, both in poker and in business or advertising, there's a learning curve and a time to recoup those costs. I've seen this so many times in eCommerce communities where somebody says, I spent $40 on ads and got no sales. What happened? And they're like, "I got all these clicks to my website". I'm like "$40? Go home". You shouldn't even be advertising at all because your mindset clearly isn't prepared for what is making a sustainable business through advertising.
It's also important for people to understand that Facebook ads won't solve all their business problems. If you don't have a product that's actually worth selling, then it does not matter. Correct?
DH: Here's an example: Boxycharm.com. It's a beauty subscription where you're getting five discovery products every month. We're the people curating those products. We're able to secure them at extremely low costs because we're partnering with all the beauty brands and they're giving it to us essentially at production costs. There is a cost there and then we're selling the box for $21 a month. So our margins obviously can't be that great cause landed, shipped to you in your home at $21 a month is like five full-size beauty products over a hundred dollars of value. Obviously you're thinking, they have to be losing money every month on this, but at scale you're able to make this work. So there's a huge operational and logistics component to do this at scale and make the company work for you.
Then once that's working, it's a discovery product. So everybody loves posting on social media, we have phenomenal, or they still have phenomenal influencers that are sharing about the brand. For those reasons, advertising is fuel for the fire. It's the gasoline that took us from, we can see sales on Instagram, we can see sales on Facebook. Let's just boost that straight through the roof.
I had 80 percent of my ads losing and then all of a sudden there's one where, we paid an influencer known as Cardi B, to do a little video for us. It is literally a 30 second super annoying video, for me. I've seen it like 4,000 times now and we got the rights to promote that video on Facebook. So I put that video up and it dropped our cost acquisition by 50 percent. That was the biggest winner. We went to a very strong direct acquisition model. We got millions of video views on that and we were able to use that as a huge lever into scaling acquisition.
What is your best tip for people who are to reach out to micro-influencers or influencers to have them represent their product like that to give it that extra little boost?
DH: I'm going to show you a free tool that is for Shopify stores only. Right now I'm going to show here in a chat called Tero. So if you're an eCommerce store, specifically on Shopify, let's just say you've had a few thousand customers in your store, this is a free tool that will identify the social following of all of your existing customers as well as your social followers as well as your email list. Then you can say, "Oh look, that person has 20,000 followers and they bought from me three times. Let me go reach out to them and see if they'd be willing to do something for free or in exchange for product or something like that." Right? So this is a really good start to micro-influencer and of course, it can go up to macro influencer because these are your valuable influencers.
Again, it only integrates with Shopify. That's the limitation of this tool. But there are other tools that might be able to do this. You could also do it manually or maybe there's a more enterprise-like tool like Upfluence or Redfluence that could do some of this as well. But this is the free tool that I recommend to everyone because it costs you nothing. And within about 10 minutes you can identify some influencers in your existing base.
What are you going to be talking about at the conference?
DH: It is called Beyond Customer Service, how to track an increase ROI from onsite chat for eCommerce.
So I kind of recently, perhaps accidentally, became an expert in live chat. Of course, we're here talking about Messenger Marketing and live chat is similar, but it's a bit different, in the sense that what I focus on really is either sales or presale chat experience, usually onsite.
Obviously I know I've done Messenger Marketing a ton in the past, which can take place onsite or on channel. But for me, I'm looking at conversations around, does this come in red? Is the medium going to fit me? What sizes do you have? Do you have this in a nine? What's your refund policy? People are coming to the website and they have questions, right? These questions are actually objections. They're essentially obstacles or hurdles that we have to get over in order to get them to purchase. I've been studying the experience that some people are having on-site and we can see that having active humans respond in real-time, you can increase conversion rate on your website by about 20 to 40 percent. That's 20 percent additional store revenue.
If you do this correctly, you also increase the average order value, lifetime value. You lower your backend customer service costs because you answered questions prior to the purchase period. So all the good things happen and not enough people are investing in it. Here's the sneak peek reveal. A mystery shopper report that I helped a company called simpler. S. I.M.P.L.R. AI run. We did 500 eCommerce stores. A lot of big brands like medium and large eCommerce stores, not small stores, established stores like Staples, Bows, who else, Timbuktu, all of these big-name brands that you've heard of, of the 500 stores, 360 of them had onsite chat, some somewhere on the site. Of those 360 onsite chats, 280 of them were just sending to email. So it was a complete missed experience, right? It was just like, Do you have any questions? What size did this come in? 
You can add it to the bot itself so that you don't have to answer that with a human next time. You can definitely have those automated flows helping 80 to 90 percent of your inquiries. The takeaway from my session will be, so this is the spoiler, is it should be a 24/7 bot to human interaction. So live chat interaction. And what I mean by that is, you need a human manning live chat 24 hours a day, seven days a week. And that's because your store is open 24 hours a day, seven days a week. But you don't want to waste that manpower on answering simple questions. So you need to have the bot mitigate as many tickets as possible. And then the human follows up.
What is the optimal time to respond?
DH: Five is definitely pushing it. So over five minutes is not ideal. About 90 seconds is what you need for optimal increase in conversion rate.
That's actually the best way to start, you need to keep it in house and it's you or your COO or somebody. If you have a small team, one person needs to just own it. As you get more inquiries, you realize, we need a support agent and then we need a Head of Customer Support. And now you're building a robust library of all the questions coming in. You're answering them through bot mitigation strategy. You've built your macros and rules, you've got a well-oiled machine. That's where we need to go from there. And that's kind of how you build that trajectory out. But the most important thing actually, I would argue, is tracking revenue from sales. We want to know how much money this is making us. A lot of people, again, because we're talking about customer service and traditionally customer service means a post-sale ticket. Like, where's my order? Or this never arrived at my door.
Remember, treat them like a customer before they buy it, which makes a seamless experience after. 
I'll be digging into this and more at Conversations.
About Our Facebook Live Meet the SpeakersSeries
Each week Molly Mahoney hosts a LIVE interview with one of our Conversations 2019 speakers to give you the opportunity to meet them and learn their secrets to successful Messenger marketing. It's a way to ask questions that you might not be able to ask at the conference and discover more about what will be discussed at Conversations 2019.
Here are the details.
When: Thursday, 9 am PDT.
Go to our Facebook page: ManyChat.
Click on the Live announcement.
Watch, learn and ask questions.
And, if you haven't registered for Conversations 2019, do so before prices go up! Reserve your spot.
We'll see you LIVE! #Conversations2019
Learn more about our other Conversations 2019 Speakers:
Los contenidos de este blog han sido elaborados de forma independiente y sólo tienen fines informativos. Las opiniones expresadas son las del autor y no reflejan necesariamente los puntos de vista de ManyChat o de cualquier otra parte. Los resultados individuales pueden variar.