Conversations 2019: Takeaways from Day 2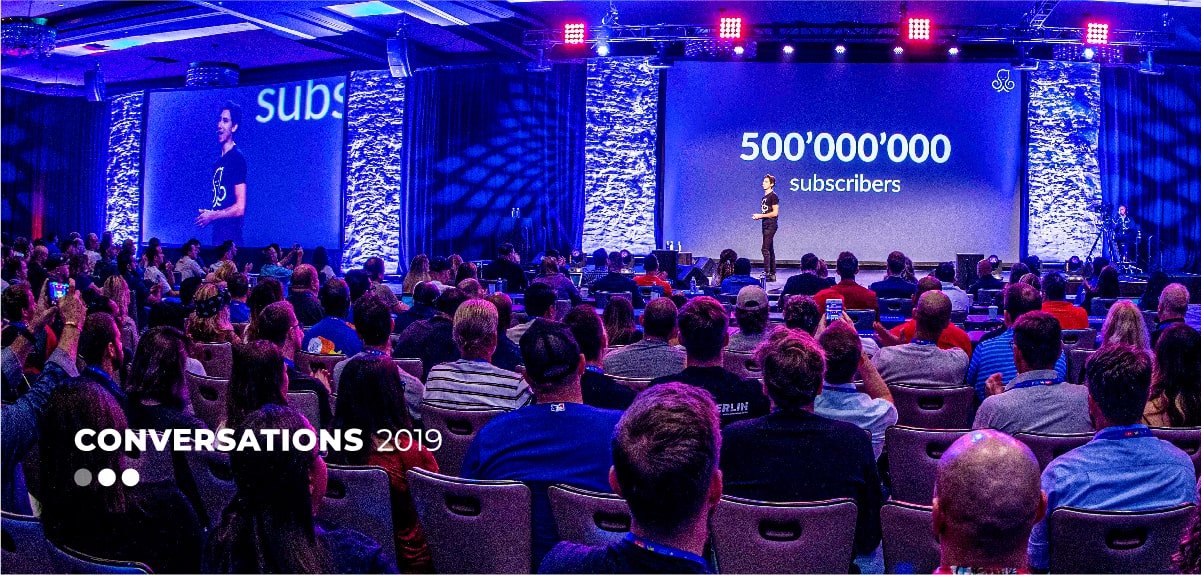 One of the big themes of Conversations Day Two was around the future of commerce.

Is it Rich Communication Services (RCS)?

Is it going Live to promote your products?

Is it a wall of donuts? (I sure hope so)

But really, the true answer is: somewhere in this article. Guess you'll have to find out! We captured all the goods from Conversations Day 2 so you can calm the FOMO and join us for the ride. Let's do it!

Mikael Yang: How to thrive in the new era of Messenger Marketing
Mikael kicked off Day 2 at Conversations with a deep dive into the state of marketing, and what the future holds for marketers around the globe. Mikael gave us some insight into how voice communication is quickly being replaced by text in younger age groups.

But even more than that, we learned that mobile messaging apps are becoming the new social networks. It's estimated there will be more mobile messaging app users than social network users by 2020.

And this is where things took a slight turn. Given the current state of the market, Mikael let us know how ManyChat is moving from Messenger Marketing into a new industry — one that covers all 1:1 and personalized marketing interactions — Chat Marketing.

Needless to say … the crowd was excited.

Along with coining a new industry term, Mikael announced a ton of new ManyChat updates (we'll go in-depth on another blog post), including:

A live chat mobile app (cue the oo's and aaaah's) so businesses can always stay in touch with customers, even on-the-go. You can down in the app store today!
The long-awaited Google Sheets update row. So finally, you can update your Google Sheet rows from the ManyChat app, without adding any extra rows.
A faster, more effective Flow Builder with some new slick design elements.
Again, that's not all. But the most important, most exciting update Mikael gave us in his first talk was …

ManyChat now offers SMS AND EMAIL! RIGHT INSIDE FLOW BUILDER!!

You heard it right. SMS and emails! No more app hopping or wasted time. Create and send conversations right inside Flow Builder so you never have to leave ManyChat to execute your chat marketing campaigns. And the crowd was feelin' it.
Mari Smith "The Queen of Facebook" Facebook Marketing in A Changing World: Your Roadmap For the Future
Next up was the Queen of Facebook herself … Mari Smith!

If you've been worried about all the Facebook changes, you'll be happy to check out what Mari shared with us. Here's what we learned from her talk on how to get your organic reach back:
Your audience on Facebook is always going to be random. We have to learn how to own it. You can use the two-part Mari method to get organic engagement back to working with you rather than against you.
Start with a great piece of content. Ideally, video or live because they see a ton more engagement. Let that video sit for 24 hours in people's feed.
Take a dollar or two and drive a little paid traffic to your video. Then retarget custom audiences based on video views, website visits, or lookalike audiences.
It's not about proxy or vanity metrics. Identify and measure the right sales goals.
Stop posting links — less links, more videos with CTA.
Own your own lists when it comes to Facebook. Private messaging, stories, and small Facebook groups. Privacy-focused small groups will help grow your business faster.
Louis Moynihan & Mikael Yang: Facebook Changes and ManyChat Updates: How to prepare your marketing for 2020
Our next Fireside Chat was with Mikael and Louis Moynihan, Cross-Platform Messaging Business Development at Facebook. The two discussed how bot builders and marketers can prepare for the future of Messenger.

Facebook's mission is to drive more valuable conversations with businesses. When businesses deliver relevant and timely messages with customers — the platforms work better.
The top three use cases for Messenger Marketing are (1) lead generation (2) eCommerce (3) customer support. That's mostly what we all use it for too so, woo!
Facebook is investing more in Click-to-Messenger ads due to the sheer volume of active users and advertisers.
The long-term value for everyone is customer service. Louis pointed out that the backbone of messaging is support.
Facebook is working to make sponsored messages better. Just in time for our new and easier sponsored message creation in the ManyChat app!
We will have to work with four message tags. So make the most of the 24-hour engagement window moving forward.
Kelly Mirabella: Creating craveable Messenger Marketing that turns subscribers into fans and increases conversion
Kelly took the stage next, with more energy than the sun itself, to discuss a harsh reality marketer have to face …

Messenger bots are annoying. Some people haaaaate bots. Kelly shed some light on why and what we can do to turn our bots into little celebs. Oh, she also killed it in her talk.

The top three things we learned from Kelly in this high-energy, kick-ass talk was:

Don't be boring.

Start thinking about your brand voice. Be flexible. Talk like your talking to your best friend x1,000. Use the lingo they use.

Consistency builds trust. It makes you relatable and builds an emotional connection that people can get excited about.

If you're giving 100%, your fans are hearing 10. Your customers feel a lot less energy than you feel in-person

Kelly Mirabella
Don't be annoying.

Set expectations and let people know what they should expect when they subscribe. And do what you say you're going to do. Also, for all of us who need a good reminder: MAKE IT EASY TO UNSUBSCRIBE.

How to make your brand a celebrity people love.

GIF's and emojis make the world go round. So does raving fans. And what do fans want? Access. Kelly gives us a few pointers on how to do it:
Give them insider details.
Makes them feel special.
Let us get to know you.
Create a community.
And most important thing Kelly teaches us is … Respect Your Audience.

Rachel Miller: 5 Messenger Tactics to Increase ROI and EXPLODE your Business all over Facebook
Rachel opened with a story about her moose-tracking adventures in upstate New York — which, we're absolutely stoked she made it out alive. Long story short, she laid down the law on how we can stop chasing our customers.

It's all about Rachel's secret formula (A+M+C) x E. Audience + Message + Content multiplied by engagement.
A good model to use: Paid and organic traffic to Page —> Messenger —> Facebook Group —> Messenger.
Get creative but always work to send people back into Messenger so you can re-up the 24 hour engagement window.
Don't chase your moose — no one likes to be chased. Customers don't want to have anyone follow them around the internet.
Ezra Firestone: My Scalable Direct to Consumer eCommerce Brand Blueprint that's Generated Over $96M in 4 Years
Ezra Firestone dropped some insight into how we should look at our business. He explains to us that, typically, we look at our companies as a cash cow. This leads to a handful of problems for entrepreneurs in terms of work-life balance and overwhelm.

Ezra challenged us to think of our business less in terms of immediate cash flow, and more as a liquid asset. A path to wealth creation you can walk over the next 10 to 20 years.

Cash flow businesses don't result in wealth. Ezra stressed the importance of brand purpose and assets are key to turning your business into an investment vehicle.

Brand assets make up a group of people who are engaged with you over time. Assets like email, phone number, community, testimonials help build trust between the brand and customers. So when you run a sale or launch a product, they respond.

But what generates these assets? Content. But not just any type of content. Ezra explains:
Content of an experience that people are having are most effective. The collective experiences that a group of people share together.

Ezra Firestone
Once you've got that content, for example, video testimonials and product demos, you can better sell to target groups. His formula is simple:
Send a video ad on Facebook.
Filter out people who watched at least 50% of the video.
Retarget sales ads to that audience.
That's how Ezra's generated over $96 Million dollars in 4.5 years for multiple self-funded and successful companies. And you can do it too.
Elaine Pofeldt, Shakil Prasla (Pro Click Ventures), Allen Walton (SpyGuy), Apurva Batra (Flexible Pouches): Solopreneur — What It Takes to Build a Million-Dollar e-Commerce Business
Some seriously talented folks were up next in our industry panel covering what it takes to build a million-dollar e-commerce business as a one-man show.
Key takeaways:
Allen Walton: "Every hour, I'll make a log of everything I'm doing." Allen explains how keeping track of what he's doing helps hold himself accountable, plus delegate tasks to others on his team.
Question: What is the mindset shift in how you run your business that took you from six figures to seven?

The mindset change to grow from a six-figure to seven is focus. At the end of the day, there's going to be two to three strategies to take away from (the event) that work for your business
"Once I got to seven figures, I didn't realign my goals at all. I actually got really burned out on my business and wasn't satisfied with anything. I wasn't pleased and it was because I didn't realign my goals" – Allen Walton

"Focus on optimizing and automating your business and make sure at the end of the day that you are enjoying what you are doing. The money will follow." – Apurva Batra
John Parkes, ClickFunnels: Effective Facebook Advertising and Re-targeting Strategies
John Parkes dished some serious knowledge on how to simplify your Facebook ads. He also got the crowd to wish his daughter a happy birthday because she pretty much helped drive his talk!
Think about prospecting and retargeting like the cats and the dogs.
Here are the top learnings we picked up from John's talk:
To get people to click your prospecting ads, you need to inject some curiosity. To keep people around, your ads also need to match the page or flow you send them too.
To see results on your retargeting ads, keep retargeting windows short.
The goal of retargeting campaigns are to migrate people onto mediums you can better connect on. For example, a Messenger bot or SMS list.
Don't forget to advertise to your own fans. Let them know what other products and services you offer — hey might be asking for it and you don't even know.
Randi Zuckerberg: Future Consumers
To wrap up Day 2, we were happy to bring Randi Zuckerberg on stage to talk about the needs of the future consumer. She covered how, today, everything is media. Coca-Cola is a provider, you, Randi, everyone needs a media strategy to connect with future consumers.
Everyone needs to invest in an audio strategy is you haven't already. 90 million people listen to podcasts, and there are only about 400 podcasts updated regularly. There's a huge delta between the too. Audi can help you bring in new clients and cement your place in business.
There's a resurgence in Live. If people don't tune in, they miss out on that social connection. Now we have live performances, live sports, and more. Going live is the only way to create scarcity in video.
Unplug. We miss seeing the 30,000-foot view of our own lives. We miss that creative space when we're always connected. You can't do that if you're reacting to what other people want all the time. Randi's advice: Unplug and make the space to get creative in your own life.
Wow — what an exciting day!
So Day 2 revealed to us that, yes, the future of commerce is a wall of donuts. And good thing because that's really all we want in life, right?

ManyChat SMS, video ads, cats and dogs, turning your bot into a celebrity — there was a LOT to take in on Conversations Day Two. Fortunately, it's all here for you so you can pull all the lovely insight from our speakers … forever.
Check out everything we learned on Agency Day!
Loved Conversations 2019? Sign up for exclusive pricing and updates for Conversations 2020.


O conteúdo deste blog foi preparado de forma independente e destina-se apenas a fins informativos. As opiniões expressas são de responsabilidade do autor e não refletem necessariamente a posição do ManyChat ou de qualquer outra parte. Os resultados individuais podem variar.