Updates for Instagram DM Automation: August 2021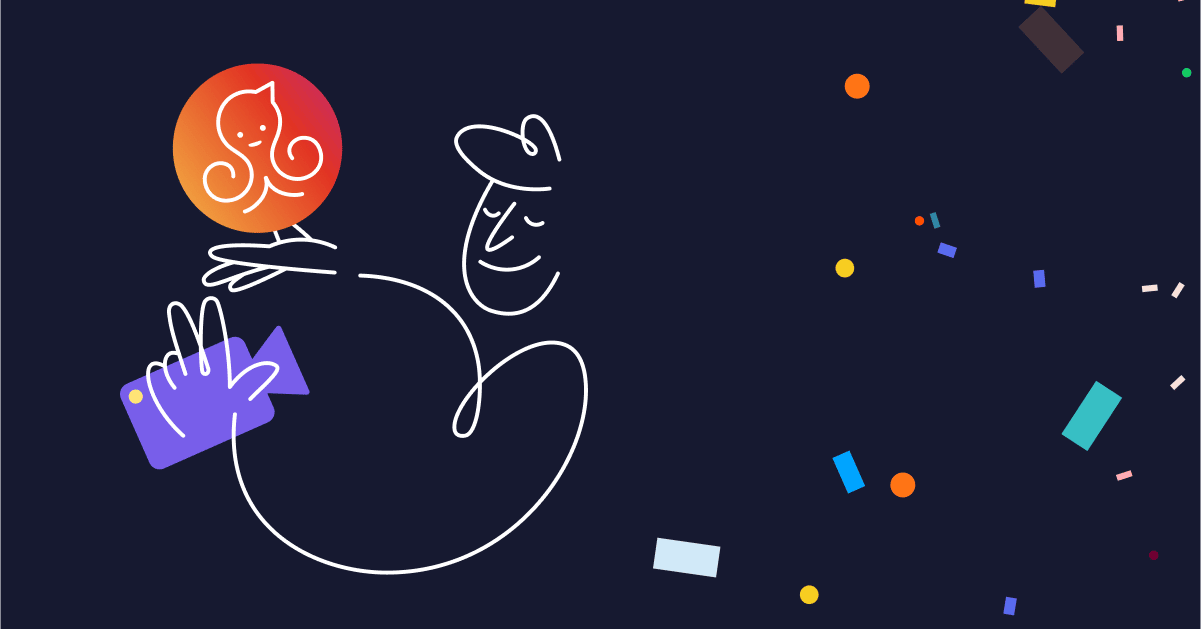 Instagram DM Automation is finally here, but we haven't stopped working to improve the overall experience of using it. At ManyChat, our goal is to make sure that creating amazing chat experiences on Instagram and Messenger is as smooth and intuitive as possible.
We're excited to announce SIX new updates, ranging from existing workflow improvements to brand new features. Keep reading to learn more about these exciting new changes, when they'll be live and ready for use, and how you can utilize them to get the most out of ManyChat and Instagram DM Automation.
New & Improved Features
We'll break down each of these new features in-depth, but first, here's a quick summary of what we've been working on.
The return of IG Comments Automation, aka the Comments Growth Tool – currently available
A new location to edit Default Reply settings – available week of 8/9
The ability to prevent Story replies from triggering the Default Reply (available for use by ManyChat Pro plans only) – available week of 8/9
The ability to include commas in Keyword phrases – available week of 8/9
The introduction of the [Last Interaction] and [Last Seen] variables for Instagram – currently live
A new menu of diverse Quick Campaigns to help you get started – currently live
Read on for more detailed information, and as always, enjoy the updates and happy Flow Building!
The return of the Comments Growth Tool for Instagram
One of our favorite features, the Comments Growth Tool (CGT) allows you to send automated messages and start conversations with customers who comment on Instagram posts.
Earlier this summer, the CGT for Instagram DM Automation was disallowed by Facebook. This meant that nobody across the chat marketing ecosystem could use this form of automation. Working tirelessly with the Facebook and Instagram teams, we've been able to bring this instrumental feature back.
If you aren't familiar with the CGT, it's a foundational feature and a tried-and-true method for starting conversations with customers. Here's an overview of how it works:
When enabled, the CGT automatically sends pre-set messages to Instagram users who comment on a post
You can set additional rules, like triggering specific messages to be sent when users comment on specific posts (or one general message if a user comments on any post)
You can also choose to trigger messages based on specific words or phrases within comments. (The CGT works exclusively with comments and is separate from our Keywords feature, which automates responses to Direct Messages.)
Similar to how the CGT works for Facebook Messenger, now you can trigger a message to automatically send a reply to a public comment under a post.
The CGT is a great way to automate giveaways, contests, and promotions.
Here are two ways to access the CGT from the ManyChat Dashboard:
From the sidebar —> Growth Tools
In Flow Builder —> Starting Step —> Add Trigger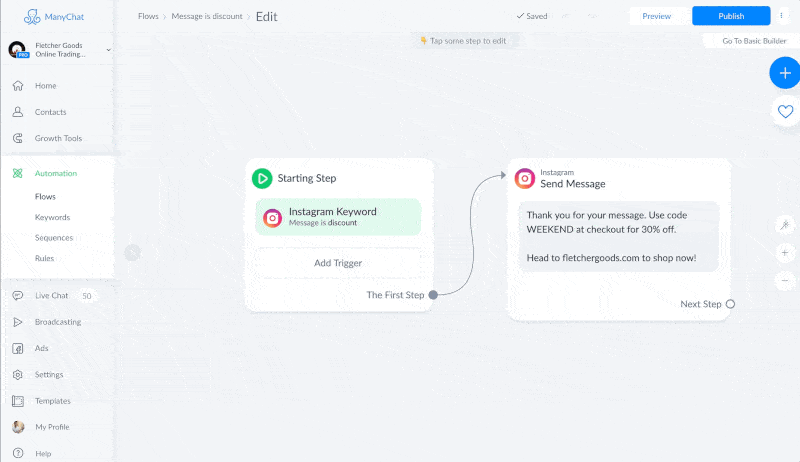 New Default Reply Workflow
The Default Reply is one of the most simple, yet powerful features of ManyChat. Now you can change its settings inside Flow Builder, making it easier than ever to use.
The Default Reply is a message, or an entire automated Flow, which is sent to customers if they message you first. The only exception is when customers start conversations that have different automations set up, like Keywords or Conversation Starters.
For example, imagine you have the Default Reply enabled at the same time as a live Keyword. If a customer messages you and doesn't use the Keyword, their message will trigger the Default Reply. Conversely, a customer's message that does contain the Keyword will override the Default Reply and instead trigger your Keyword response.
Because the Default Reply will reply to nearly all incoming messages, using it has benefits such as:
Simply making sure that users who send messages always get a response
Acting as a "troubleshooting" guide or "helper" if customers type something your chatbot doesn't understand
Ensuring that customers get the help they need by including things like buttons or answers to FAQs
The Default Reply can be as simple or robust as you'd like and can help you achieve a variety of outcomes. Our personal recommendation is to personalize the Default Reply using Tags, Custom Fields, or Conditions.
You can also choose how often your Default Reply is triggered by using either the "Every time" or "Once per 24 hours" settings.
Consider what you want to achieve with your Default Reply. If you want your Default Reply to act as a "helper" when customers type something your bot doesn't understand, then choosing the "Every time" setting is probably your best bet. If you want to use the Default Reply as a sort of "away" message to tell customers when you'll be available again, you'd likely benefit most by setting it to "once per 24 hours."These two settings used to be located at the top bar of ManyChat, but they are now located inside the Starting Step block in Flow Builder. See the image below: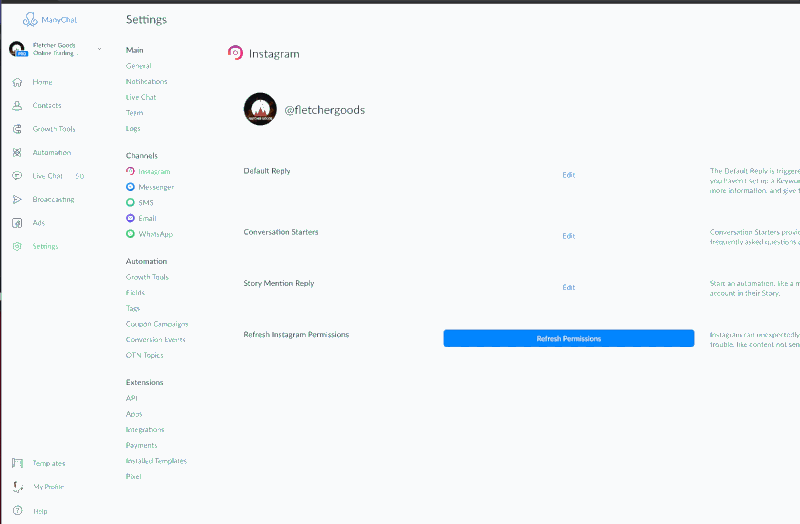 Suppress your Default Reply in Story Replies
Note: This feature is only available for ManyChat Pro plans.
You can now set your Default Reply to ignore Story replies, only responding to Instagram DMs.
Stories are one of the most popular content formats on Instagram, and users can react to them in two different ways: either replying with text or sending one of Instagram's native quick replies, like the 🔥 or the 👏 emojis.
Previously, emoji quick replies would trigger the Default Reply, causing some potentially embarrassing or confusing chat experiences.
With this newly-released setting, you can avoid such scenarios by setting your Default Reply to only respond to DMs. When enabled, your Default Reply will ignore all Story replies (including text and emojis), and will only be triggered by customers who navigate directly to your DMs. Keywords, however, will still function normally, sending responses to users who trigger them in both Stories and DMs.
NOTE: "Story replies" refers simply to responses to your Stories by users. This is unrelated to Story Mentions Replies, a ManyChat feature that allows you to send a message every time your account is mentioned in a Story.
You can toggle this setting on or off in the new Default Reply settings menu, located inside the Starting Step. See the image below to find it: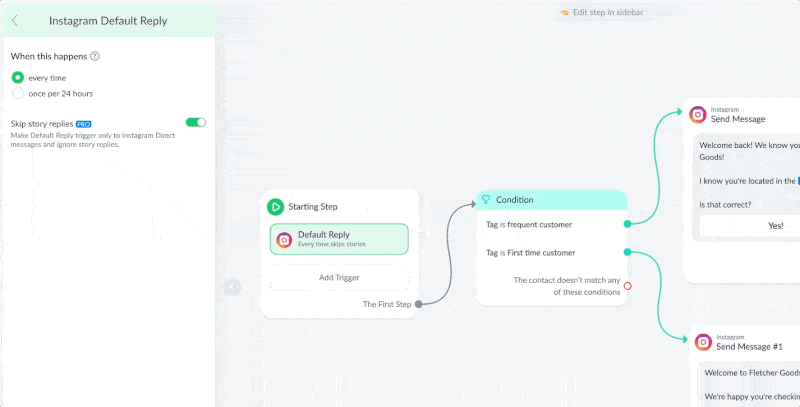 New Keyword Functionality
Keywords for Instagram DM automations can now include phrases with commas.
Keywords are one of the most popular ways for customers to start conversations with businesses, especially on Instagram. They're nearly infinitely customizable and simple to use. Prior to this update, the only way to include and manage Keywords in ManyChat was with commas separating each keyword, like the example below:

Unfortunately, this disallowed the use of Keyword phrases that had commas within the phrase—"I need help, please," for example.
Our new and improved layout for Keywords allows the inclusion of commas within individual Keyword phrases. Keywords are now easier and more intuitive to use while allowing your chatbot to identify more complex keywords and phrases.
Here's what our updated Keywords function looks like:

Last Interaction and Last Seen Variables
The [Last Interaction] and [Last Seen] variables are now available for use with Instagram DM automations.
These features allow you to collect, store, and utilize information about:
When a user last had a DM interaction with your account (via the [Last Interaction] variable)
When a user last viewed a DM from, or sent a DM to, your account (via the [Last Seen] variable)
Personalizing your chat automations is essential for creating the best possible interactions with your audience. These variables can help you avoid annoying certain followers by sending them information they already have, while simultaneously allowing you to ensure that your audience never misses a crucial update or new product release.
For example, imagine your business is finally launching its flagship product after years of development. You've been using ManyChat to inform users about your product release for a few weeks now, but you know there are likely still people who aren't aware.
Using the [Last Interaction] and [Last Seen] variables, you can automate messages that only go to users who haven't seen or interacted with your DMs within a specific period of time. This allows you to identify who likely is and isn't aware of your product launch, and helps you ensure that automated messages are only sent to the right people.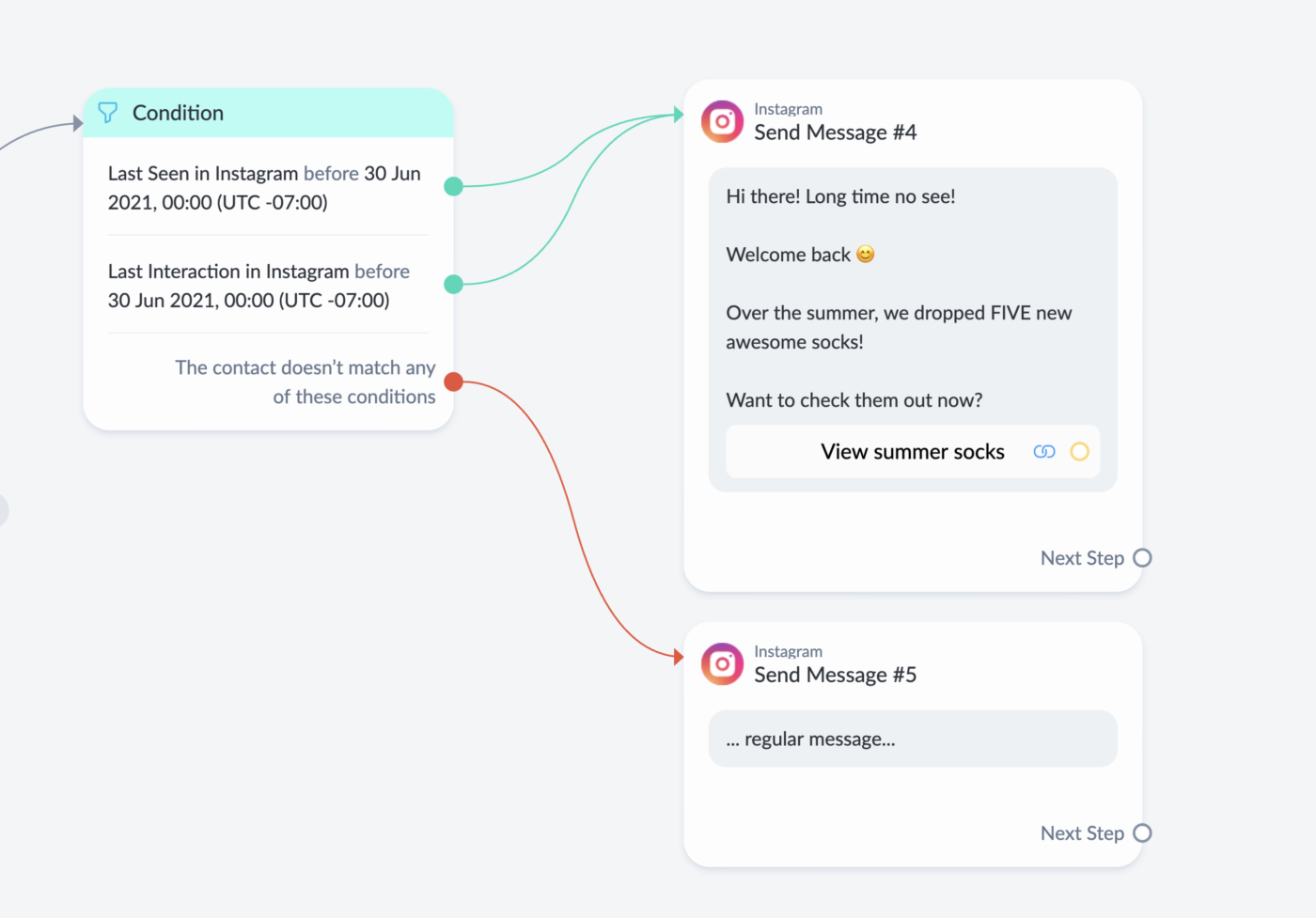 New Menu of Suggested Quick Campaigns
Our Templates and Quick Campaigns have always been a hit with our users, especially those who are new to chat marketing and want a little extra guidance. That's why we wanted to make accessing them as easy as possible.
With the implementation of this update, pressing the "New Flow" button will now bring up a window with plenty of Quick Campaigns to chose from. All you have to do is choose one to install and then, voila! You'll have a fully functional campaign just waiting for you to customize it.
For users who prefer starting with a blank slate, clicking the "X" in the corner of the Quick Campaign window will bring you to a new, empty Flow.
We're continually adding more Quick Campaigns, so keep an eye out for them!
Grow your Instagram following and generate sales with Instagram Automation by ManyChat. Sign up today!
O conteúdo deste blog foi preparado de forma independente e destina-se apenas a fins informativos. As opiniões expressas são de responsabilidade do autor e não refletem necessariamente a posição do ManyChat ou de qualquer outra parte. Os resultados individuais podem variar.