How Conquista Tu Mundo with Johnny Abraham leveraged Manychat to drive $15,000 in launch sales in 20 days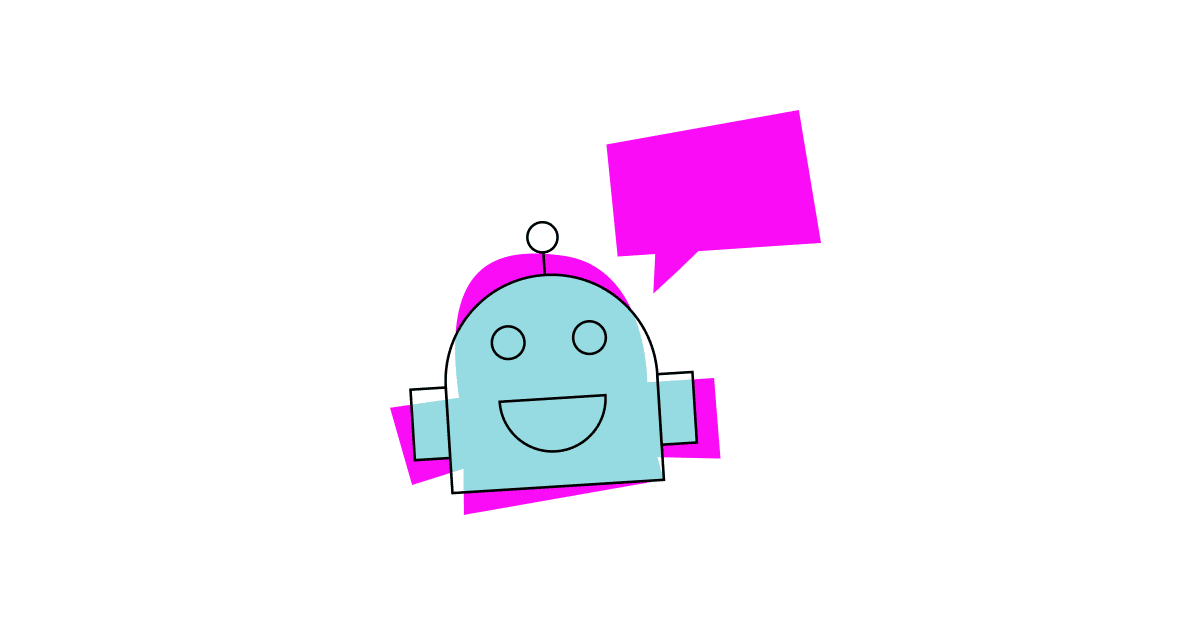 Coaches, consultants, and infopreneurs are constantly searching for new ways to guarantee a profitable launch.
This simple Manychat strategy for Conquista Tu Mundo with Johnny Abraham, developed by Marketex, is definitely one to add to your launch playbook to ensure the winning trifecta: drive sales, increase brand awareness, and attract leads.
Overview 

The global personal development market share is set to increase by a staggering $755.16 million by 2027.
Tapping into this market is self-improvement brand, Conquista Tu Mundo with Johnny Abraham, which helps people conquer their world ("conquista tu mundo" in Spanish) using four principles that Johnny developed through personal experience.
Businessman and real-estate investor Johnny Abraham founded the brand in 2019.
Mexico City's Marketex, which specializes in info product launches and evergreen strategies, pitched a Manychat strategy to Johnny.
"Johnny was working with other big agencies that helped him with his launches but none of them had a strategy that included Manychat," says Marketex chief marketing officer, Luis Vargas.
The strategy takes a twofold approach: a workshop launch, with open and closed cart dates, and to promote and sell Johnny's evergreen products, including Johnny's online workshops and events, his podcast, and a paid membership program.
The entire strategy involves attracting and segmenting leads, distributing the right content, as well as automating follow-ups to increase brand awareness and drive sales.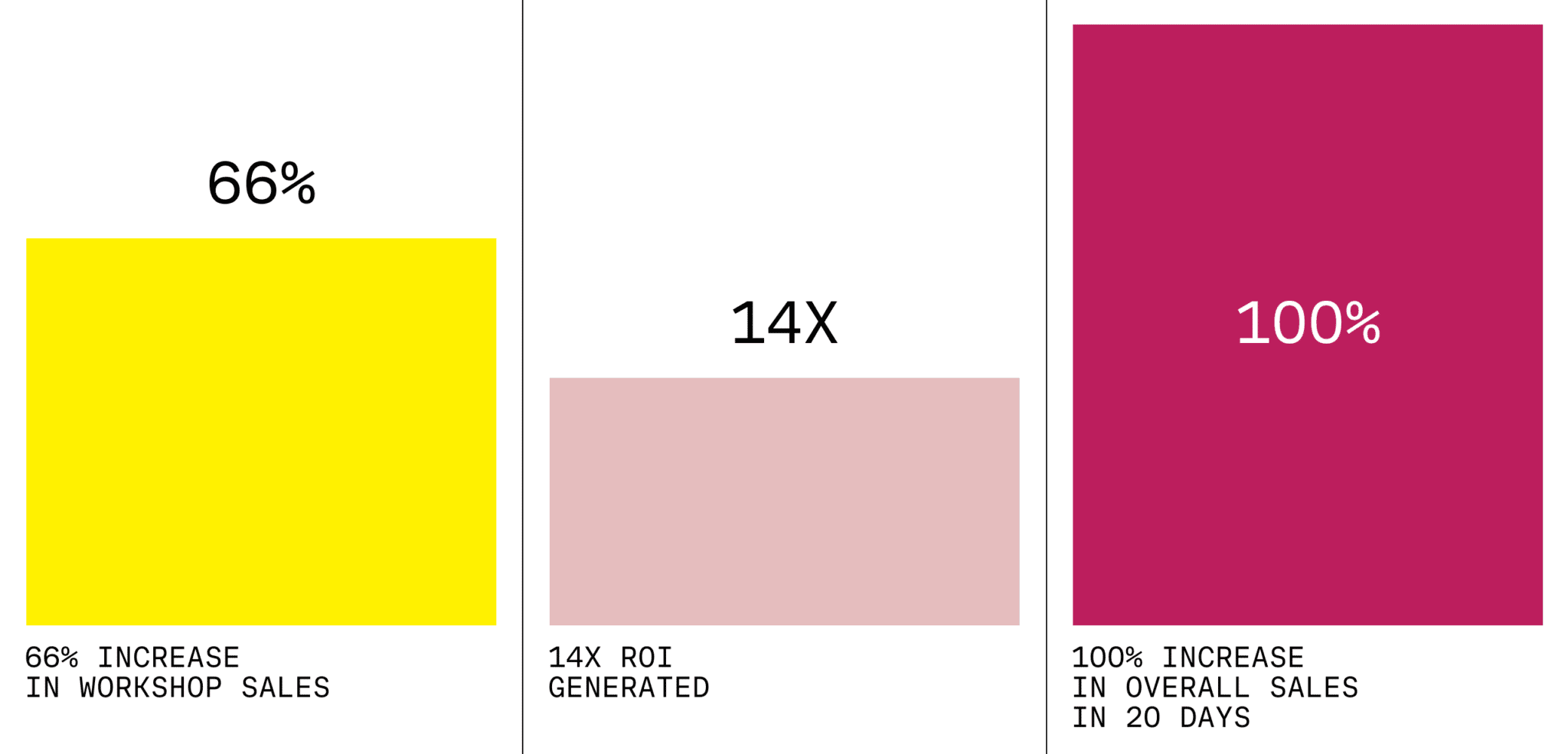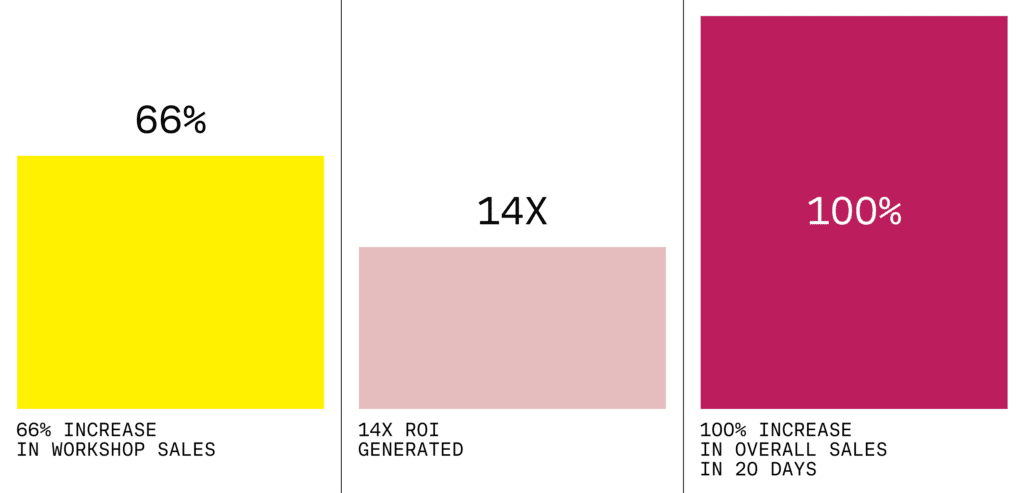 66% increase in workshop sales
14X ROI generated
100% increase in overall sales in 20 days
The challenge
Conquista Tu Mundo with Johnny Abraham has more than 7 million followers across many platforms.
He was struggling to drive more sales and increase his brand awareness due to the lack of communication strategies and tools.
"Since he has a big audience and excellent engagement, it's humanly impossible to attend to all of them," explains Luis.
The solution? Manychat.
When they started the project, Marketex discovered that most of Johnny's audience were women between the ages of 45 and 55 who were not very tech-savvy.
"We took this as an opportunity to educate and communicate that it is a chatbot, which we named ConquistaBot, so they don't think that Johnny was responding to the messages."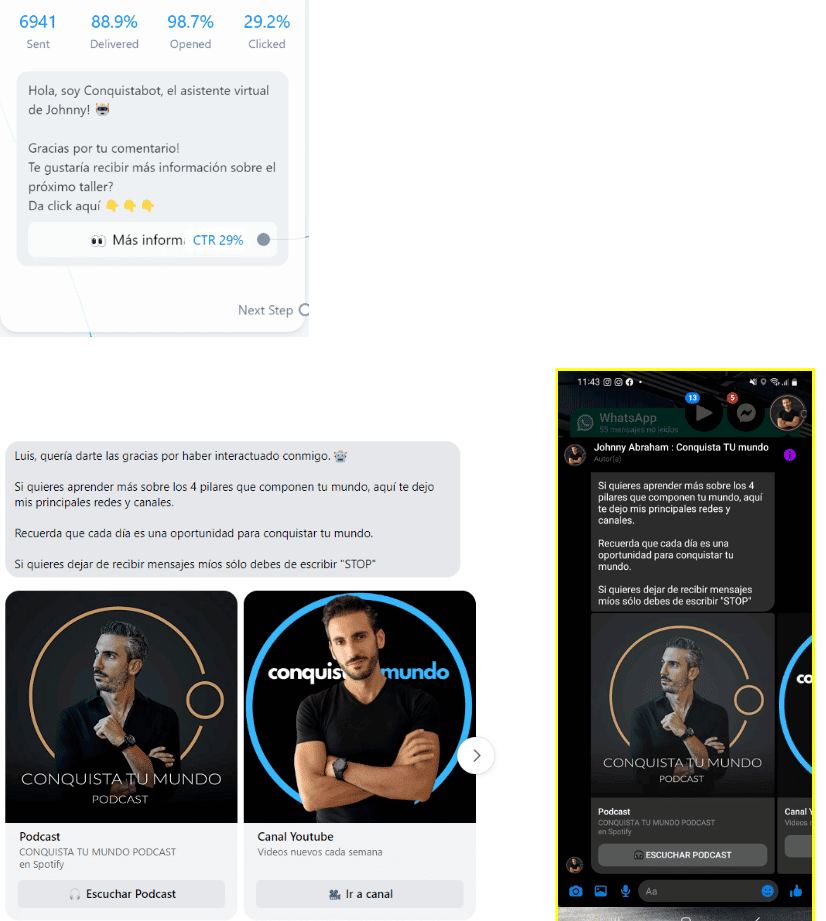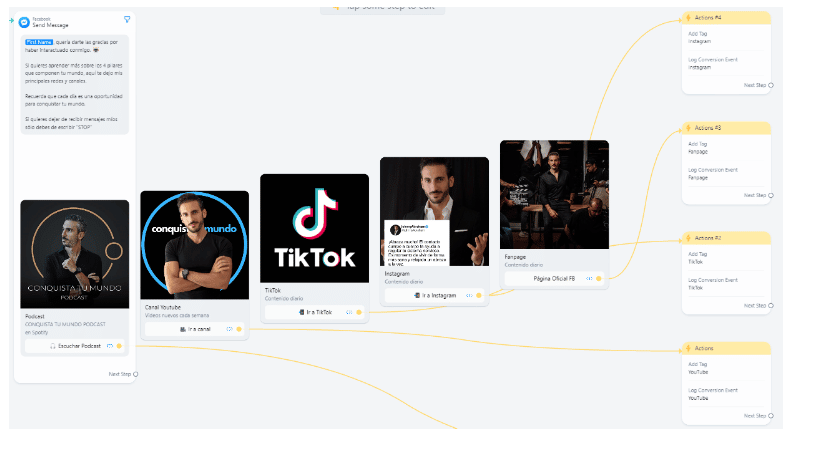 The goal
ConquistaBot, which was developed for Instagram DM Automation and Messenger automation, delivers the information Johnny's audience needs, plus gives them more details about his workshops.
In addition, it also guides them to Johnny's YouTube and Spotify channels to consume long-format content.
"When promoting Johnny's paid monthly workshops, the main goal was to increase sales and show-up rates," says Luis.
Marketex developed different communication strategies for each of Instagram's features – posts, Reels, Stories, and Lives – to introduce people to ConquistaBot and have them receive the information they needed.
The strategy
Starting with Clicks-to-Instagram ads, Comments Automation, Instagram Story replies, and Instagram Live replies using Manychat, Marketex's strategy largely leverages keyword replies.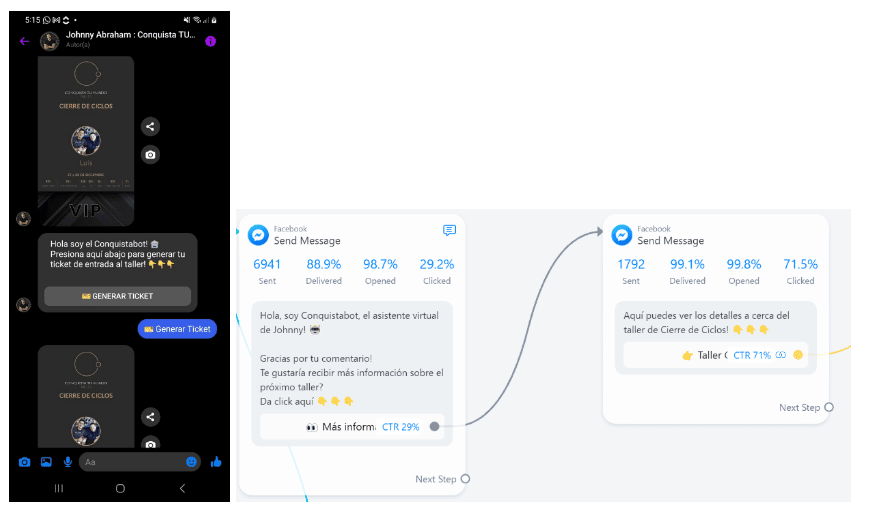 "Since it's impossible for Johnny to reply to every comment and DM, we use a lot of keywords," explains Luis.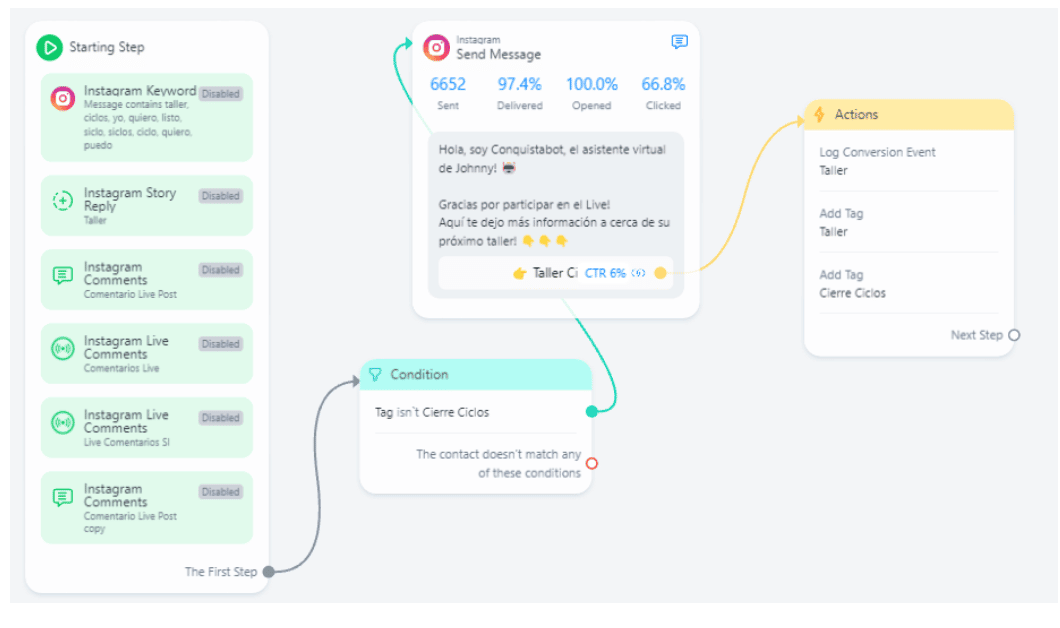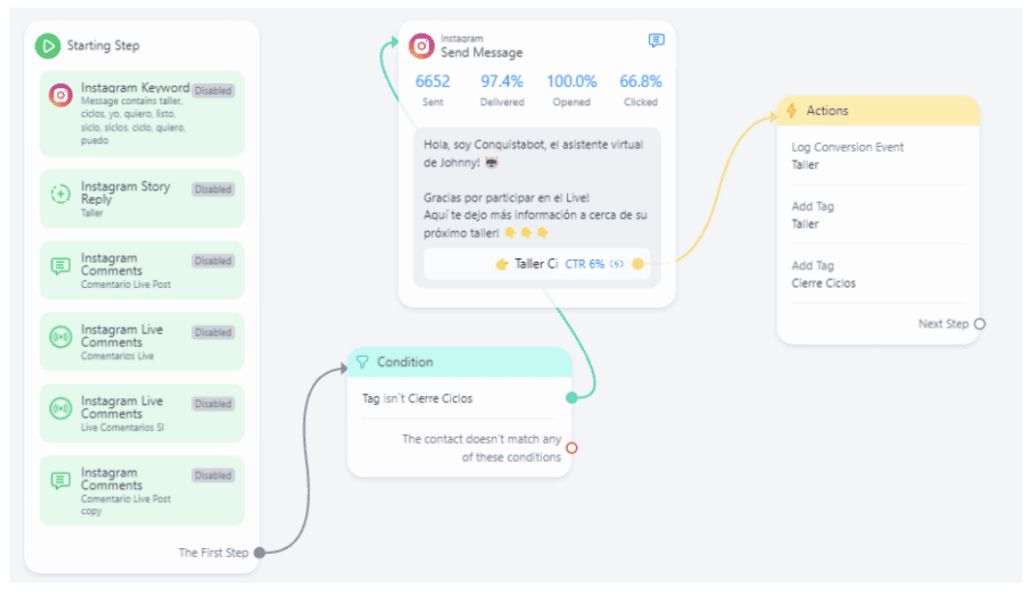 For example, for workshops, leads reply with the keyword and from ConquistaBot, they are taken to a landing page where the Manychat Pixel is installed.
If they don't sign up for the workshop, the Manychat Pixel tracks their activity and sends a follow-up message to remind them to sign up.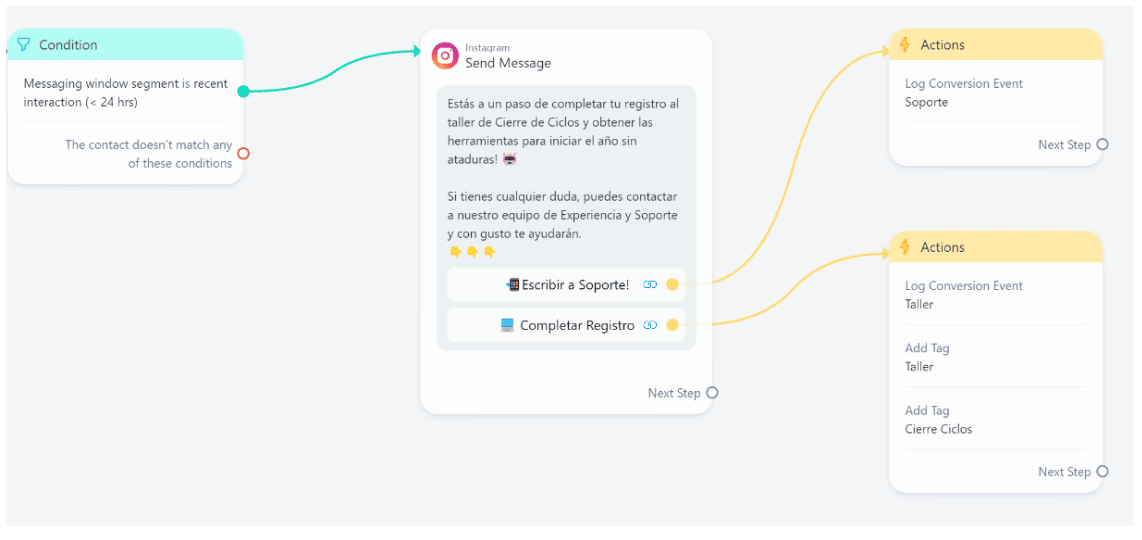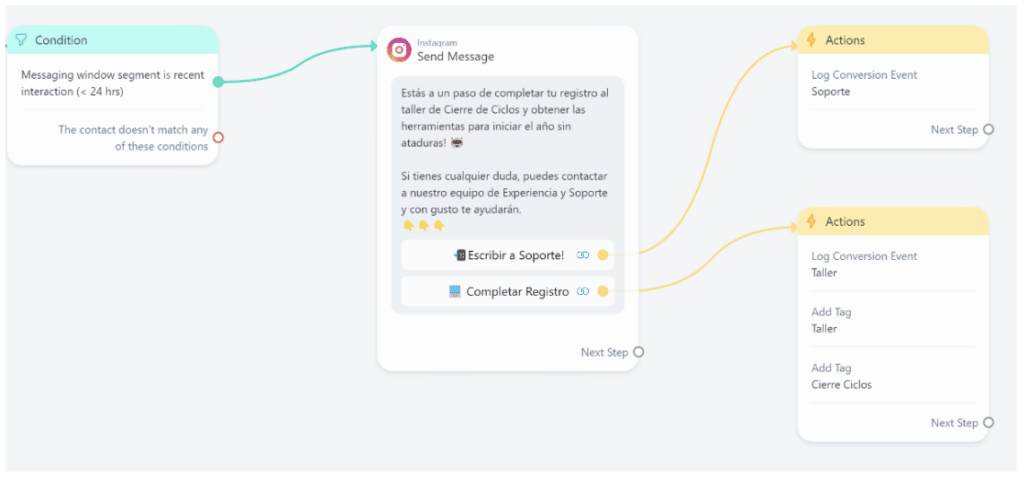 During an Instagram Live, the easiest keyword for Johnny's audience to take action on was the word "yes", which fires off information about the workshop.


"This also helps us to have more high-quality subscribers within Manychat, and in turn, helps us to create audiences for remarketing and more."
In addition, when someone indicates they need support in Instagram DMs, it takes the lead to the support team in WhatsApp.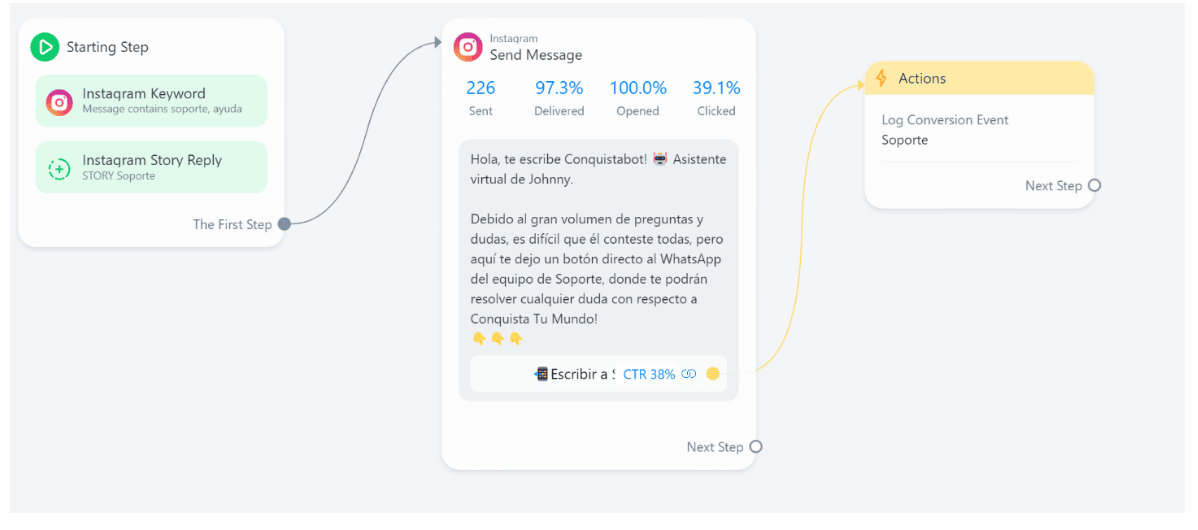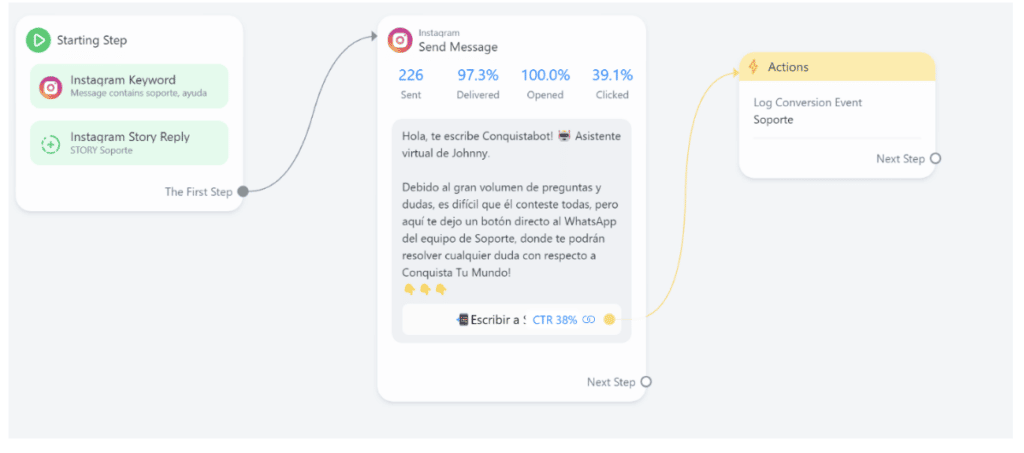 The results
Since implementation in December, this Manychat strategy increased workshop sales by 66% with a conversion rate of 35.43%, and contributed approximately $15,000 in sales during the 20 days (open cart to closed cart).
"We also increased the workshop show-up rate by 20%, generated over 40% of Instagram traffic using Manychat and generated 14x RIO for the brand," says Luis.
Best of all, since implementing Manychat, Conquista Tu Mundo with Johnny Abraham had its best month in sales, increasing sales by 100% from November to December 2022.

"Ours focused on Manychat, and we've had the best results so far. We managed to make the best month ever in revenue and ROI thanks to Manychat," adds Luis.
Key takeaways
Keep it simple! You don't need a complicated launch strategy. Instead, leverage all of Manychat's features for both Instagram and Messenger and make sure you have options for upsell and downsell, so you meet leads where they are on the path to purchase.

Set up Manychat's Comments Automation, keyword trigger, and Instagram Story and Instagram Live reply feature. This way, you'll capture leads to build a database you can segment and remarket to later – all within Manychat.

Install the Manychat Pixel. By using Manychat Pixel on your launch landing pages, you're able to send follow-ups to leads who don't take action and remind them to sign up with a friendly message.
Conquista Tu Mundo with Johnny Abraham is a great example of how to implement a simple yet effective strategy to boost sales.
O conteúdo deste blog foi preparado de forma independente e destina-se apenas a fins informativos. As opiniões expressas são de responsabilidade do autor e não refletem necessariamente a posição do ManyChat ou de qualquer outra parte. Os resultados individuais podem variar.