Conversations 2019 Meet the Speaker: Manuel Suarez (Recap)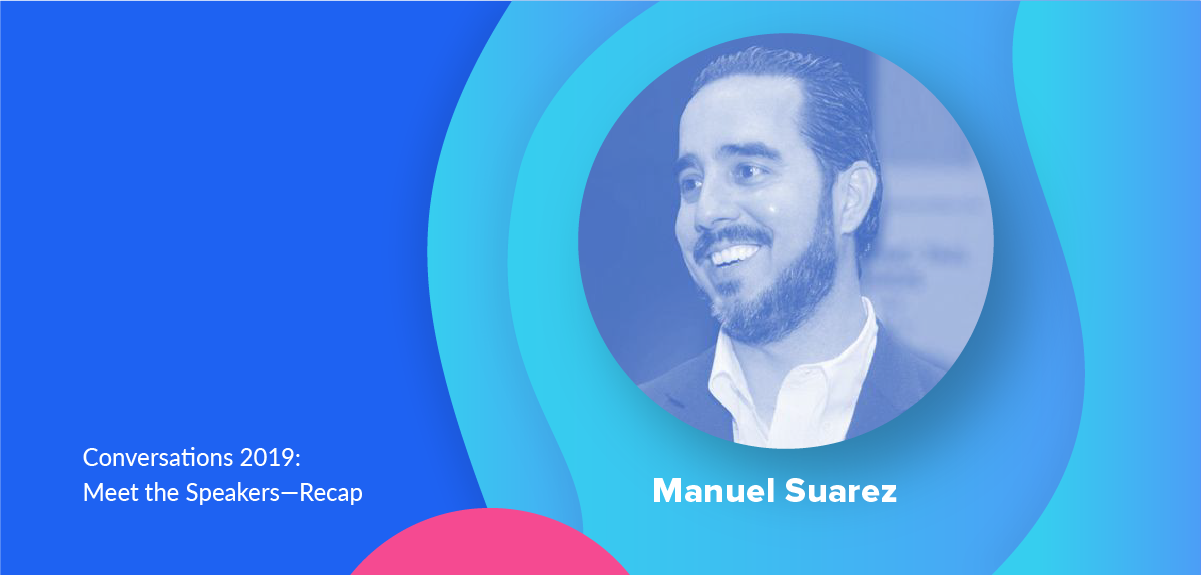 Growing your subscriber list is one thing. Actually keeping the list is another thing.
This week on our Meet the Speakers series, Molly Mahoney, a certifiable Facebook Live and Messenger Marketing ninja and founder of The Prepared Performer, sat down with Manuel Suarez, CEO of AGM Marketing and Messenger Bot Ninja, to discuss how he was able to grow a subscriber list of two million and maintain the interest of that audience through various Messenger Marketing tactics.
"I do seminars and webinars, and I say Messenger Marketing, people don't understand that. It tells me how new this whole phenomenon is, which is one of the things that I really like about Messenger. Because when I send out a message to people on my Messenger channel, even though I'm doing a broadcast with everybody, people that are not marketers, which is most everybody, they feel that I took some time to send a message. That is so special," Manuel expresses.
From capturing new audiences to delivering valuable content, Manuel shares how he broke into the marketing world, discovered Messenger Marketing, and became the Messenger Bot Ninja.
"There is complete unawareness of what this channel is, and that is what presents an opportunity for us," says Manuel.
In case you missed this week's motivating story, watch it here, and get insights you need to take your business to the next level.
Watch This Week's Meet the Speakers Recap
Don't forget to register for Conversations 2019!
How did you get started with your business as this marketing ninja?
Manuel Suarez: I'm naturally a marketer. And when I got presented with Messenger, I just recognized the opportunity right away. How did I start at the beginning? I want to say about six years ago, I just had a need to produce more money. I was not born entrepreneur, I was not naturally studying marketing, any of that stuff. I didn't have any background, or degrees, or nothing. I just had a desire to provide a better quality of life for my family. And I started building my businesses, and then I realized that I was really good at the subject of marketing. And I just kept on building along the way, nonstop.
My dad's business, my own brands, I had a big Amazon brand and a big e-commerce brand. And that was something that kept on snowballing. And in 2017, I heard about this little thing called Messenger bot. And I was like, what? What is that?
And I started looking into it, and I just fell in love right away. So I've been riding the wave for the last, I think, close to two years now. Yeah, for sure. So it's been an intense two years. It feels like a decade. But it's been just two years, and I think that we're just getting started.
What are some client Messenger Marketing results you can share?
M: One of my biggest clients, his name is Dr. Eric Berg. The reason that I got into Messenger is that I have an established agency that has over 50 staff. And I was in charge of finding opportunities. In 2017, we had things rolling. Facebook advertising was rolling. It was doing well. Facebook advertising needed a strategy.
So my obsession was to find opportunities that we could capitalize on. Because I'm not trying to create opportunities. I need to find them. Because they are happening because of this modern era. I jumped all over Facebook advertising. I became a Facebook ninja.
In 2017, I found Messenger, and I was blown away. Some of the things that are going to be always, always front and center in entrepreneurship, Molly, is that an entrepreneur, a business owner, a brand is successful if they know how to capture attention. That's one thing. Another thing is that in this world of marketing, it's no different than the world of marketing in the year 1980. The more people that you have on your list, the more that you can sell. It's as simple as that.
We have this ability with Messenger to do something that people don't even understand that we're doing, because they're opted into a Messenger channel, thinking that they're talking to you, but they're talking to the brand.
How can you capture people's attention?
M: Let me give you a very simple analogy.
If you're running a fishing competition, and there are five people in it, and the dimensions of these two lakes are the exact same dimensions. And they tell you, all right, in this lake, we already counted them. There are 100 fish of 1×2 in size, and they weigh 7 pounds each. And then in the other lake, there are 700 fish. Which one are you going to fish in? It's quite logical, right? You have a greater probability of winning the competition if you go fishing in the lake that has the most fish.
That's what it's all about. So, my obsession in 2017 became capturing audiences, people that I can actually just engage, provide value, and educate so I can sell stuff along the way.
If you look at the United States, we have 170 million people using Messenger now— and growing. Worldwide, we're in the billions of people using Messenger. You don't have enough potential to handle these people. If you capture one percent of them, you're going to be rich. That's a reality.
How do you educate your audience?
M: My obsession is to generate income and expand. But they don't understand that in the perception of the audience, you literally will not be able to expand unless you focus on providing value to them on educating. That's the social media world. The social media world right now is being won by those that provide value first without asking for things.
Example. Dr. Berg's Messenger channel is responsible for producing over $100,000 in sales a week. He has a lot of powerhouse channels. He has over 3 million subscribers on YouTube. He's about to reach 3 million people. He has 600,000 followers on Facebook and a lot of powerful channels. And we have a lot of e-commerce sales. But Messenger is responsible for $400,000 a month by itself.
So Dr. Berg's channel, he has a supplement brand. He used to have a clinic in which he delivered services. He has closed that years ago because he's been so successful in the social media world. But he sells supplements. I don't know if you heard about this little-known diet called the Ketogenic Diet?
This guy is a powerhouse. I mean, if you're going to have somebody positioned as the Keto King, it is going to be tough to outrank him for that spot. And Messenger, believe it or not, has been a big part of that. Because Dr. Berg's Messenger channel has 685,000 people on it.
The overall strategy is to deliver value. I know how to drive traffic. We use social media. We offer something of value. Now, what could be something of value? Well, again, you have to figure out your brand, what are you knowledgeable about? What are you passionate about that you can talk about at the dinner table with your friends and family? What about your business do you feel so excited about talking that you never get tired of it? What subject can somebody ask you, would you ever run out of this subject, and you will say no? That subject, you've got to talk about it.
I'm going to be covering this topic at Conversations 2019 quite a bit. I'm going to give you guys specifics, practical things to go and implement for your brand, no matter what it is. So you guys better make sure that you are there!
About Our Facebook Live Meet the Speakers Series
Each week Molly Mahoney hosts a LIVE interview with one of our Conversations 2019 speakers to give you the opportunity to meet them and learn their secrets to successful Messenger Marketing. It's a way to ask questions that you might not be able to ask at the conference and discover more about what will be discussed at Conversations 2019.
Here are the details.
When: Thursday, 9 am PDT.
Go to our Facebook page: ManyChat
Click on the Live announcement
Watch, learn and ask questions.
View more Meet the Speaker episodes.
And, if you haven't registered for Conversations 2019, do so before prices go up! Reserve your spot.
We'll see you LIVE! #Conversations2019

O conteúdo deste blog foi preparado de forma independente e destina-se apenas a fins informativos. As opiniões expressas são de responsabilidade do autor e não refletem necessariamente a posição do ManyChat ou de qualquer outra parte. Os resultados individuais podem variar.