How Candace Junée Increased Leads by 118% With Instagram Automation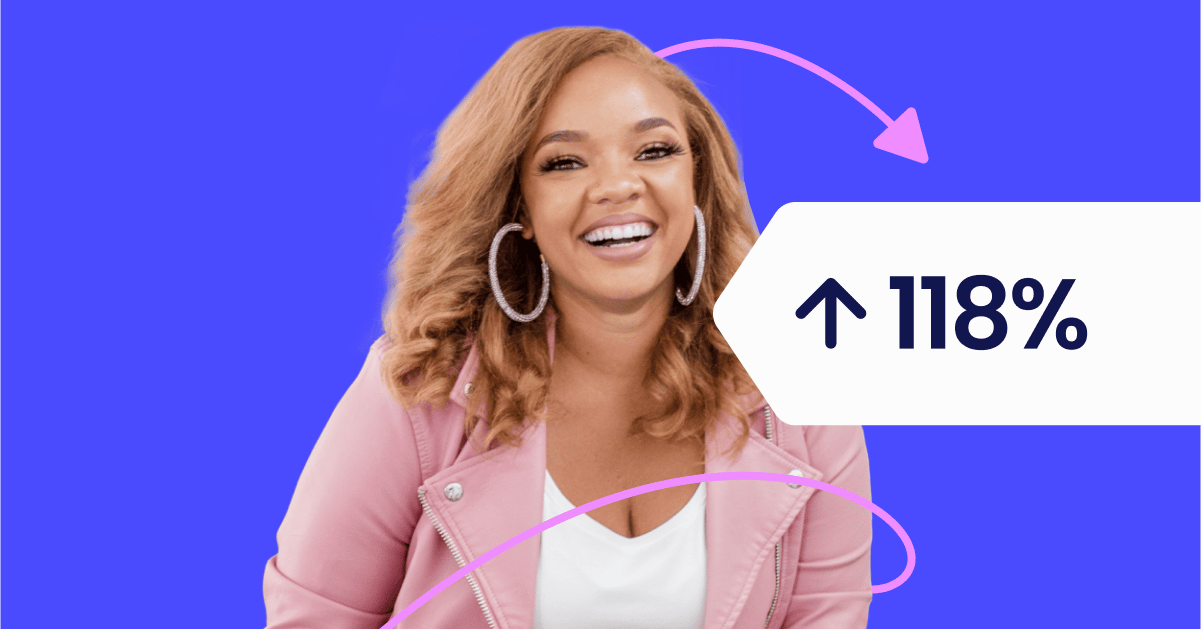 Overview
Candace Junée is a busy woman. She's the founder of Epic Fab Girl, a membership community for Christian women entrepreneurs, runs the Go Getter podcast, and manages a personal Instagram account with over 52,300 followers. She also has her own brand and coaching business, 6-Figure Maven, where she sells digital courses, does speaking engagements, and helps women build six-figure businesses.
Candace has always viewed her attentiveness to questions and requests from her followers as an important part of her brand. However, as her Instagram (IG) account continued to grow, Candace found it difficult to thoughtfully respond to the large volume of DM's she was beginning to receive.
She began using Instagram Automation by ManyChat to engage with followers faster and create meaningful relationships with them. Using IG Automation, Candace saw a 118% increase in leads compared to landing page opt-in campaigns from June 2021 to September 2021, and now saves 15 hours per month answering Instagram DMs.
Results
99% decrease in response time
118% increase in leads versus compared to email landing page opt-in
15 hours per month saved answering Instagram DMs
Challenge
Candace's Instagram account was growing quickly. In less than one year, she grew her following from 10,000 to 50,000+ followers. Candace was experiencing an increase in DM's asking about products or needing customer support.
Goal
The influencer and business maven was looking for a better way to manage her inbox and give followers the attention they deserve. She wanted to engage with followers across her Instagram account in an authentic and meaningful way.
Approach
Publish motivational and valuable content. Candace posts a variety of content on Instagram, from feed posts to Stories to Reels.
Prompt conversations in Direct Messenger. Candace used ManyChat's Conversation Starters to manage DM requests. When followers messaged her Instagram profile for the first time, four clickable buttons to begin a conversation greeted them. When someone tapped the button, it would start an automated workflow that fulfilled the person's need.
Automate conversations through keywords. Candace used Keyword Automation to connect with people at speaking engagements, telling attendees to message her with a keyword on Instagram to receive a free gift. Those leads would then enter a chat flow that would qualify them as potential clients for her consulting services.
Respond to Instagram Story mentions. Candace set up ManyChat's Story Mentions Trigger to automatically respond every time someone mentioned her in a Story. She used a Randomizer to send different thank you messages to followers.
How Candace Junée increased leads by 118% using Instagram Automation
Candace and her team typically used Instagram Messenger to answer support questions and acquire new leads, taking advantage of the power of personalized and meaningful interactions. But as Candace's Instagram following began to grow, her DMs brought in more questions and leads than the team could handle manually. They wanted to continue providing people with the same top-notch experience while freeing up the team's time to support other areas of her businesses.
In search of a solution, the team turned to Instagram Automation and set up a series of automations. The first was Conversation Starters, which are clickable buttons presented to new followers when they message your account. When tapped, they'll start a discussion about the button's topic.
Candace set up Conversations Starters with four different automated conversations attached to them:
Customer support
Brand partnerships & speaking opportunities
One-on-one coaching
Digital product help
This helped Candace answer frequently asked questions and requests, lowering response time from two weeks to instantly.
Inspired by this initial success, Candace then also added two other ManyChat services available through Instagram Automation: Keyword Automation and the Story Mentions Trigger.
One of the main ways Candace used Keyword Automation was for lead generation. When giving a talk at Thinkific's Think in Color virtual summit, her lead magnet (a free 6-Figure Marketing Masterclass) lived in an automated conversation in Instagram Messenger.
"It was easier for me to say, hey, find me on Instagram [versus a text or an email]. My Instagram handle is at the bottom of every slide," she explains. Candace told attendees to DM her the word "Think" to receive a free gift. This also gave her the chance to start a conversation with attendees in Instagram Messenger and get feedback about her presentation.
"People were about to give their raw, natural, and honest feedback right after the talk happened," she says. "I was able to take those conversations and convert people into leads."
With strong engagement goals in mind, Candace wanted to run a campaign to respond to accounts that mention her brand in Instagram stories. She turned to ManyChat's Story Mentions Trigger to automate the process.
Candace used a Randomizer to send different messages to each person that would kick off a conversation. She was then able to send them through a lead generation flow to qualify them.
Conclusion
Candace's Instagram Automation campaign, which ran from June 2021 to September 2021, resulted in the following results:
99% decrease in response time 
118% increase in leads
15 hours per month saved answering Instagram DMs
The campaign was proven to be successful. Candace continues to run these Instagram Automation campaigns to engage with her growing following and turn them into leads on autopilot.
Grow your Instagram following and make sales with Instagram Automation by ManyChat. Start free today.
O conteúdo deste blog foi preparado de forma independente e destina-se apenas a fins informativos. As opiniões expressas são de responsabilidade do autor e não refletem necessariamente a posição do ManyChat ou de qualquer outra parte. Os resultados individuais podem variar.