What is Messenger Marketing?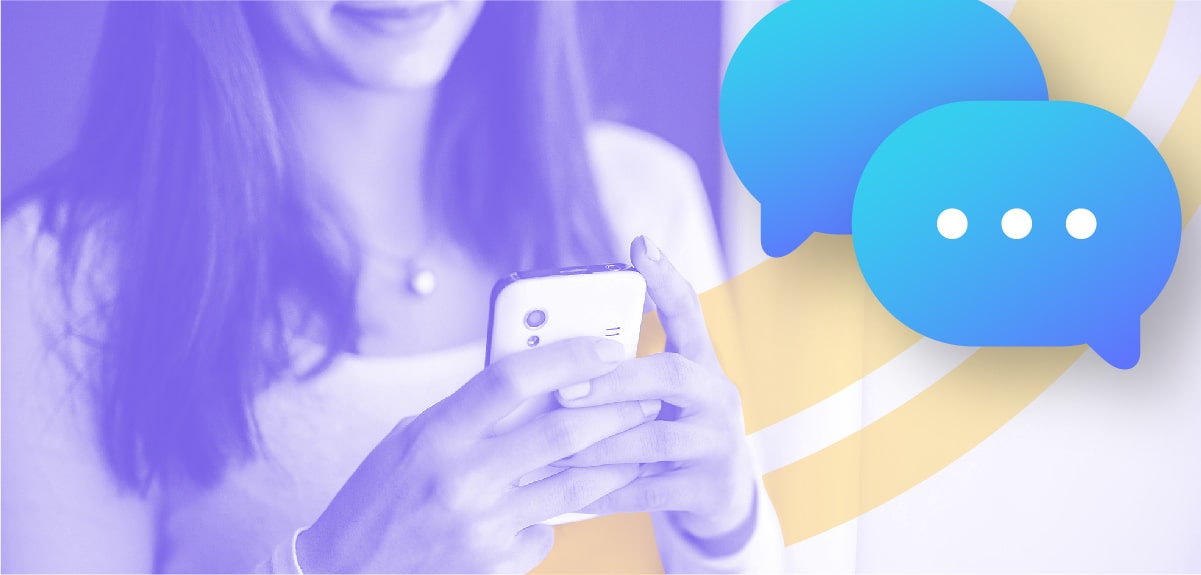 People don't want intrusive marketing messages. Who wants to be sold to or convinced to buy unnecessary items anyway? Consumers want convenience, empathy, and to feel in control of business interactions from start to finish. Businesses that want to stay innovative and relevant need to meet prospects where they are and build trust through meaningful exchanges.

As a marketer or business owner, conversations are key to building personal relationships between brands and consumers. And when they happen in places where consumers are most comfortable — like Messenger or WhatsApp — it can lead to more qualified leads, more sales, and higher retention rates. That's where Messenger Marketing comes in.
What is Messenger Marketing?
Messenger Marketing is the process of getting people interested in your products or services using Facebook Messenger, WhatsApp, WeChat, Telegram, or other messaging apps.

The goal is to grow your business by getting more leads and customers through more conversations. A Messenger Marketing strategy helps companies connect with customers, provide helpful content, and help them take actions that are meaningful for your business, such as booking an appointment, downloading an app, or signing up for a service.

Messenger bots help drive successful Messenger Marketing efforts through automating conversations so that business owners can narrow their focus on the interactions only when they are needed.

This allows a small business to engage in marketing activities at a much bigger scale than they might be currently. Software that uses a smart combination of deterministic rules and artificial intelligence to replicate human conversation. It supports lead generation, one-to-one marketing, customer service, sales, and more.

How Messenger Marketing is different from other marketing channels.
Emails, landing pages, social media — we've all used one, if not all, of these channels. So why add one more to the mix?

The average open rates for email hover around 18 percent, and click-through around 2.69 percent, which means people aren't seeing your messages. Most companies still find email difficult to crack — they send bulk emails full of promotions, announcements, and newsletters with a personalized touch like "Hey Amy!" or "Hi Max". It's the same strategy everyone's been using for 10 years, and it's time for a change.

What's considered a good conversion rate for landing pages is 2.35 percent. And considering the average CTR for paid Facebook ads is .90 percent alongside a painfully low organic reach, it's safe to say the way we communicate is changing, and you need to change with it.

Messenger Marketing early adopters are seeing the impact of first mover advantage, or being the first to deploy a certain tactic. People are responding to Messenger chat bots in record numbers including 88% open rates and 56% click-through rates. There's a major shift in business-to-customer communication, and Messenger marketers are at the forefront of it with conversational, personal, and authentic relationship-building through messaging and chat apps.
Who is Messenger Marketing for?
A Messenger Marketing strategy gives every business — from eCommerce and online coaching to education, restaurants, beauty salons, and professional services — a better way to automate hundreds of customer conversations at once so you can answer more questions, generate leads, and close more business instead of doing it manually.

A Messenger bot lets you automate conversations and scale social media marketing, nurture leads, manage sales, improve retargeting, and offer 24/7 customer service all in one place. It also tracks and stores customer information, including interactions and demographics, for everyone to access and use.

With easy access to past conversations, it's easier to learn about and market to your audience. You can see how people have interacted with your company, what content they've seen, and what they've bought. Messenger bots help companies both large and small grow on autopilot, and are useful for small businesses who need to do more with less.
Why Messenger Marketing matters for your business?
Over 2.6 billion people actively use messaging apps every month. It's become the default way to connect with Facebook friends and family, share information, and stay up-to-date on the latest news.

If you want your business to grow, you need to adapt to changing consumer behavior. You might have a following on social media and you're making money, but consistently acquiring and holding on to customers is a challenge. How do you build meaningful relationships between you and customers that draw them deeper into your funnel and eventually close the deal?

A Messenger Marketing strategy can give you a birds-eye view of every customer conversation. Everything happens in one place — an intuitive dashboard shows you past interactions with customers, the results of your campaigns, any sequences or flows, and feedback.

You can even use external information about your customers from your CRM or Google Sheet, including their lead score, phone number, and webinar registration date in addition toso much more. Messenger marketers use a variety of tags, segmented audiences, and custom fields to better understand where prospects are in their funnel, and how to best approach them.

You'll be able to quickly identify the best call-to-action (CTA) buttons for each lead group, and clearly see how and what makes your customers buy. Some of the best productivity benefits can come from adding a Messenger bot into your marketing mix — alongside your email campaigns, YouTube channel, and other marketing mediums.
How does Messenger Marketing work?
Messenger Marketing happens inside a customer's chat window in their messaging app. Many companies use a Messenger bot to automate conversations and connect with users. Messenger users can interact with the bot through free-text queries or pre-made buttons that guide the conversation.

Bots are designed to work without a human operator. They can answer questions and respond like a real person. When a message comes in over the messaging app, your bot reads the text and replies based on predetermined responses that make sense for your business.

For example, if a customer asks about your return policy, the bot knows what the right response is; if the customer asks about the availability of a service, the bot can check availability it from the right system or knows how to respond to the customer. If a user types in something the messenger bot app doesn't understand, it'll forward them to live chat or another way to get their query answered.

Messenger Marketing offers an instant messaging communication method. No more emails back and forth to solve a simple problem. Because Messenger Marketing platforms like ManyChat have an open API and thousands of integrations, it helps businesses do more than talk with their customers. They can make reservations in real-time, check an order status instantly, and get help when they need it day or night. All in a conversational medium they're comfortable on and use daily.
How Messenger Marketing can help your business today
1. Inexpensive lead generation that blends automated conversations with a live person when needed
One benefit of Messenger Marketing is lowering the cost to acquire a customer. Between creating and launching ads, consistently posting to social, or creating free content as lead magnets, the time and resources it takes to execute a profitable lead generation strategy are challenging for smaller businesses.

Jason Swenk, an online coach for enterprise agencies, is a major advocate for chat marketing and stresses the importance of a well-designed Facebook Messenger Marketing strategy. After two months of using ManyChat, his program sales doubled, high-end services increased by 74 percent, and revenue generated hit $250,000.
2. Improves business bottom line
Using Messenger Marketing has been shown to create tangible results. The use of a messenger chatbot has been shown to increase lead conversion by 2,900 percent, return on ad spend by 12 times, revenue by $1.2M in 6 months, countless thousands of revenue, and more.
3. Better audience targeting
Messenger Marketing can help you discover and refine your audience, then segment them based on select criteria. By concentrating on targeted groups, ad dollars can be spent attracting the right leads, and sequences can nurture and guide leads to become paying customers.

4. Real-time customer support
Customers today want fast and personalized support 24/7. Messenger bots offer a powerful self-service tool for giving them what they want at any time around the clock. You can offer real-time, one-to-one conversations that help customers solve their problems, track customer satisfaction, and respond to thousands of queries at once. Even better, if some potential customers need an extra human touch, you can jump into live chat and respond to questions manually.
5. Improve retention
A good Messenger Marketing strategy will continually bring value to customers, through great content, special deals, loyalty programs, and more. This gives you an ongoing, personal touchpoint to interact with subscribers so you can improve your offer, and turn loyal customers into advocates.
6. Support Chat Marketing efforts
Messenger is one part of the entire Chat Marketing ecosystem. You can send SMS messages via texting or email marketing to prospects and customers, then bring them back into Messenger to continue the conversation. With ManyChat, you can even start a Live Chat with customers in Messenger or SMS to help answer questions or give product recommendations. The possibilities are endless.
How to set up a Messenger bot
Messenger Marketing is accomplished by building a Messenger Bot using a platform like ManyChat. Building your first one is quick and easy. You can do it in six steps:

Create a free ManyChat account.
Link your Facebook Business Page.
Determine the theme and purpose of your Facebook Bot.
Create a Welcome Message.
Set keywords to automate bot replies.
Create a CTA.
Want to use Messenger Marketing to grow your business? Sign up for a free ManyChat account, and start building your Messenger bot today.
Los contenidos de este blog han sido elaborados de forma independiente y sólo tienen fines informativos. Las opiniones expresadas son las del autor y no reflejan necesariamente los puntos de vista de ManyChat o de cualquier otra parte. Los resultados individuales pueden variar.