How hideAWAY Handmade Used ManyChat to Generate Over $100K in One Month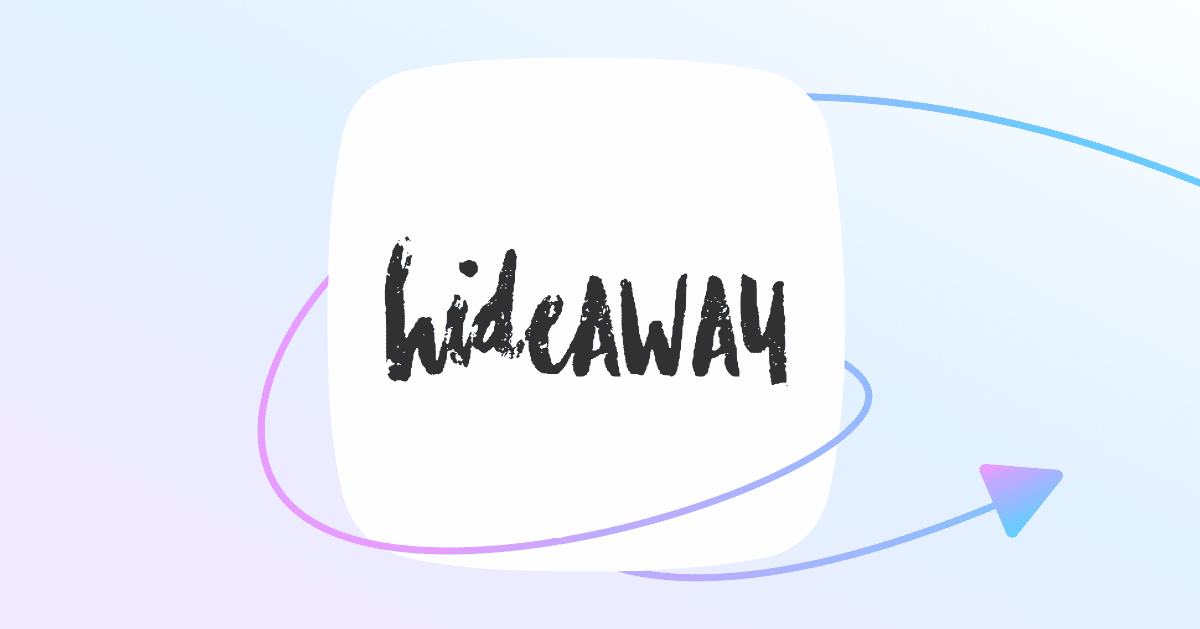 Overview
hideAWAY Handmade is an Australian online retailer that sells a signature range of handcrafted artisan soaps and body products. As the company began to expand internationally, they realized they needed a better way to provide customer support and increase revenue from social media at scale.
In early March 2020, hideAWAY Handmade teamed up with Stephen Bradeen, founder of Chat Blender, to put a Chat Marketing system in place to engage with their audiences and gather product feedback. By using ManyChat to unite their entire marketing experience, hideAWAY Handmade boosted both revenue and subscribers beyond their wildest dreams.
Stephen explains, "We saw how engaged, loyal and incredibly in love with the brand their customers are. It was important to create a system that allows active customers to engage and easily share campaigns with their friends! The results were fantastic.»
Results

The challenge
hideAWAY Handmade wanted to streamline customer support and build a more interactive marketing experience for their customers. They hadn't explored Chat Marketing yet and wanted to see what ManyChat could do for them.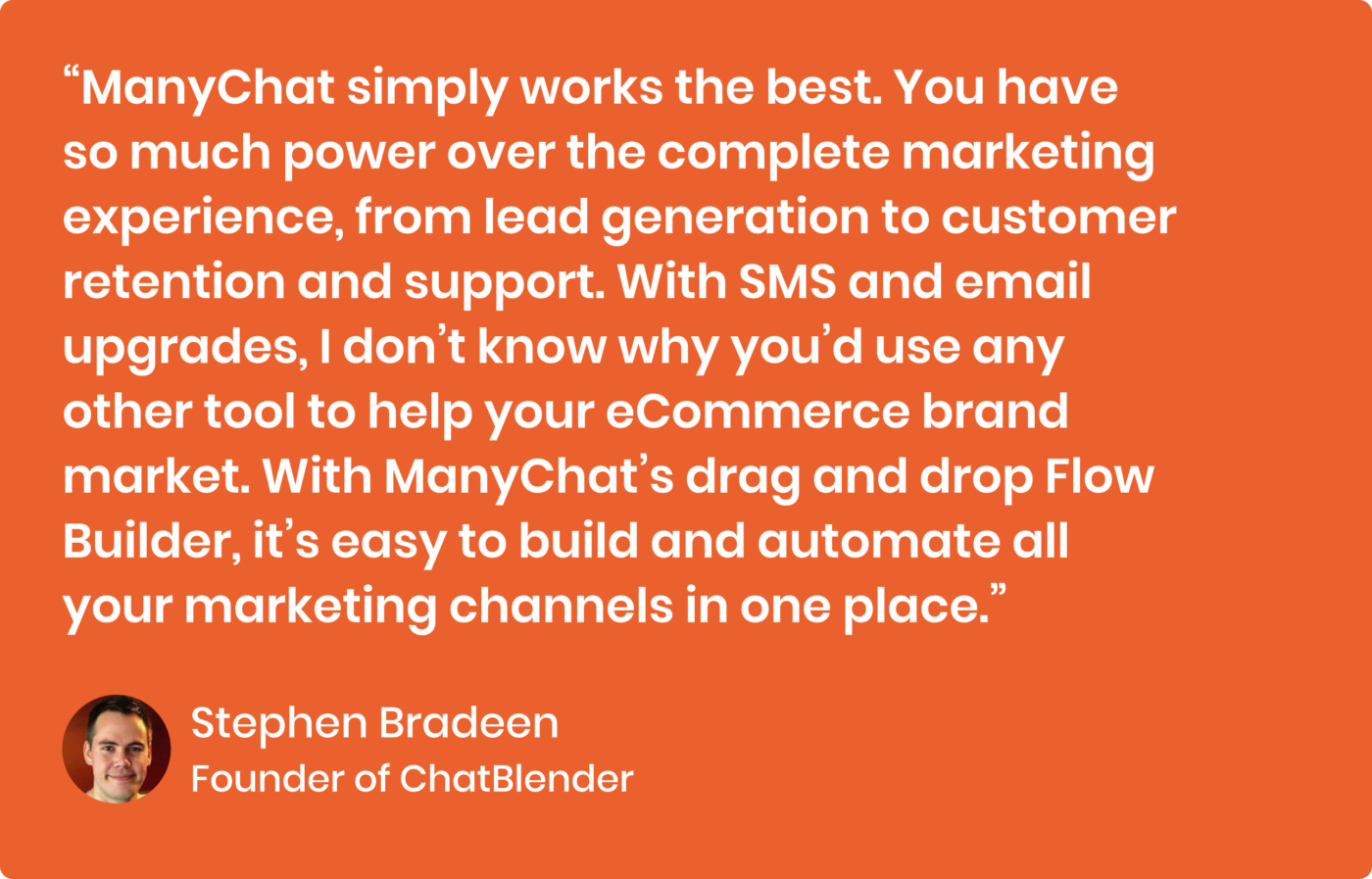 Their goal
hideAWAY Handmade wanted to provide their active customers opportunities to engage, receive value, and earn rewards to drive sales while nurturing their community. For this ongoing campaign, the business was especially keen to identify and reward interested shoppers with coupons.
Approach
Interactive bot personality: hideAWAY Handmade teamed up with International Fitness Coach Ashy Bines to create a welcoming bot persona.
Chat-based lead generation tactics: The team used various ManyChat Growth Tools to capture visitors from the company website. Then they built lead generation flows for weekly giveaways, quiz funnels, a first-time buyer flow, and more, to engage with shoppers and offer them discounts and rewards for interacting with the brand.
ManyChat's Coupon Campaigns for Shopify: hideAWAY Handmade used ManyChat's Coupon Campaigns for Shopify to send personalized coupons to shoppers via Messenger. They rewarded shoppers who participated in the weekly giveaway, provided feedback, took a quiz, and first-time buyers and cart abandoners—which brought over $100,000 in one month!
One-Time Notification reminders in Messenger: Stephen used One-Time notifications (OTN) for sales, promotions, and giveaway updates to contact customers outside the 24-hour messaging window in Messenger. This resulted in a 99.5% click-through rate from over 10,000 people who opted in for notifications.
Enhanced customer support and review system: The team built a Messenger-based feedback system to ensure customers received incredible customer service. They also used ManyChat to follow up and convert those happy customers into 5-star reviews for the brand.
How hideAWAY Homemade earned an additional $100,000 in one month using ManyChat
hideAWAY Handmade worked with ManyChat Agency Partner Chat Blender to design and run a Chat Marketing campaign across Facebook, Instagram, and their website structured in three phases: lead engagement, lead nurturing, and retention.
They deployed opt-in widgets to get website visitors into Messenger, provide different chat-based experiences to keep shoppers engaged and delighted, and deliver personalized Coupon Campaigns at various touchpoints throughout the flows to encourage sales.
Acquiring new leads and collecting contact information in Messenger
The team started by building a bot personality to engage with the brand's target audience. They partnered with Ashy Bines, International Fitness Coach, to create the chatbot persona AshyBot, who embodied Ashy's energetic, family-loving personality through images, GIFs, and common text language. The team wanted to generate enjoyable conversations with subscribers that would encourage them to reveal their interests.
They used the Modal Growth Tool on hideAWAY Homemade's homepage to give visitors the option to subscribe for deals and promo updates in Messenger.
In the flow, hideAWAY Handmade asked for a new contact's phone number and email address so hideAWAY could contact them if they missed a deal in Messenger. Stephen and the team also built the flow to ask contacts if they wanted to opt-in for a One-Time notification for the next sale, which would reach people outside the 24-hour messaging window.
Users who provided all their information received a personalized coupon to encourage the sale. This Message Block achieved a stunning 61.6% click-through rate throughout the campaign.
When asked how he was able to convince so many subscribers to share their contact information, Stephen explained:
«Collecting contact information typically depends on a shopper's prior relationship with the brand & the strength of your incentives. Since this flow targeted new website visitors, it was essential to create an engaging user experience from the first interaction—and ManyChat helped us do exactly that.«
Creating fun, chat-based experiences in Messenger
Along with the fun, conversational exchange that draws customers into the campaigns, hideAWAY Handmade also offered new subscribers a first-time buyer's discount as a reward for submitting their email + sms + otn for future campaigns.
They also used similar "rewards" for partaking in a "choose your first fragrance" quiz. The personality-based quiz helped people get acquainted with the brand and find their first product if they hadn't previously shopped with hideAWAY.
hideAWAY Handmade also used a weekly giveaway to increase engagement and sales. Each week, subscribers could enter to win a product bundle; if they shared with friends, they would get double entry points and improve their chance of winning.
Regardless of whether a participant won or lost, they received a consolation prize discount for joining the giveaway, which helped hideAWAY Handmade drive over $74,000 in less than six weeks.
Offering coupons for positive feedback
HideAWAY used a review flow to enable customers to leave feedback within Messenger. If feedback was positive, the flow encouraged customers to leave a public review on Facebook and gave them a coupon for their kindness. In the rare case feedback was negative, customers were sent to a Live Chat support agent to fix the issue and win back the customer.
Coupon revenue from the review flow totaled $6,900 over six weeks as well.
Conclusion
The combination of an engaging Messenger bot, weekly giveaways, Coupon Campaigns, and proactive customer support helped hideAWAY convert more shoppers at a lower cost. Over this six-week span, hideAWAYs ongoing campaign:
Earned $133,279 in additional revenue
Gained over 68,000 subscribers across email, SMS, and Messenger channels
Achieved a 99.5% click-through rate for One-Time notifications (OTN)
Grow your sales through mobile messaging with ManyChat. It's free to get started.
About the Agency:
ChatBlender is a marketing agency that specializes in lead conversion. They work with eCommerce companies looking to scale and grow their business through intelligent automation and conversational design. The hideAWAY Messenger bot was designed by Gustavo Boregio and Stephen Bradeen of the ChatBlender team. Click here to test out their demo bot.
Los contenidos de este blog han sido elaborados de forma independiente y sólo tienen fines informativos. Las opiniones expresadas son las del autor y no reflejan necesariamente los puntos de vista de ManyChat o de cualquier otra parte. Los resultados individuales pueden variar.