How Dental Art by Erika Elescano generated 12,000% ROI using Manychat in just 60 days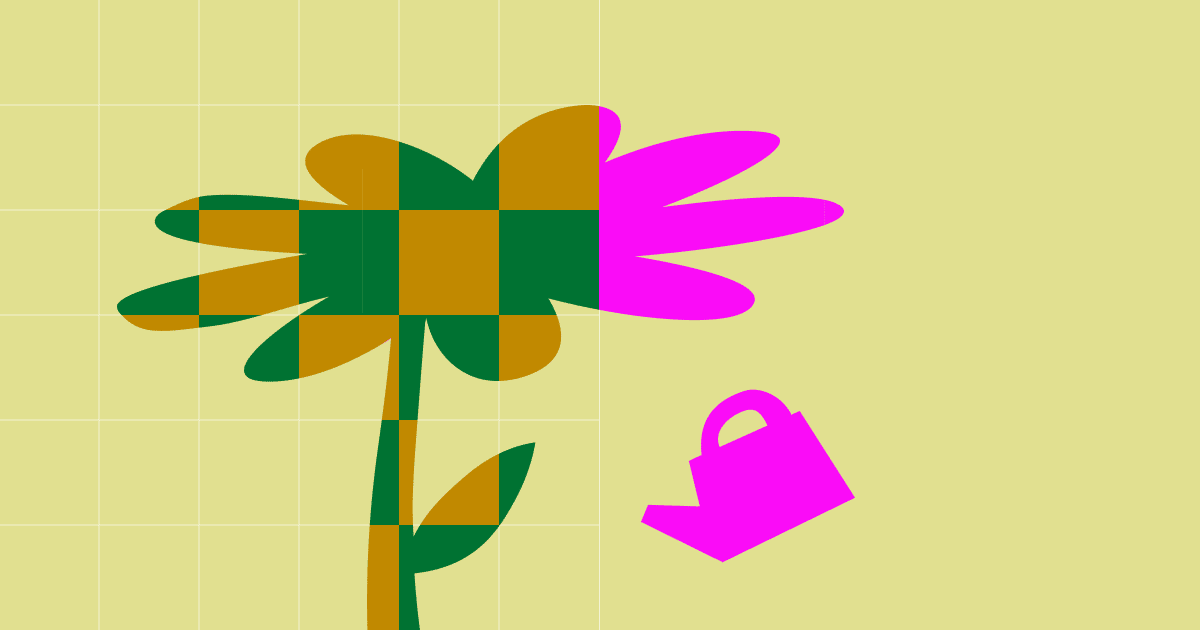 30 minutes.
That is the response time most customers expect from a business on social media.
And just 50% of businesses are meeting this expectation.
Here's how Dental Art by Erika Elescano shaved down their response time by 80% and achieve 12,000% ROI using Manychat and a CRM system.
Overview
Dental Art by Erika Elescano offers general dentistry, as well as cosmetic and specialist dental services across three offices in Peru. Owner Walter Paredes and his wife, Erika – a dental surgeon and the clinic's medical director – started the business 15 years ago. Today, the clinic has grown to seven staff.
Dental Art is one of only a handful of centers specializing in functional orthopedics of the jaws (OFM), which corrects all kinds of bite problems without teeth removal or surgery.
"Ninety-five percent of our clients and leads are women, and almost all of them are mothers," Walter explains. "OFM treatment is largely aimed at women bringing their children to the consultation."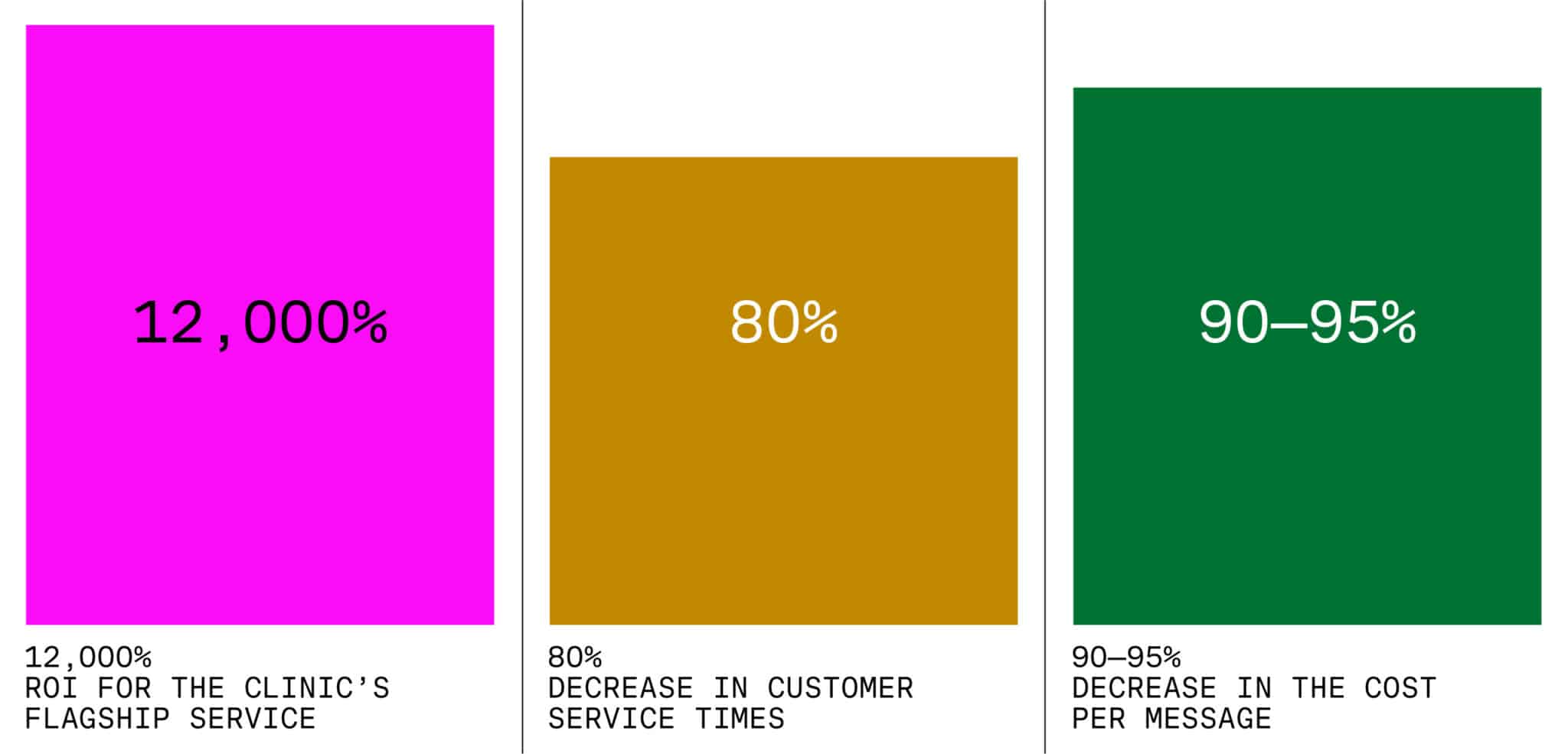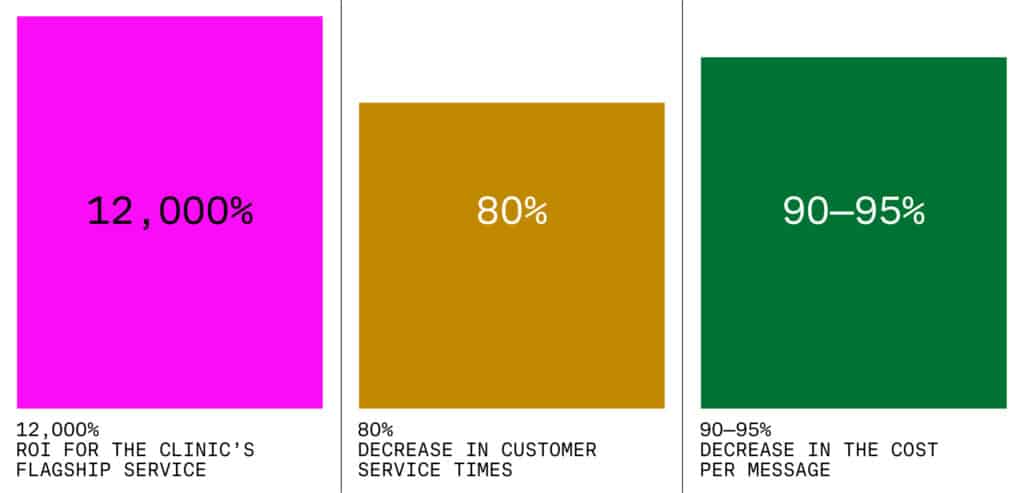 The challenge
For many months and across many campaigns, Walter – who is also responsible for marketing and sales at the clinic – was looking for a way to publicize OFM, connecting with mothers of young children, without success.
He had two objectives: to connect with this audience, and compete with the top company in Peru, which offers the same service.
The rival company had 120 ads running on Facebook and Instagram during the same time period, September 2021 to January 2022. For comparison, Dental Art had only one ad running.Walter admits he had been using Manychat for a long time, "but not to the level or psychological orientation towards sales" he learned from Manychat Educator Trilce Jiron Garro and her signature CRM strategy.
The goal
In addition to publicizing OFM in a competitive landscape, Dental Art also wanted to manage their customer database more effectively, increase appointments, and in turn, generate more sales.
By interacting with leads on multiple channels, including Messenger and WhatsApp, and including a CRM connected to Manychat, Dental Art was able to have a 24/7 presence and responding immediately has ensured prospects know to expect a callback from the customer service team.
"I am convinced that a business does not grow without having a database and knowing exactly who are the people who are buying from us and what specific actions they are taking regarding what we are offering them," adds Walter.
The strategy
First, Dental Art focused on capturing the attention of their audience: mothers who want the best for their children's teeth without invasive surgery.
"To achieve this, we made the simplest video possible in which we showed the results that are obtained when using the functional orthopedic treatment of the jaws," says Walter.
Next, they refocused their ad copy – telling moms about all the unnecessary medical treatments they may be exposing their children to that don't always correct the problem.
"We made our message talk about children being subjected to surgery, dental extractions, long post-operatives, all accompanied by a lot of pain," explains Walter. "We end the message by saying that you can avoid all of this if you use a specific treatment."
Next, Dental Art ran a Clicks-to-Messenger Facebook ad, with JSON, Comment Growth Tool, and ref URL because they knew people in Latin America don't always follow the call to action and click the "send message" button, but may comment on the ad instead.
The customer service team would call those who gave their phone number. For those who didn't give their contact details, they implemented a remarketing strategy.Later on, they implemented Manychat for WhatsApp, creating an entirely new flow and also including the ref URL in their ad copy.
"People usually send a direct message to the page, leave a comment or use WhatsApp communication," he adds.
"Just over 20% – 850 people – of conversations were initiated and attended by the WhatsApp chatbot. People saw us on Facebook first, but communicated directly through WhatsApp when they saw that this channel was available."
Using Manychat tagging, Walter and his team have been able to keep lead source attribution well-organized and funneled to Monday.com to nurture each lead
effectively.
"Managing and positioning this flagship service has meant having a lot of emotional balance for me and my wife, because we could not grow as we expected until we ran this campaign," ads Walter.
The results
Since implementing Trilce's CRM strategy with Manychat, Dental Art has grown their business, relocating their primary practice to a larger premises, opening a second office in another district of Peru's capital, Lima, and expanding to a third office in one of the interior provinces.
"Since starting this strategy in 2021, we managed to grow exponentially by connecting very well with the public that interests us and managing to do the necessary follow-up to take them from leads to clients," says Walter.
In fact, using these Manychat strategies, in a period of 60 days, Dental Art achieved these incredible results:
12,000% ROI for the clinic's flagship service, functional orthopedics of the jaws.
Up to 80% decrease in customer service times.
A 90% to 95% decrease in the cost per message.
A 5x increase in daily messages.
Generate sales that are equivalent to 1.3 times higher than the average annual sales for the clinic.
"People travel more than an hour and a half from their homes to any of our three offices," says Walter. "In Peru, it is very unlikely that a person would travel for so long to attend a dental consultation.
"On many occasions, our patients have traveled more than four hours just to be seen by us, and we believe this is a combination of factors, but also in part, due to our successful Manychat strategy."
Key takeaways
To execute a successful Manychat strategy with CRM focusing on Clicks-to-Message ads and WhatsApp, consider the following:
Capture the attention of your audience in your ad copy and creative. What is your audience's pain point? What are their deepest desires? How does your business solve this pain point?

Connect with your leads on the channel they prefer. Dental Art was able to have a 24/7 presence and respond to leads immediately, reducing their customer service time and boosting sales.

Integrate your CRM with Manychat to supercharge your lead qualification and follow-up efforts. This means you can distribute leads among your customer service team, as well as know where they are in the path to purchase.
Focusing on these three important elements can help boost your ROI, reduce your customer service costs, and successfully map out leads within your funnel.
As Walter concludes: "the result was obvious; we were victorious!"
Los contenidos de este blog han sido elaborados de forma independiente y sólo tienen fines informativos. Las opiniones expresadas son las del autor y no reflejan necesariamente los puntos de vista de ManyChat o de cualquier otra parte. Los resultados individuales pueden variar.