[Case Study] How ManyChat Used Customer Chat to Increase Email Subscribers by 50%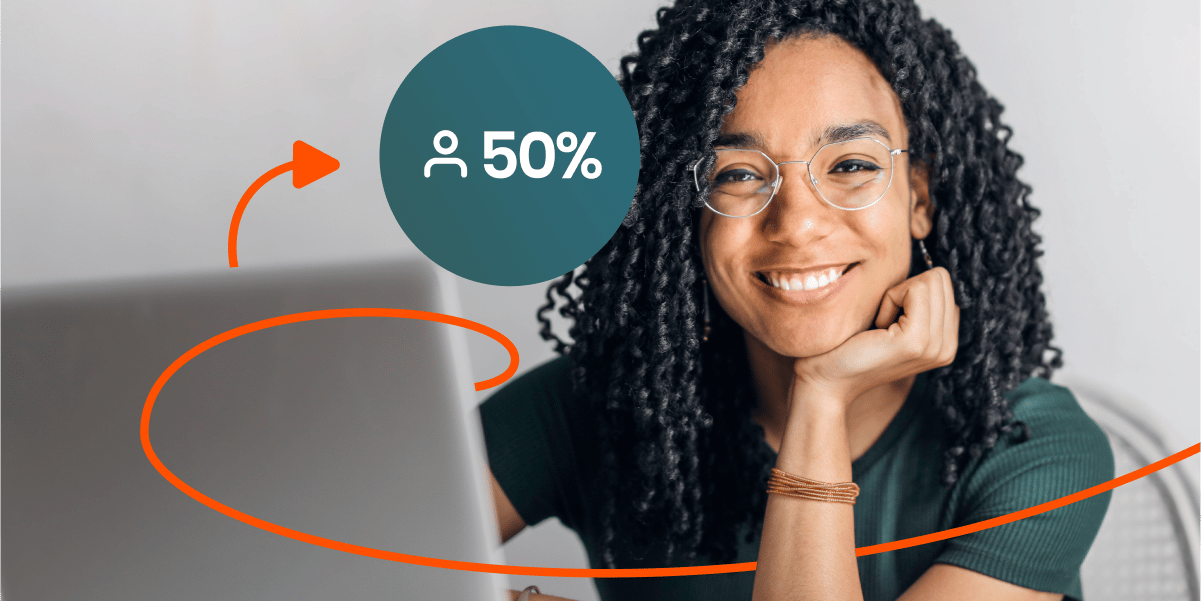 Overview
The content team at ManyChat is always looking for new ways to grow their email newsletter, The Chat. Previously, they collected emails on their blog homepage through an embedded sign-up form, but the placement wasn't getting the desired amount of monthly sign-ups. To spread the word about the newsletter and get more subscriptions, the team turned to the Customer Chat Growth Tool to see what a conversational sign-up process could do.
After one quarter, the Customer Chat resulted in a 50% increase in subscribers for The Chat and engagement with their content.
Results

Problem
ManyChat relied on an embedded sign-up form on their blog homepage to get newsletter sign-ups. They wanted more interactive ways to engage with new website visitors and promote the newsletter to encourage sign-ups.
Their goal
ManyChat wanted to increase the volume of newsletter subscriptions for the quarter to share valuable content with people, grow interest in their free video course, and boost engagement.
Approach
Turn website visitors into email subscribers with Customer Chat. ManyChat set up the Growth Tool on all pages with /blog in the URL. Once a visitor clicked the chat bubble, they entered an automated flow that promoted the newsletter and asked for their email address.
Use GIFs as a visual language. Through using GIFs, the bot expressed different emotions throughout the flow relevant to a person's actions. This visual language helped make a text-based conversation more funny, entertaining, and engaging.
Give people more engagement opportunities after a conversion event. To maximize the bot's impact, ManyChat offered people a variety of options at the end of the flow. People could click to go see case studies, sign up for a free account, or keep browsing the blog.
Track conversion events using ManyChat Analytics. Since conversion events — like newsletter sign-ups and sign-up page views — were tracked in ManyChat Analytics, the team could make small adjustments to the flow over time to improve conversions.
How ManyChat Grew Their Email List by 50% in 2 Months
Creating a welcoming intro message
Initially, the team tested a conversational intro message like the one below.
After running this intro message for a month, they saw the message converting around 6.4% from widget to flow. While that conversion rate wasn't bad, they decided to shift the message to reflect the bot flow's purpose: get newsletter sign ups.
The new message below is what stuck and converts at 7.8%, a 21.78% increase in conversions.
Here's what the flow looks like from a subscriber's phone.
Building out the flow
The first step was to createa Condition to identify people who've already subscribed to the newsletter. If they had a Blog_bot tag and email saved to the System Field, they were sent a follow-up saying thank you for subscribing. Plus, a rockin' GIF of Kelly Noble Mirabella.
If this was someone's first time in the bot or they haven't yet subscribed, they'd enter the flow. The Opt-In Message works for three reasons:
Tells the person what they'll get from signing up
Uses a GIF to liven up the long message
Uses emojis in buttons to encourage clicks
If a person clicked Heck yea!, they are sent a follow-up confirmation message to subscribe to the list with their email attached to their Facebook account or another email address through keyboard input.
If a person clicked No thanks, they were sent a recovery message to try and get them back into the main flow.
From here, users could:
See case studies on the website
Change their mind and go back to the flow
Exit the conversation
At the time of writing, 2174 opened the recovery message, and 21% went to see case studies, while 20% changed their mind and went back to sign up for The Chat.
After a person signed up for The Chat, they set up an Action block to:
Log email sign up as a conversion event to track in ManyChat Analytics
Capture the email in a System Field for the ManyChat bot
Send the email to the company's Mailchimp list
Add subscriber to a Google Sheet
After logging that information, users were sent a follow-up where they were given three choices:
See case studies
Get ManyChat account
Continue browsing
If a person went to the case studies page or went to sign up for a ManyChat account, they were tagged to help the marketing team with their remarketing efforts.
Conclusion
The marketing team successfully engaged with website visitors and drove newsletter sign-ups throughout the second quarter. Using the Customer Chat widget on their blog site, they were able to increase email sign-ups by more than 50% and drive more qualified leads for their Pro accounts.
Want to convert more traffic into leads from your website? Get ManyChat PRO today.
Los contenidos de este blog han sido elaborados de forma independiente y sólo tienen fines informativos. Las opiniones expresadas son las del autor y no reflejan necesariamente los puntos de vista de ManyChat o de cualquier otra parte. Los resultados individuales pueden variar.