The seasonal Manychat blueprint that sparked a 300% engagement increase for Floreat Forum ⚡️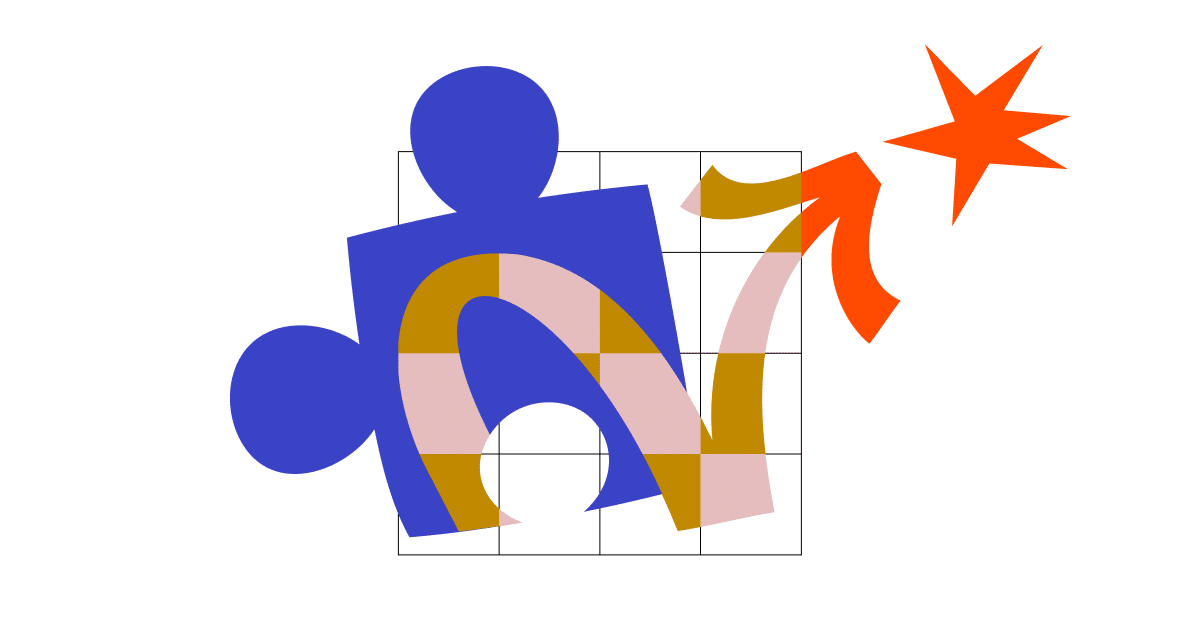 Organic reach and engagement on Facebook is dead… ⚰️
Or so they say.
Floreat Forum found a way to leverage comments and spark engagement among their community of loyal shoppers without a large ad spend.
It also produced the highest on-page engagement in the entire history of its Facebook page.
And all it took was one Manychat feature, and a proven strategy executed by Perth marketing agency, AdSocial.
Overview

Floreat Forum – a shopping mall located in Floreat, just outside Perth, Western Australia – has more than 90 specialty stores anchored by grocery chains Woolworths and Coles.
Opened in September 1965, Floreat Forum was touted as Perth's first American-style shopping mall, offering residents the variety and convenience of city shopping in one suburban location.
Fast forward to the present day, Floreat Forum was looking to engage with its local community to showcase retailers within the mall and encourage more footfall to the property.
Floreat Forum's team attended a Chat Marketing presentation by Amberlea Henriques, founder of AdSocial, a Manychat Agency Partner.
They were impressed by Manychat's Comment Growth Tool, and how it could provide strategic value to the content they were sharing on their Facebook page.

So, Floreat Forum teamed up with AdSocial to explore the possibilities of seasonal campaigns, closing with a prompt to subscribe to monthly Recurring Notifications (now known as Messenger List within Manychat).
This meant Floreat Forum could broadcast to its audience in a direct and personalized way outside of the 24-hour window.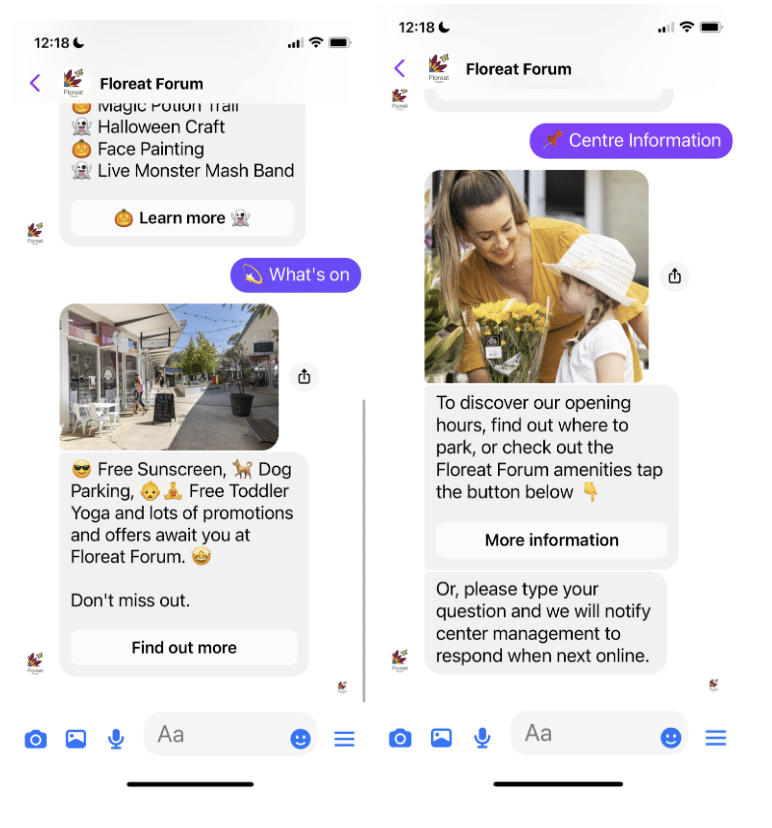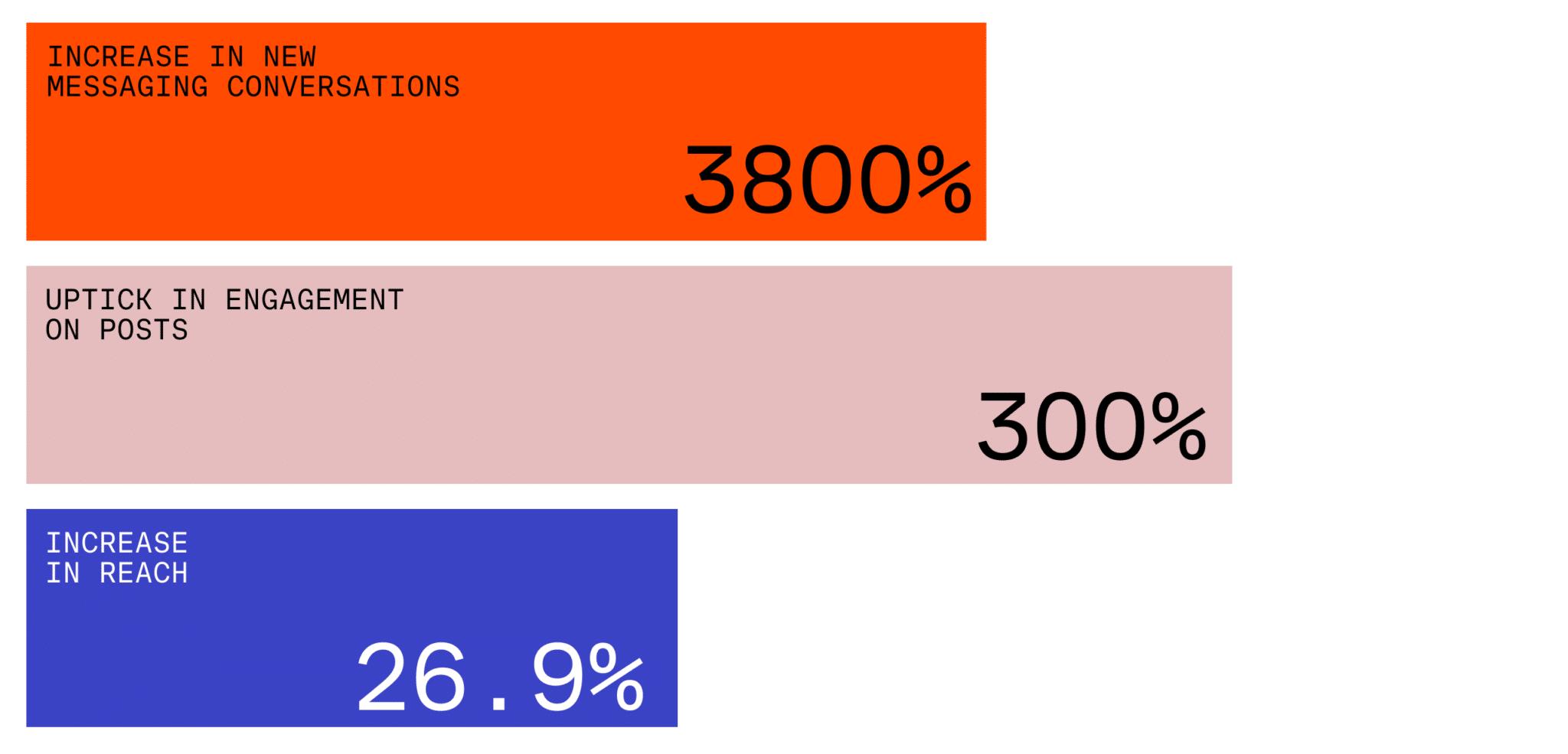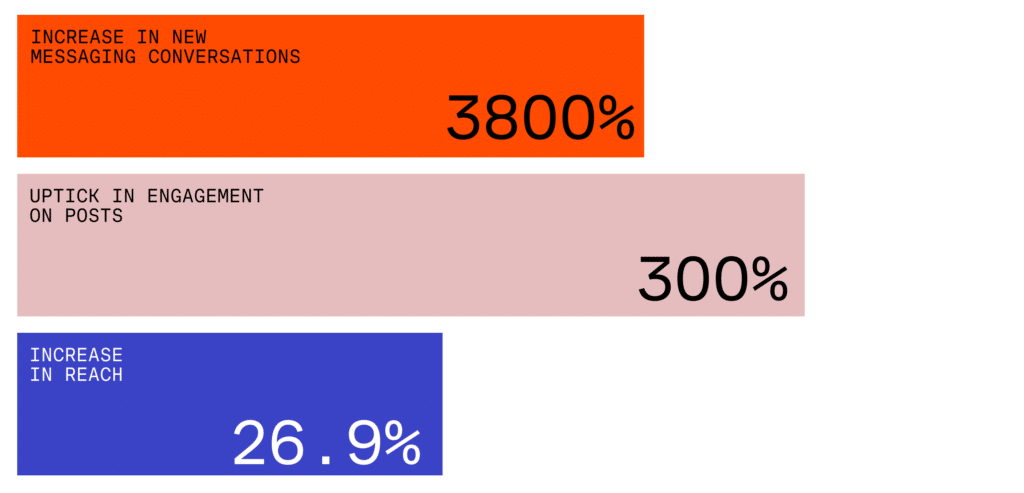 3800% increase in new messaging conversations
300% uptick in engagement on posts
26.9% increase in reach
The challenge
The number one challenge AdSocial faced was finding a way to organically capture the attention of Floreat Forum's audience on Facebook.
Their solution?
Create value-driven campaigns to entice particular audience segments to engage with their content. 🎯
Using powerful calls to action, such as "comment to receive recipe tips or gift suggestions" or "comment to win vouchers from a retailer", Floreat Forum grew its direct marketing list from zero to about 1,000 contacts from just 10 Facebook posts connected to Manychat's Comment Growth Tool.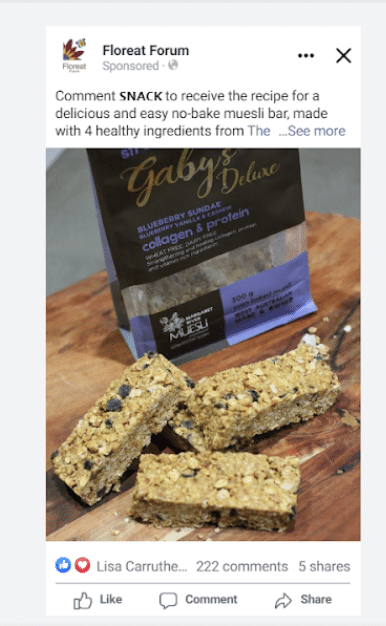 The goal
Floreat Forum wanted to take its content beyond just vanity metrics and receive strategic value – including creating brand awareness and boosting engagement – from the posts they were sharing across both Facebook and Instagram.
With this in mind, Adsocial's goal for Floreat Forum was twofold:
Leverage Messenger List (Recurring Notifications) opt-ins to increase read rates by offering a unique way of receiving news and announcements.
Showcase retailers in interactive ways, through competitions, value-based content, tips, recommendations and shopping guides.
In addition to this, being able to identify key target audience groups and tagging conversations in Manychat is a great way to understand the mall's consumer demographics, and market to them appropriately.
"Manychat provides the opportunity for more granular insights versus the basic insights, like age and gender, available in Meta's Insights," adds Amberlea.
The strategy
AdSocial leveraged Manychat's Comments Growth Tool as a persistent feature in each of Floreat Forum's campaigns, closing off with a prompt to opt into Messenger List.

The Comment Growth Tool was attached to key posts to grow their marketing database, build consumer profiles for future marketing campaigns, and leverage free remarketing with high read and open rates using Manychat's broadcasting tool and Messenger List.
The value-driven content targeting the audience and tying in with the mall's retailers is where Amberlea saw the biggest spike in click-throughs to Messenger.
Encouraging the audience to comment to receive recipes, cleaning tips or gift suggestions had a click-through rate of 85.7%.
The click-through rate to win vouchers for restaurants or clothing stores was 93%, and the event guides' CTR was 91.7%. 😮
Each conversation ended with a prompt to opt into the monthly digital newsletter, adding the subscriber to Floreat Forum's Messenger List. They could then broadcast their update once per month.
"The Halloween event guide performed the best," says Amberlea. "We asked if people wanted a reminder before the event, with 75% opting in."
This also gave Floreat Forum the opportunity to see if anyone was no longer able to attend so that those on the waitlist could be offered tickets.
They would also ask for the subscriber's email address, which would be added to Floreat Forum's email database. Since this strategy has been in place, the email open and click-through rates have also increased.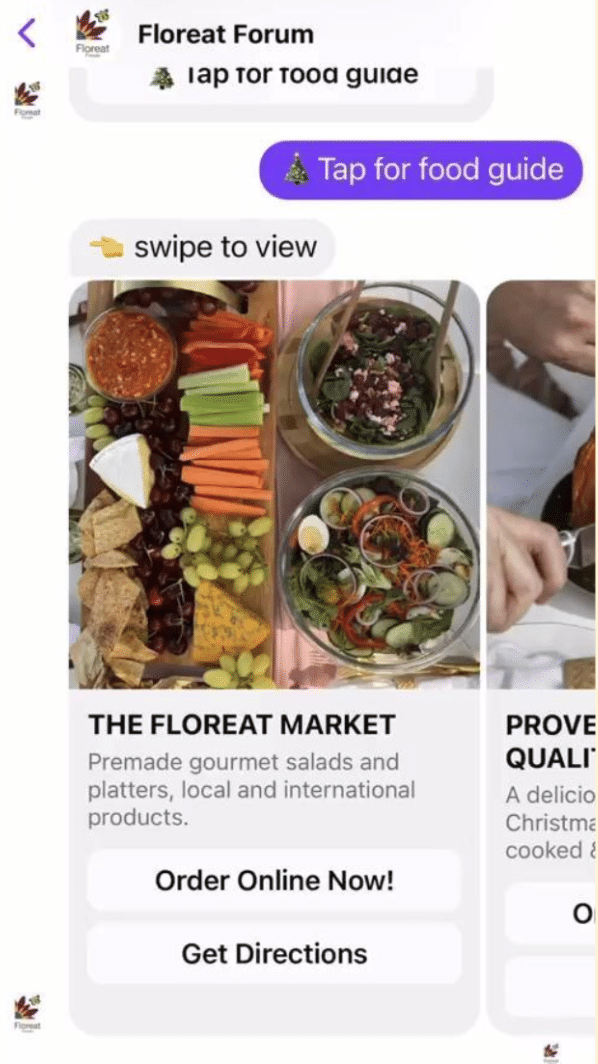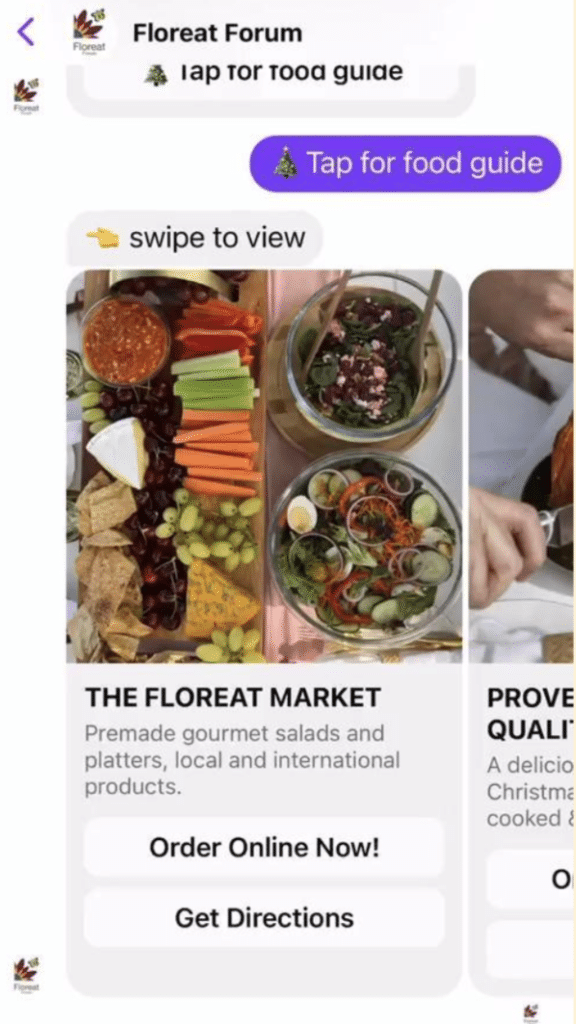 The results
Using the Comment Growth Tool attached to key Facebook posts and Messenger List opt-ins, Floreat Forum saw an increase of 3800% in new messaging conversations and a 300% uptick in post engagement.
On top of this, there was a 26.9% increase in reach.
Plus, six of the top 10 posts that generated the highest on-page engagement in the entire history of Floreat's account were connected to the Comment Growth Tool. 🤯
Key takeaways
In order to get the most out of the Comments Growth Tool to grow an engaged database, steal a page from the AdSocial and Floreat Forum playbook:
⚡️ Leverage the Comment Growth Tool: Identify your key Facebook posts, include a powerful call to action, and offer an incentive for your audience to comment. This growth tool puts your comment responses and Messenger conversations on autopilot – and boosts engagement.
👥 Create a granular profile of your audience: Using Manychat's tagging capabilities, you can create an in-depth profile of your audience members, so you can create targeted campaigns they'll love – and bump up your ROI.
📣 Don't forget broadcasting! Using Manychat's Messenger List feature, once you obtain permission from your subscribers, you can communicate with them in Messenger outside of the initial 24 hours. A monthly digital newsletter is a great low-investment entry point to start communicating with subscribers.
For the future, AdSocial's goals include growing Floreat's monthly digital newsletter opt-ins and sending targeted email blasts to communicate with shoppers regularly and improve long-term engagement.
"With many preferring to stay connected via their work email addresses, we are confident that this will be a more engaging audience in time, too," adds Amberlea.
O conteúdo deste blog foi preparado de forma independente e destina-se apenas a fins informativos. As opiniões expressas são de responsabilidade do autor e não refletem necessariamente a posição do ManyChat ou de qualquer outra parte. Os resultados individuais podem variar.