How WhatsApp Communities will Affect Marketing Efforts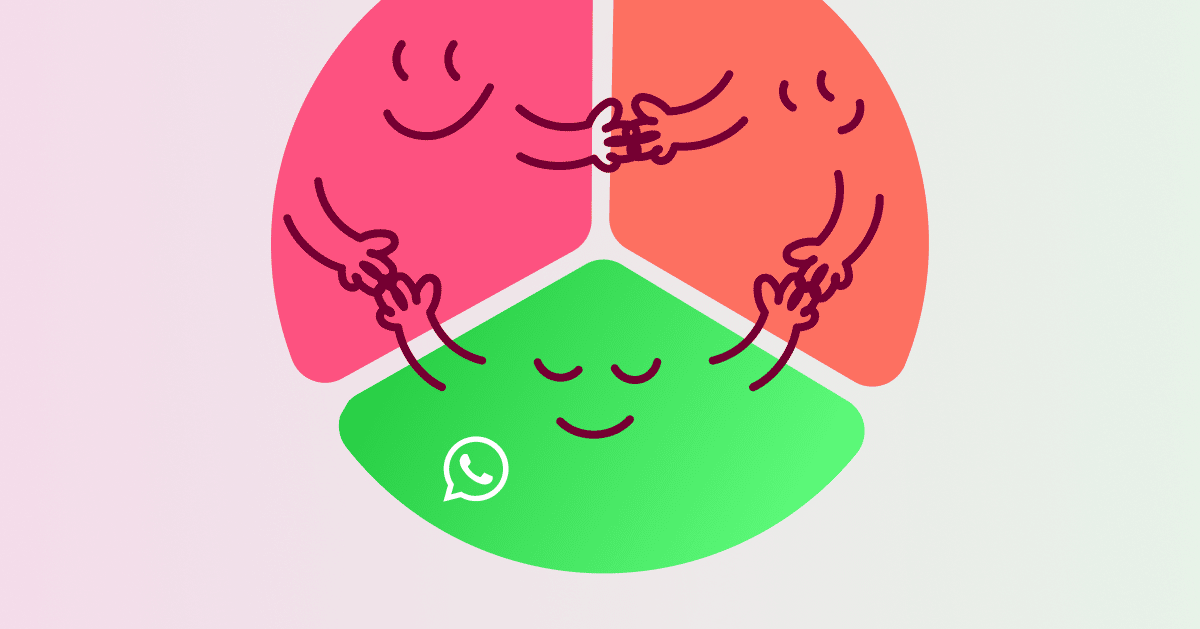 Here at ManyChat, we consider WhatsApp to be not only a popular form of intimate communication but also a powerful marketing tool for businesses. Since making our partnership public in 2020, we've helped thousands of WhatsApp users develop marketing automations to scale their customer conversations.
With the launch of WhatsApp Communities, businesses can now scale even further than before.
What are WhatsApp Communities?
WhatsApp Communities is a feature within WhatsApp that helps you communicate on a large scale. Traditionally, WhatsApp was available only to small group chats that maxed out at 256 participants.
This posed a problem to organizations and institutions such as schools and businesses with a reach of more than that. As a response, WhatsApp has released its new Communities feature to help businesses widen their reach.
WhatsApp Communities features
WhatsApp Communities offers several new featuresthat not only make WhatsApp more convenient for businesses but provide safety measures as well (such as helping to eliminate the spread of unsavory content like sexual images). These new features include:
Ability to add thousands to groups
Ability to choose one admin
Group mass messaging
Phone number verification
Communities aren't discoverable through search
1. Ability to add thousands to groups
Previously capped at 256 participants, WhatsApp has been known as the app for private messaging with an intimate group of friends, family or colleagues. Now, with WhatsApp Communities, you can extend your reach into the thousands.
2. Ability to choose one admin
To eliminate the problem of mass spam messaging being sent by anyone in a group, WhatsApp allows you to choose your admin. The admin will be the only one with the ability to send mass messages and to add new users to the community.
3. Group mass messaging
Now, mass messaging can be used for marketing purposes and spreading important information. To limit the possibility of explicit messages being sent, instead of being able to forward a mass message up to five times, as you could before, users are now capped at one.
4. Phone number verification
Users don't have to worry about being targeted and added to a community unknowingly. Even with the power admins possess, they cannot add you without having your phone number. This results in a lessened chance of being added to a spam community without your consent.
Plus, once you're in the community, your phone number is no longer able to be viewed by the admin or other group participants.
5. Communities aren't discoverable through search
Admins don't have to worry about their communities being poached. Unless you're invited into a community, it can't be found. Meaning it's not available to be searched nor will it show up on the WhatsApp algorithm as a suggested community.
WhatsApp Communities for businesses
What can WhatsApp Communities do for your business? Even before Communities made its debut, WhatsApp was a popular marketing tool that resulted in 27% more sales leads by businesses including their WhatsApp number on their website. Being able to reach a business through WhatsApp Messenger instilled confidence in customers and that's still the case.
Customers are 56% more likely to contact customer service through messaging than over the phone. This opens an all-new door of communication and marketing. Admins can:
Mass communicate sales and promotions
Answer common questions
Provide customer service and assistance with purchasing
How to set up a WhatsApp Community
Although the feature has been announced, the beta is still not available to the public. Due to the information that has been released, this is what we think the process will look like. First, you will need to create a group:
Open WhatsApp > More Options > New Group
Search for select contacts and add them to the group. Then tap the green arrow icon.
Enter a group subject (this will act as the group name)

The text limit is 25 characters
You can add an emoji
You can add an icon by hitting the camera icon

Tap the green checkmark when you're done
From here you can assign an admin:
Open the WhatsApp group and press Options, then Group info
Choose the participant you want to be an admin
Press options, then press Make group admin
After this, there will come the adding multiple groups together to create a community. The groups will then become subgroups of the community.
Maximizing your marketing efforts with WhatsApp + ManyChat
With this new ability to reach so many people in one swoop, you can maximize your efforts while still using the same ManyChat marketing tactics, including:
Automated message flows. With the WhatsApp API, you can create a custom message flow of any size (including an entire conversation). Uses include: creating auto-replies to FAQs, listing customer service hours, or setting up any response that will reduce customer wait time.
Automated sales process. You can automate your sales flow with a WhatsApp chatbot. The bot can ask about the customer's intent, display the product catalog, offer assistance in choosing a product, and even enable instant checkout.
Proactive messaging. Using the WhatsApp API, create proactive message templates that target customers who have opted to receive updates related to an order, appointment, service request, or payments.
Interactive voice response (IVR) call deflection. Use this feature to send phone calls to WhatsApp. You can assign a number in your IVR system that asks the user if they want to continue the conversation on WhatsApp. If they accept, they are automatically taken to WhatsApp to continue, either with an agent or a chatbot.
Want to see how ManyChat can lend a hand on WhatsApp?
Los contenidos de este blog han sido elaborados de forma independiente y sólo tienen fines informativos. Las opiniones expresadas son las del autor y no reflejan necesariamente los puntos de vista de ManyChat o de cualquier otra parte. Los resultados individuales pueden variar.