What is WhatsApp Automation Marketing and How to Use it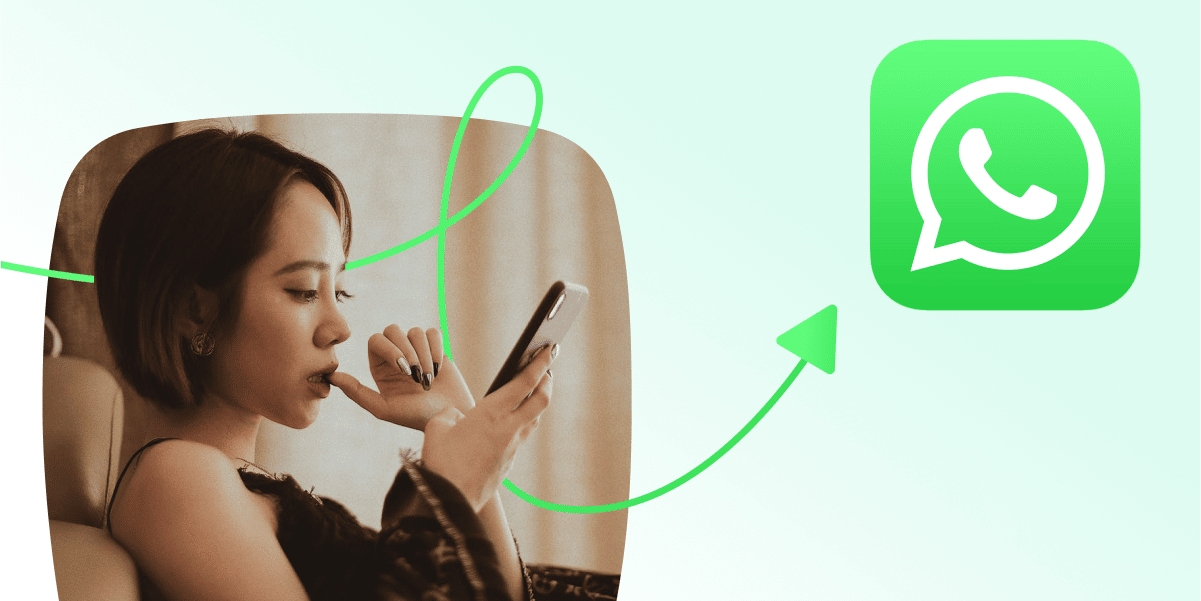 Launched in 2009, WhatsApp is a texting app that anyone can use to communicate with people worldwide for free. While it's been attracting fans like mad (with almost 79 million US users alone in 2021), you may be wondering what makes it so appealing to businesses—and if you should be using it. (Spoiler: You should definitely be using it.)
Similar to Facebook and Instagram, WhatsApp has marketing tools for small businesses integrated into its Business app. Companies can use WhatsApp to connect with shoppers and potential customers to improve engagement and deliver quick responses, ultimately boosting sales.
Let's take a deeper look into WhatsApp automation and how to use it to imrove your marketing and customer service communications.
What is WhatsApp automation marketing?
WhatsApp is more than just run-of-the-mill messaging app. Brands can leverage the WhatsApp API, WhatsApp Business app, and chatbots to automate entire conversations and message flows.
Businesses can apply for the WhatsApp Business API, which adds some (but not all) available automation features to the WhatsApp Business app. 
Some of the marketing automation features available with WhatsApp include:
Automated message flows. With the WhatsApp API, you can create a custom message flow of any size (including an entire conversation). Some ways you can use it: Create auto-replies to FAQs, list customer service hours, or set up any response that will reduce customer wait time.
Automated sales process. You can automate your sales flow with a WhatsApp chatbot. The bot can ask about the customer's intent, display the product catalog, offer assistance in choosing a product, and even enable instant check-out.
Proactive messaging. Create proactive message templates using the WhatsApp API that target customers who have opted to receive updates related to an order, appointment, service request, or payments.
Interactive Voice Response (IVR) call deflection. Use this feature to send phone calls to WhatsApp. You can assign a number in your IVR system that asks the user if they want to continue the conversation on WhatsApp. If they accept, they are automatically taken to WhatsApp to continue, either with an agent or a chatbot.
Read more about the WhatsApp API and the WhatsApp Business app. 
ManyChat's partnership with WhatsApp began in October 2020; we've been beta testing automation features ever since. For example, ManyChat is working with the Business API so that by extension, ManyChat users can send automated messages to their subscribers on WhatsApp via ManyChat. 
Sign up to receive ManyChat WhatsApp updates. 
Why should you use WhatsApp for marketing?
WhatsApp offers several ways to communicate with your customers beyond texting.
Companies can send customer communications including shipping updates, appointment reminders, order notifications, tickets or boarding passes, products demos, surveys, and support messages, and more, all through WhatsApp.
WhatsApp delivers messages instantly worldwide, and thanks to its end-to-end encryption, is a secure platform.
As part of the Facebook ecosystem, WhatsApp gives you the ability to provide Facebook Shops support. This support allows consumers to message a business via WhatsApp with questions about products they see on Shops. 
ManyChat will also support this Shops functionality on Instagram and Messenger.
How to start using WhatsApp messaging
If you're interested in getting started with WhatsApp, check out this video covering the basics:
Setting up a WhatsApp Business account is similar to creating a standard user account. Once you finish the initial setup, an in-app tutorial explains the business tools. 
From there, you can set up your profile and start connecting with your customers. Your Business profile is where you can include service hours, location, and a link to your website.
Once you get going, take a look at our tips for creating a WhatsApp sales funnel. 
If your customers are on WhatsApp, you can take advantage of plenty of features to help you efficiently communicate with them.
Are you ready for ManyChat x WhatsApp?
Los contenidos de este blog han sido elaborados de forma independiente y sólo tienen fines informativos. Las opiniones expresadas son las del autor y no reflejan necesariamente los puntos de vista de ManyChat o de cualquier otra parte. Los resultados individuales pueden variar.