7 Optimization Tips for Transactional Email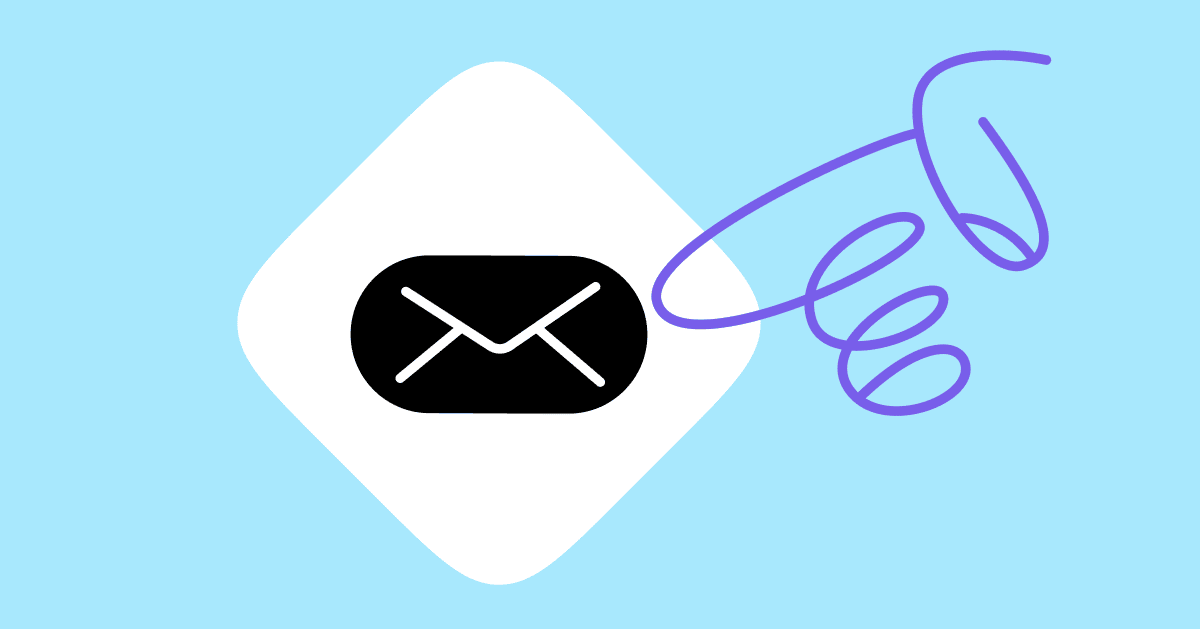 Transactional emails play an important role in the customer journey with regards to engagement, retention, and conversion.  Research shows that transactional emails have 8x more opens and clicks than any other type of email, and can generate 6x more revenue. By contrast, engagement rates for general marketing emails have trended downward in recent years.
For this reason, your company's transactional emails are a powerful, rapport-building tool. But are you getting the most out of these communications and actually connecting with your target audiences? Maybe not. 
One study found that only 27.5% of senders A/B test their transactional emails. 
To ensure that these valuable relationship-building moments won't fall through the cracks, we've put together an introduction to transaction emails, and seven optimization tips that you can implement into your business marketing strategy.
What is a transactional email?
Overview
Think of your transactional emails as the most personalized type of communication you have with your customer or prospect. Mailchimp, one of the most far-reaching platforms for managing email campaigns, defines transactional emails using the following definition:
"Email sent from one sender to one recipient, usually related to account activity or a commercial transaction. Examples include password reminder emails, purchase confirmations, and personalized product notifications."
By contrast, bulk emails, also known as marketing emails, business-as-usual emails, or email blasts, involve sending a single campaign to a group of opted-in subscribers. These business-as-usual communications include newsletters, coupons, invitations, and other promotional messages. Epsilon, one of the largest aggregators of consumer data, has found that marketing emails are responsible for lower email engagement averages overall. 
Transactional emails are intent driven, meaning they correspond to specific actions taken by your target audiences who engage with your business. A typical workflow involves a trigger such as a sign-up, change in user preferences, or purchase. For this reason, transactional emails tend to include very specific and relevant information recipients are more likely to pay attention to.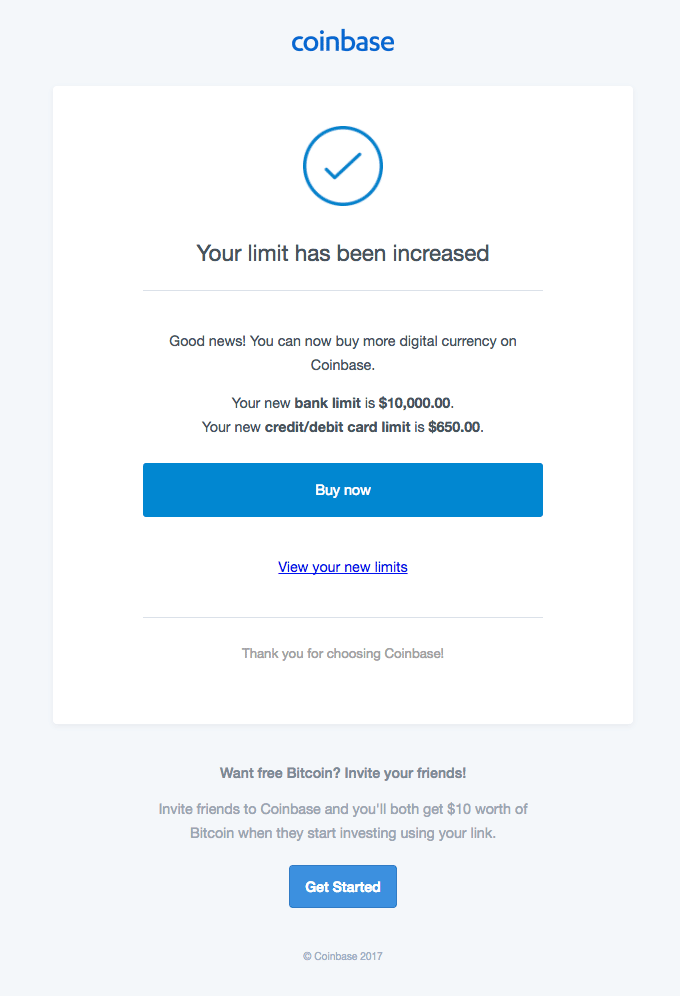 Technology 
Transactional emails are high volume, one-to-one communication for businesses and therefore require marketing automation.
Imagine what it's like to manually manage password reset emails, shipping notifications, or account creation emails. Pretty tedious, right? Now imagine the same manual process but with a larger (and growing) user base — an altogether impossible task for human eyes and fingertips to sustain. As your user base grows and business scales, it's in your best interest to use an automated software.
When sending transactional emails, use a different SMTP server from your marketing messages and general business emails since mail servers, like Google, set a cap on daily outbound messages to reduce spam. 
Luckily, there are a number of API-based solutions that allow you to route your transactional emails through a third-party SMTP server. Given the prevalence of spam, however, you may find setting up your transactional email server to be a bit tricky — even if you are working with a service.
If you're not sure where to start with setting up your own email server, read about nine of the best transactional email services according to Zapier. It's crucial you pay close attention to your email service's guidelines, otherwise you risk impacting your email program's deliverability. 
Types of transactional emails
Litmus, an email marketing technology provider, notes that "marketers often write off [transactional] emails as boring or blah" due to their highly tactical nature. For this reason, product, engineering, or business analytics teams are often the ones responsible for overseeing messaging, positioning, and content.
But if you think about it, it's precisely because transactional emails are intent driven that they are closely related to marketing concepts such as conversion funnels and customer journeys.
So why not group together the different types of transactional emails by marketing funnel stage?

Awareness
At this stage, target audiences are just learning about your company, and the products you sell, for the first time. Corresponding transactional notifications include account creation, password reset, and content notification emails.
Interest
During this marketing funnel step, prospects are exhibiting interest in your brand. Relevant transactional emails include the previously  mentioned notifications in the awareness stage, as well as confirmation emails for things like  shopping appointments.
Consideration
At this point, your target audiences have shown interest in becoming customers. A transactional email that corresponds to this stage would include anything already mentioned above, and abandoned cart emails. 
Intent 
By now, signs are crystal clear that website visitors want to make a purchase. Customers are likely heavily engaged with your content and product pages, and have already created a user account, providing your marketing systems with a wealth of information. Transactional emails, as a result, can be more personalized.
Evaluation
When people are actively thinking about your brand, they may spend more time reading your content and browsing your social media accounts. In this instance, transactional emails could include account confirmations or free-trial notifications.
Purchase
At this stage of the marketing funnel, shoppers have decided that your brand is the right fit for their needs, and customers need transactional emails to support their purchase process. Example communications include order confirmations, shipping notifications, delivery estimates, and receipts.
Transactional emails also support customer retention once your buyers become repeat shoppers. People love smooth customer experiences.
Transactional email optimization ideas
Transactional emails are direct and tactical communication, but adding in a human interest can make them more valuable.
The team at Litmus recommends marketers follow the "80/20 rule" for transactional emails, "meaning that 80% of the content in the email relates to the facilitation or confirmation of the action, and the remaining 20% of content can be used for promotional purposes, such as an upsell or cross-sell."
Keep in mind, however, that compliance and regulatory requirements are different for transactional and promotional emails. When you add certain promotional elements into a transactional email, your email becomes a promotional email. For this reason, you'll need to make sure that you collect relevant opt-ins at the time of purchase. You may also consider asking a lawyer to review your strategy.
Now that we've gone over what transactional emails are, it's time to implement them into your marketing plan. Here are seven transactional email optimization ideas for your business marketing strategy.
Reinforce your brand's positive attributes
Successful marketing goes way beyond goods and services or what arrives in an inbox. In addition to communicating value, your brand also has a personality that external audiences recognize, and it's important to communicate a strong brand identity across company communications.
For inspiration, take a look at the password reset notification from Jet. The brand is friendly, helpful, and to the point.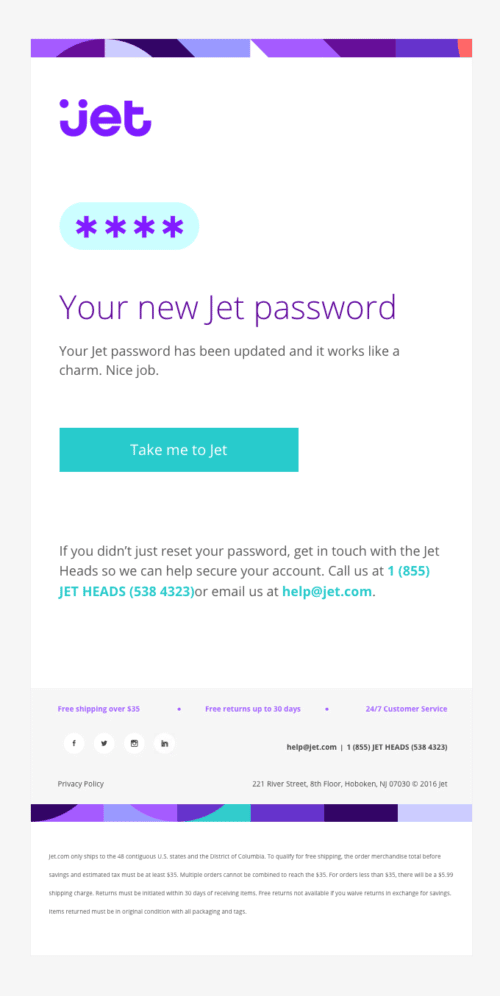 Send friendly reminders
Keep customers happy by anticipating their needs.  Helpful, friendly reminders are not only valuable to customers, but also ensure that the working relationship remains smooth. As an example, take a look at the following credit card expiration notice from InVision. Rather than wait for the customer's card to expire, InVision sends a notification so customers are proactive in updating their data.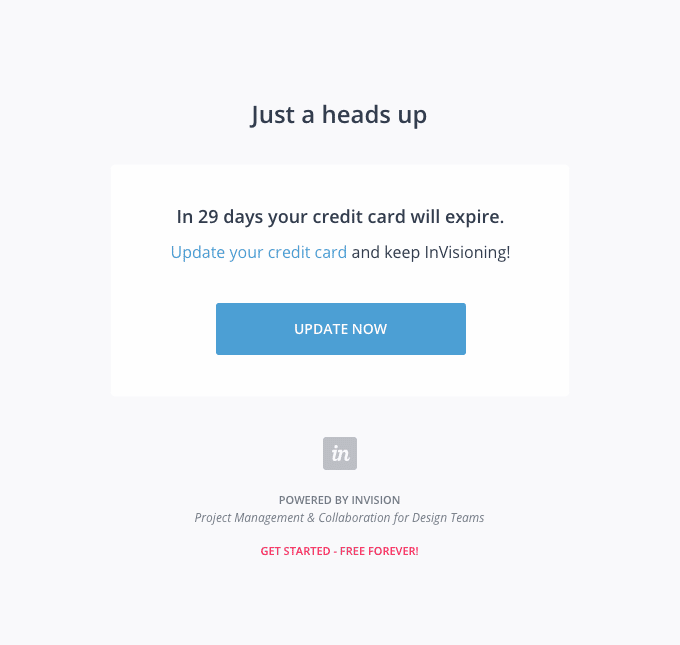 Encourage social sharing
Word of mouth is known to be the most effective marketing channel. So why not turn transactional moments into share-worthy ones? One idea is to add a social sharing prompt like the following example from Indiegogo.

Offer recommendations
People always value ideas that spark inspiration. That's why product recommendations are so important in your marketing efforts. Make transactional moments more interesting by including suggestions like the following example email from Pinterest.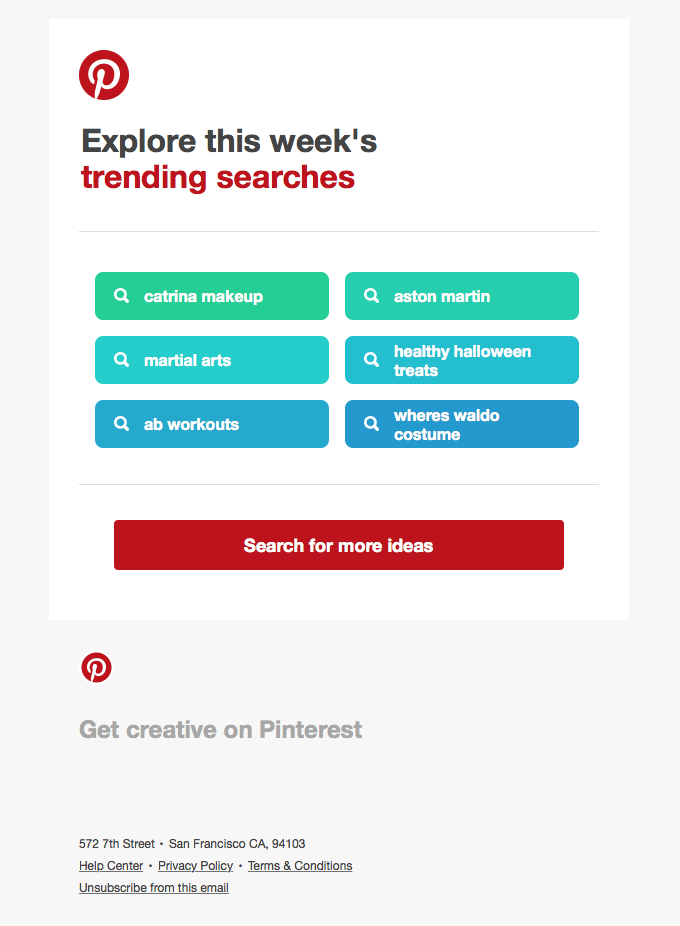 Include re-engagement hooks
How can your audiences best engage with your website platform and digital experience? In addition to sending an automated email that confirms a conversion event, why not share other helpful and relevant resources? 
Take a look at how Zillow encourages its homeowner audience to share property-related data.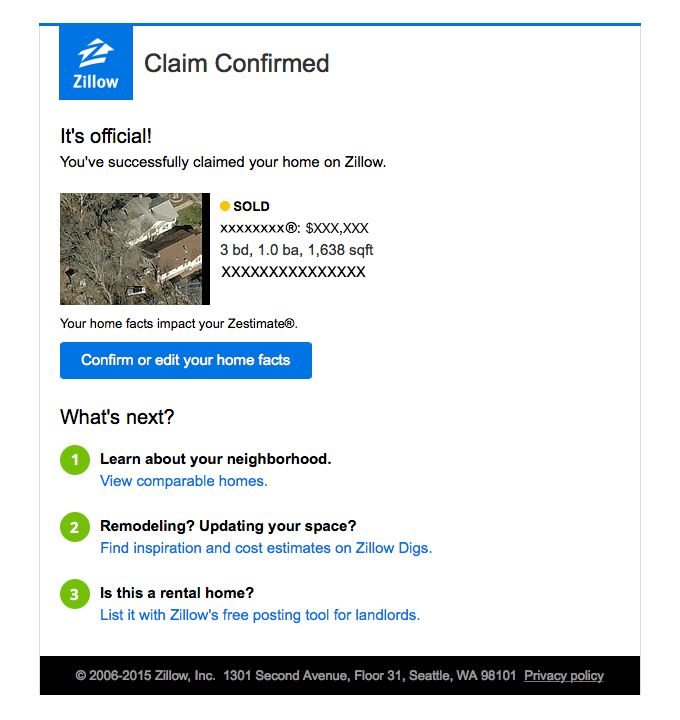 Actively collect reviews
Social proof is invaluable for your business and brand, so ask customers to leave a review after they've completed a purchase (when they are more likely to share feedback). Take a look at the message from Klarna, for example.

Be customer experience driven
A brand is more than a website, series of content assets, or logo, and is greatly tied to the experience you create for your customers — the way that you make them feel and the reputation that you create, as a result.
When communicating tactically with your audience, share additional content by linking out to helpful information. Overall customer experience matters.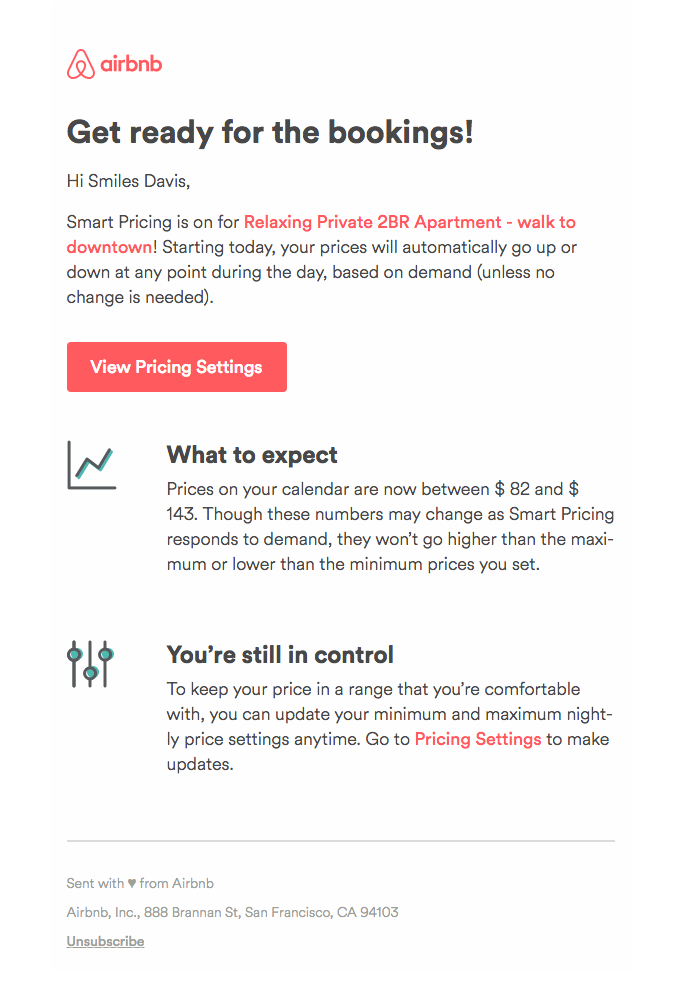 Last but not least
Transactional emails are the glue to your customer communications. Why not connect them into an integrated brand experience? Every interaction with your target is meaningful, and a successful optimization strategy uncovers ways to find value in unexpected moments.
Level up your marketing messaging with a chatbot for your brand. Sign up for a free trial with ManyChat.
Los contenidos de este blog han sido elaborados de forma independiente y sólo tienen fines informativos. Las opiniones expresadas son las del autor y no reflejan necesariamente los puntos de vista de ManyChat o de cualquier otra parte. Los resultados individuales pueden variar.