[Case Study] How La Catrina Drove $27,000 in Additional Sales with ManyChat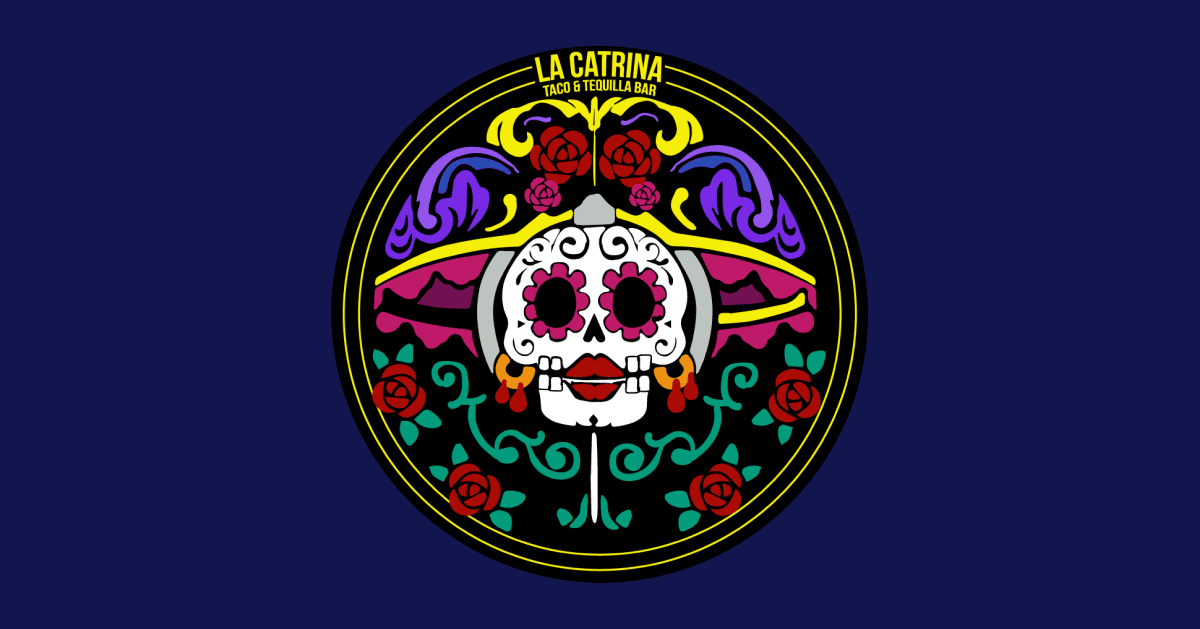 Overview
In March 2019, Francisco Valencia established La Catrina to dish out delicious tacos and tequila to the residents and tourists of St. Augustine, Florida. Over the past year, La Catrina became a local hotspot for the community—until the coronavirus pandemic hit and shuttered dine-in services.
La Catrina teamed up with Danny Monzon, founder of DM Digital, to carry out a mobile ordering and customer loyalty campaign to generate sales and reward the restaurant's growing customer base.
To reach more potential customers for the restaurant, Danny ran an organic opt-in campaign featuring lead nurturing and a loyalty program, which resulted in 245 new members and an additional $27,000+ in sales.
Results

The challenge
Prior to the pandemic, the restaurant promoted its dine-in services and loyalty program using ManyChat, which had historically generated excellent results. When COVID-19 hit St. Augustine, La Catrina wasn't fully set up to sell online. They needed a strategic way to arouse interest, implement online ordering, and drive sales for the restaurant.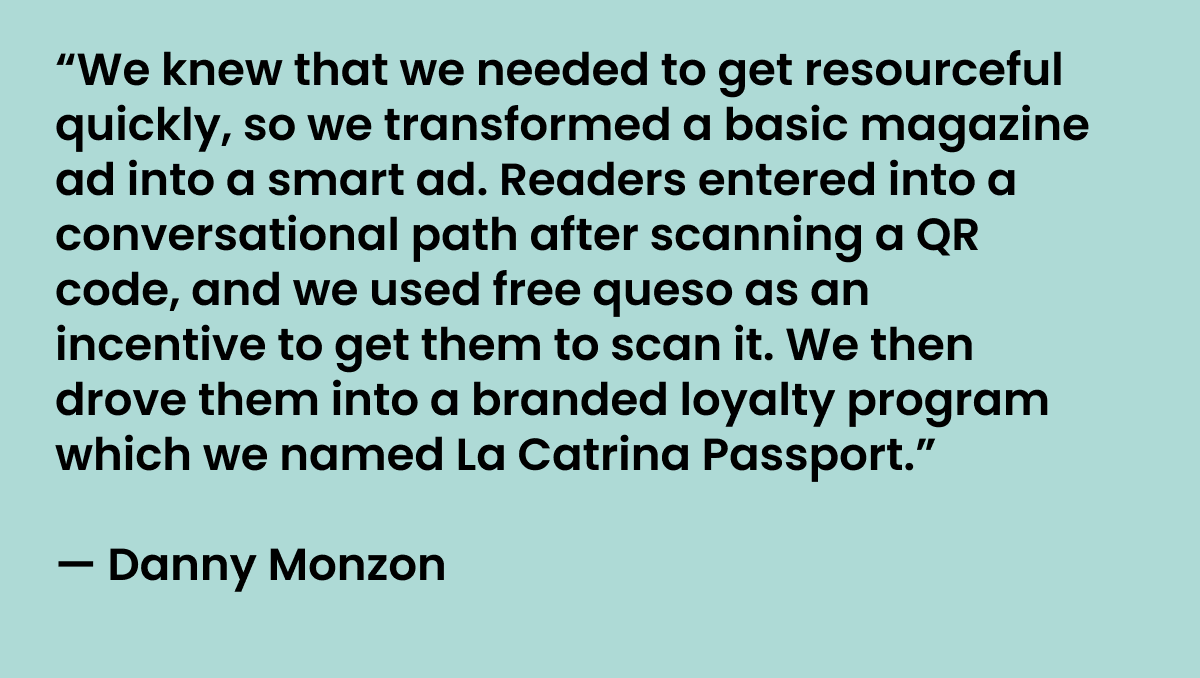 Their goal
La Catrina wanted to increase the number of online sales and attract new customers for its loyalty program, which offered high-value diners rewards for their patronage.
Approach
QR code in the local magazine – La Catrina was already running advertisements in a local St. Augustine magazine, which was working well. To get local diners into their Messenger bot, the restaurant included a QR code in their print ad. When readers scanned the barcode, they entered into a Messenger conversation with the business. From there, readers could check out the menu, place an order, or join the restaurant's loyalty program.
Contactless menus and mobile ordering – Since La Catrina was already using ManyChat to run their loyalty program, it was easy for Danny to add menu viewing and online ordering flows that guided potential customers towards an online purchase. Customers could pay with their smartphone using Google Pay, Apple Pay, or any major credit card.
Endless rewards for loyal customers – To recognize and reward active customers, La Catrina created an exclusive, tiered loyalty program that delivered different membership benefits for each level, including special promotions and deals. All members received a digital loyalty card for their mobile wallet, making it easy for them to use it and allowing La Catrina to send push notifications directly to a member's phone.
Real-time reporting – Many mom-and-pop restaurants struggle to attribute results to their marketing tactics. Using ManyChat and the mobile wallet, Danny helped La Catrina unlock their customer data and track campaigns, showing them which strategies generated revenue for the business and deserved a greater investment.
Ready to scale your restaurant? Learn how ManyChat can help you succeed.
How La Catrina Increased Sales by $27,000+ with ManyChat
Working with its Chat Marketing agency partner DM Digital, La Catrina developed a campaign using ManyChat to acquire new leads and manage their loyalty program. A Messenger-based loyalty program allows the restaurant to deliver the highest standard of service and safety, which enabled La Catrina to create a digital-first, contactless ordering system.
La Catrina's first step was placing a QR code in a recurring magazine ad to get potential customers into the Messenger bot, which would then qualify them as leads. It paired an interactive, conversational service with traditional media, resulting in an entertaining and more human experience.
The restaurant used ManyChat to nurture leads into two stages. The first stage exposed customers to a digital menu and introduced them to online ordering.
This phase helped La Catrina optimize their order-to-fulfillment process. The restaurant could now see when an order was placed and when the customer would arrive for pick-up, allowing employees to schedule appropriate prep time that would maintain quality standards, reduce wait times, and avoid congestion that interfered with social distancing.
The second stage welcomed customers into La Catrina's loyalty program. Once a new member joined, La Catrina gave them a digital loyalty pass they could store in their mobile wallet app. This benefitted both the restaurant and its patrons; customers could effortlessly unlock tiered rewards, and La Catrina could send special promotions and deals via native push notifications on members' smartphones.
The mobile wallet-based loyalty program gave La Catrina the channel it needed to contact customers, collect data, and send personalized loyalty cards and deals that would generate optimal results for the lowest average cost.
Conclusion
La Catrina's campaign, which began in May 2020, successfully brought in new members and generated sales for the restaurant, achieving:
240+ new members
An additional $27,000+ in online sales
1,034% increase in return on ad spend
Ready to scale your restaurant? Learn how ManyChat can help you succeed.
About the agency
DM Digital develops tailor-made loyalty programs designed to convert strangers into loyal brand ambassadors for established e-commerce brands and select brick-and-mortar businesses. It is also a ManyChat Emerging Agency Award winner, serving clients in the U.S. and Latin America.
Los contenidos de este blog han sido elaborados de forma independiente y sólo tienen fines informativos. Las opiniones expresadas son las del autor y no reflejan necesariamente los puntos de vista de ManyChat o de cualquier otra parte. Los resultados individuales pueden variar.