Conversations 2019: Everything You Need To Know About Agency Day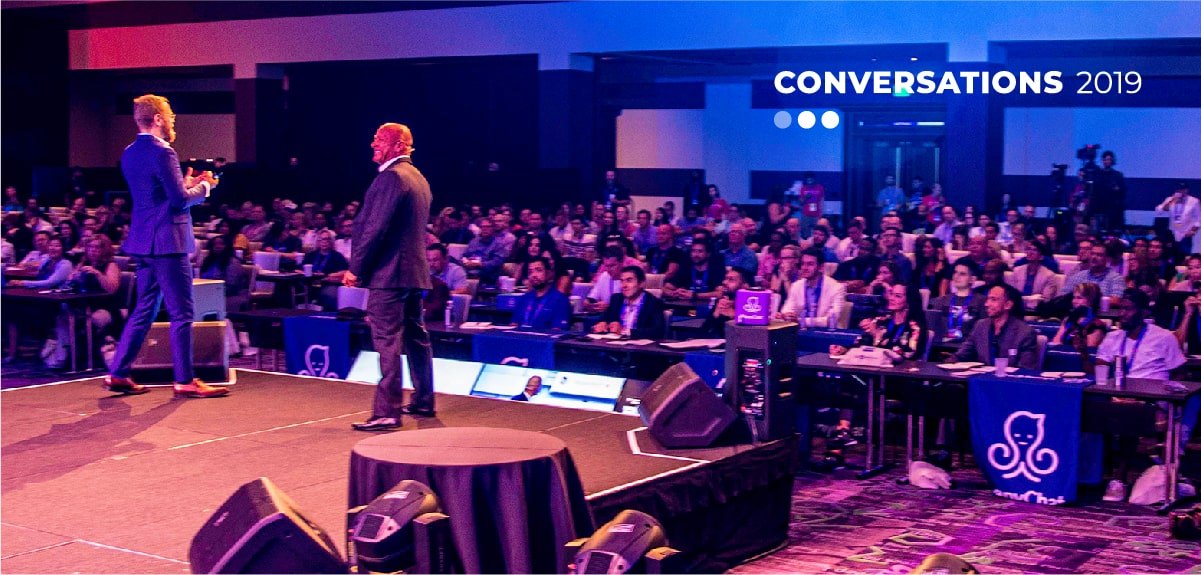 Well, well — Agency Day at Conversations this year was a blast! We welcomed some of the best Messenger Marketing agency owners who gave tips, best practices, and practical strategies you can put to use today to grow your business or agency like wildfire.

Along with that, we also saw two tributes to N*SYNC, an assortment of on-stage onomatopoeia, and a surprising story about waxing and Messenger (thanks, Mackensie!).

No worries if you missed it. Here's an inside look at Agency Day from Conversations 2019.

Mikael's Welcome
First up was our one and only, Mikael Yang, to prepare our agency folk on what's going down over the next few days. He welcomed Agency Partners from all over the world, including Croatia, The Philippines, The UK, and Costa Rica.

The theme was around the fundamental shift in how people connect with each other. There are over 500 million small-to-medium size businesses and contractors to service, with very little using Messenger and chat marketing.
Over 2 billion people use chat apps now because we live in a conversational age of marketing. As Mikael explained, it's not a trend or a get rich quick scheme — it's a change in how businesses communicate with their customers.

There are a lot of things we still don't know about chat marketing. How will it work on Instagram? WhatsApp? Or what will come of Messenger in the new year?

But as Mikael laid the law of the land for where we can take chat marketing, he pointed out one extremely important thing that applies to anyone who owns or markets a business:

Marketers need to embrace the change. The only way to continue growing is to not stop learning.

Nobody knows what will happen next, but it's your job to prepare. It's a part of your job description. Don't spend your time and energy projecting negative values. Look in the future, find the best possible scenarios, and work towards them.

Mikael Yang, CEO of ManyChat
Jason Swenk — Zero to Over 1 Million: How to Grow Your Agency
Next up was Jason Swenk dropping truth bombs and best practices how to grow your agency.

Jason set the stage with a tribute to N*SYNC and common struggles many agency owners face when trying to scale their business. They focus on getting referrals. They don't have processes in place. They don't have the know-how to close big deals. At some point in their journey, agency owners confront the idea of quitting and getting a normal job … which is exactly why Jason took the stage.

To encourage them to continue on. To motivate the group to not give up when times get rough. To be the resource he wished he had when starting an agency. In addition, he also shared the same system he used to take his agency from 0 to millions:

Clarity:

What's your North Star? What kind of clients are you going after? If you serve everyone, you serve no one. This not only helps bring structure to your agency, but also helps you become a better leader who can set the vision, mentor your leadership team, assist sales, and be the face of your agency.

Positioning:

To brand your agency, you have to tell a different story. Too many marketing agencies look and feel the same. Be specific in who you serve, what you do, and how you do it. Position yourself as an advisor and ask questions as you prospect new clients.

Offering:

Start by getting your foot in the door. Work on a small project together, then a bigger one, and eventually a monthly retainer.

Prospecting:

Focus on creating a content-heavy inbound strategy. And work to become a strategic partner channel for your clients.

Sales:

To seal the deal, follow the N-B-A-T principle:

N: Do they need what you can do?
B: Do they have a budget?
A: Do they have authority to contract you?
T: Is the timing right?

Brett Linkletter + Jace Kovacevich — How We Scaled Over 140 Restaurant Concepts and Built a 7-Figure Agency with Messenger Marketing
Next up at bat were Misfit Media Founders Brett Linkletter + Jace Kovacevich with a ton of energy, excitement, and examples of how they scaled a seven-figure agency in three years.

The truth is, being a "full-scale" digital agency doesn't work … ever. When you do this, you miss out on the opportunity to create one truly helpful product, and become an expert in one industry. The process they used to become a successful agency can be repeated by anyone.

Solve a problem with Messenger.

Find a niche. What financial problems can you solve for the industry? For example, the current state of restaurant marketing is grim. You can't measure marketing campaigns, tactics were unpredictable, and it takes a lot of time away from restaurant owners. Messenger helps solve those problems, and then some.

They really blew us away with the Misfit Hub, a place where their customers can see live campaigns, track success, average check sales, total revenue, and kind of like a Google Analytics for restaurant owners.

The "Flywheel Effect."

Jace encouraged us to adopt the Flywheel Effect Misfit used to grow so quick. It's essentially a system that feeds into itself to help grow the company.

It works like this:
You service a client.
Get a video review or testimonial.
Use those to create more marketing elements (ex: tweets, IG posts, video for ad).
Put more money into effective ads.
More sales.
More clients you can service.
The talk ended with a step-by-step way to create a seven-figure agency on your own. They make it look so easy!

Philippe LeCoutre + David Sambor — How to Make $3 Million in 1 Hour Without Crashing Facebook
The next gentleman to take the floor was a crowd-pleaser. $3 million dollars in 1 HOUR … what!? Needless to say, we all were wondering what the secret to this wizardry was.

And the secret to the sale was … well, two things; one, personalization. Two, omnipresence. Philippe and David used a combination of email, Messenger and Mobile Wallet to create a frictionless experience for users.
They also lent us some hacks so you can do the same:

Hack #1: Device detection. Metrics showed that conversions were higher for live events on a desktop. To make the experience frictionless, they ping'd mobile users and encouraged them to watch on desktop.

Hack #2: Time zones. People wanted to know when the event was happening where they lived. Exactly when it was for them. Users could pick their country and are sent a time based on their location which helped turn out.

Hack #3: Email match. Philippe and David were able to capture customer emails in ClickFunnels, and automatically sync it to other channels using Zaps.
Success came from the level of personalization put into the lead flow. Strangely enough, people actually enjoyed the customer journey and commented about how awesome the buying experience was. They spoke to the bot like a human being — which one would say is the benchmark of any bot flow being successful.
Matt Plapp — Gaining & Retaining Clients With Trackable Results! How To Use ManyChat To Prove Your Value
Coach, speaker, and totally badass Messenger Marketer Matt Plapp gave us a great lesson on how to gain and retain agency clients using ManyChat.
He explains to use that when coaching agencies, 2 big topics constantly come up:

Importance of a Niche — how one allows you to focus.
How to prove your work — how do we know what we're doing is working.
If you don't retain clients, you're constantly finding new ones and that takes time and money. Learn how to say no to the wrong clients.
Results — people don't stay with you if they don't see results. People don't go to your restaurant if it continues to suck.

Matt Plapp, The ROI Engine
Matt also helped us get a little introspective for both ourselves and our clients. What's the reason clients want to work with you? What are their goals? Agency owners need to understand success in their clients' eyes and set up expectations.

Carrie Gottschalk — How TEDxMileHigh Saw 5X ROAS by Using ManyChat to Assist in Ticket Sales
Carrie took the stage to show us a real-live example of a Messenger Marketing strategy that proves itself over and over again. While Carrie's bread and butter is events marketing, her concept can be successfully applied to any business.

Here's what we learned from Carrie to implement into our business:

Tease the Pre-Sale Discount. For example, we'll be releasing a limited number of discount tickets to our next event! Sign up now…
Pre-Sale Lead Generation. For example, the sale is live now! Message us to receive a special discount on your ticket. Add in a contest for something of low cost, high value for lead generation and you're golden.
General Pricing. Send a "purchase your tickets now" broadcast. Add extra value by including event and speaker highlights.
Urgency. Right before an event, create scarcity and let your subscribers know you're close to selling out.
Carrie kept it simple for us to understand and implement today. Another key takeaway we learned from her was to make sure your bot is informal and inviting.

Marketers have a tendency to ruin everything. We don't want to be too bot-y or too sales-y. Informal text, for example, 'I just wanted to pop in here and tell you …' helps the success rate of your campaign.
Paul Baron — How to launch and rank #1 on Amazon in 2 weeks
Paul Baron took the stage next, and he laid out how you can launch and rank an Amazon business. He left us with some pretty great tips on how to make it happen:

If you take the "buy this product and leave a review" approach, you risk getting shut down.
It doesn't matter what you're doing or why, what matters is what Amazon thinks your doing.
A great product + great brand + raving fan list = guaranteed success
Amazon is always changing, owning your lists lets you adapt
And probably the most important thing to remember when selling on Amazon is

Amazon owns the customer, not you (or the seller). Own your list. Use a ManyChat bot.
Lightning Round 2: Matt Leitz — 8 Automation Secrets to 8-Figures (and Beyond!)
Matt Leitz, Founder of BotBuilders, took the stage to coach us all on how to (eventually) take an automation vacation. But first, we had to learn the secrets to using automation to grow and sustain an agency.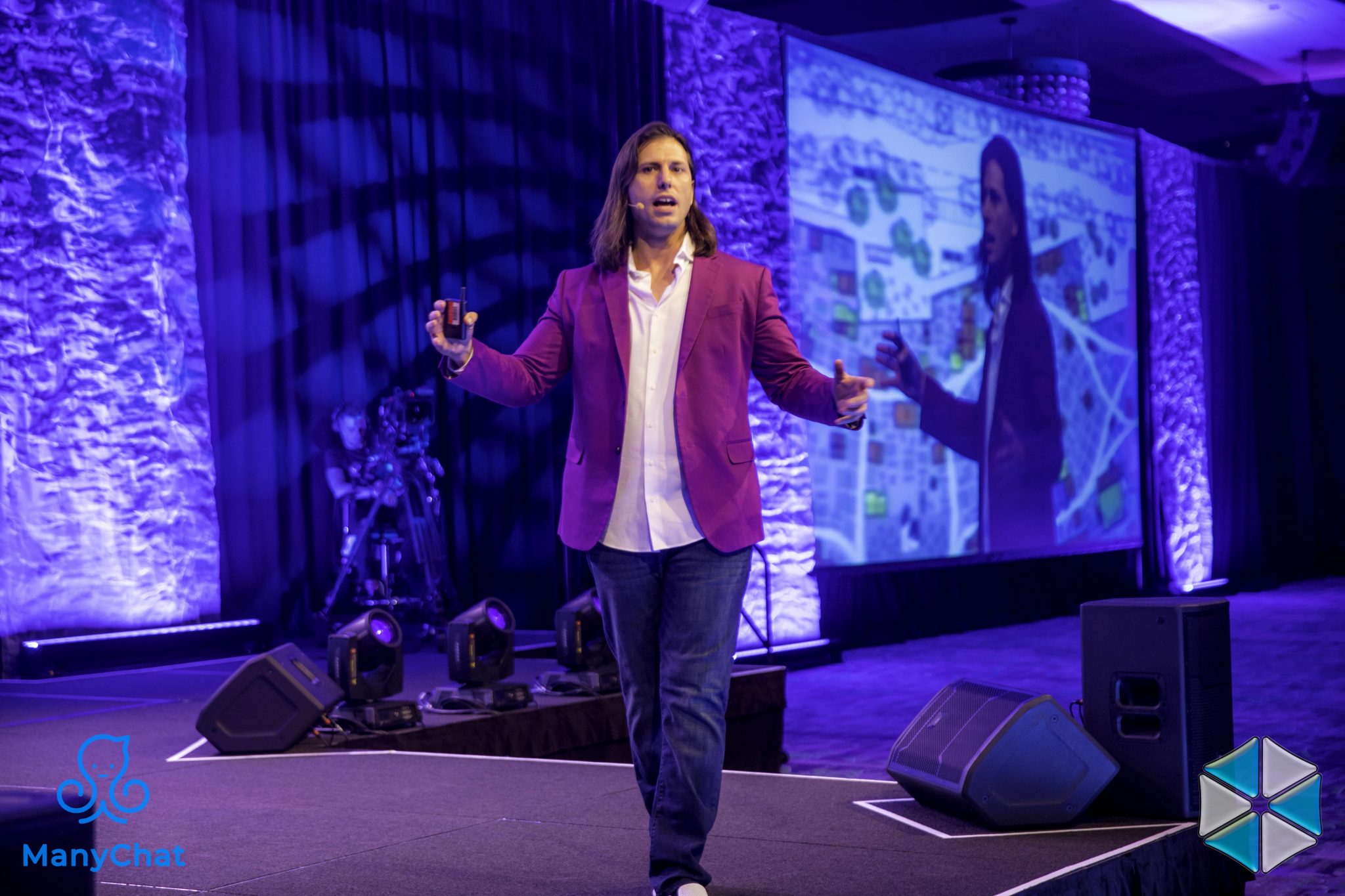 1. Segment like never before.

With one click, you can segment like never before. And better segmentation means more sales.

2. Messenger loves email.

When you work with a new client or set up a bot for a new business, always do an email blast to bring everyone into the bot. Because, in Matt's own words:

Messenger and email go together like peanut butter and jelly.

Matt Leitz
And I'm hungry. Think about it, if someone clicks through your bot and an hour later they get an email — your conversion will be much higher.

3. Maximize your money flow.

It may seem like a no-brainer but focus on the flows that bring you traffic. Are your flows not very profitable now? Here's a strategy you can follow to start making money for you and your clients.
Run ad.
Get people's info.
Find out what they know about the topic.
Figure out their interest level.
Educate them.
Set up an appointment.
At this point, the sale is basically being handed to you on a silver platter.

It took me weeks to build this one flow. But if you can generate millions of dollars for clients, is it worth it? Yes.

Matt Leitz
4. Build your "ATM" – Automate Triple Monetization.

It's difficult to spend money on advertising. But here's the trick — if you spend $1 and make fifty cents, you won't spend a dime on more. Say you earn a buck fifty off a dollar of ad spend, how much will you want to spend? As much as you can!

Traffic → bot → Messenger and Email and Retargeting. Matt reminds us that you need to have a multi-channel follow up with leads in order to recoup your cash.

5. Power to the People.
Don't depend on your bot to make every sale. In fact, Matt delivered a healthy reminder that a large percentage of sales should come from a human being. Your bot sets it up for you on a silver platter.

The highest ROI of an individual you can hire is a job like this [a bot builder]. This is the low hanging fruit of WHO should I bring on my team.

Matt Leitz
As marketers, bot builders, and business owners — remember the key rule: Don't be pushy, offer value.

6. Always make it viral.
Free referrals are the best traffic. ManyChat has a TON of share features available. Use them at the end of any flow of value.

7. Automate your fulfillment.
Once you get a lead into your flow, walk them through getting to their goal step-by-step. Pro tip: Messenger bots are excellent at this.

8. Cheat whenever possible.
Omg, did you say cheat?

Yes, we did. An entrepreneur your goal is to cut corners on time, not money. Build a framework that has profitable flows and integrations. In the wise words of Matt, if you can get a shortcut, take it. We're using automation so we can be free.
Is ManyChat the best bot platform in the world? Hell yea, that's why we're here.

Matt Leitz
Industry Panel: Mackensie Liberman, Matt Leitz, Mary Katherine, Gustavo Boregio
Next up was an extremely enlightening and inspiring panel with some of the finest Messenger Marketers around. We were happy to learn a few things:

Mackensie likes to talk about (and sell) Messenger Marketing services even while shes getting waxed.
A conversion calculator can help you seal the deal. It shows weary business owners how profitable a Messenger Marketing strategy could be.
The less time you have, the more you charge. Don't be afraid to raise your prices — you'll get people who say no, but there will also be people who say yes.
Always show the ROI you can get your clients. They just want to make money.
Go after bigger fish, and find where you can provide value. You don't have to stick to one geographic location. Even if you work with local businesses, you can find higher-paying clients around the world. All you need to do is show the results (cough cough, ROI) of your work.
Use your book of contacts to find new clients. Tap into friends, family, that random LinkedIn connect, and your past colleagues to connect you with their company's marketing or sales department.
Oliver Billson — Zero to $300k MMR: 6 growth activators for recurring revenue riches
We were happy to welcome back Oli Billson to take the floor again at Conversations 2019. He always brings a ton of energy, and great news — he's finally married after 16 years of being engaged! Congrats, Oli.

Oli also had more exciting stuff to share with the Agency crew on Day 1 as well. How to go from zero to $330,000 a month. And, surprise, it takes a little bit of bulletproof business planning.

Here's what we learned from Oli's talk on recurring revenue:

Identify your purpose. What does your agency stand for? What are your client success principles? Make sure your clear on goals for both you and your clients, and check-in on them each month to stay on track.
Monitor the right metrics. Measure your monthly recurring revenue (MRR), customer lifetime value (CLV), and customer acquisition costs (CAC).
Client happiness is the backbone to a successful operation. Survey your clients. Focus on their evolving needs. Stay confident, connected, and inspired.
Create a profitable inbound selling system. Maybe with some automation tips from Matt Leitz above. Plus a mixture of Facebook ads, Messenger, and SMS.
Hire A-players. Use Facebook Messenger ads to target people based on demographics and their situation. It costs a fraction compared to going through a hiring agency.
Build a business within a business.
Monthly membership, digital products, coaching programs, online program. Members don't buy these ascension ladders anymore. People don't buy features — they buy value and outcomes. They [members] buy solutions to problems that help them achieve success

Oliver Billson
Upward and onward
Wow, what a day. And this was only the beginning. Tune in over the next couple of days to get more updates on what's going on at Conversations this year.
Loved Conversations 2019? Sign up for exclusive pricing and updates for Conversations 2020.

Los contenidos de este blog han sido elaborados de forma independiente y sólo tienen fines informativos. Las opiniones expresadas son las del autor y no reflejan necesariamente los puntos de vista de ManyChat o de cualquier otra parte. Los resultados individuales pueden variar.