6ft6 Wine's simple Instagram giveaway that secured 1,295 leads in 12 days with $0 ad spend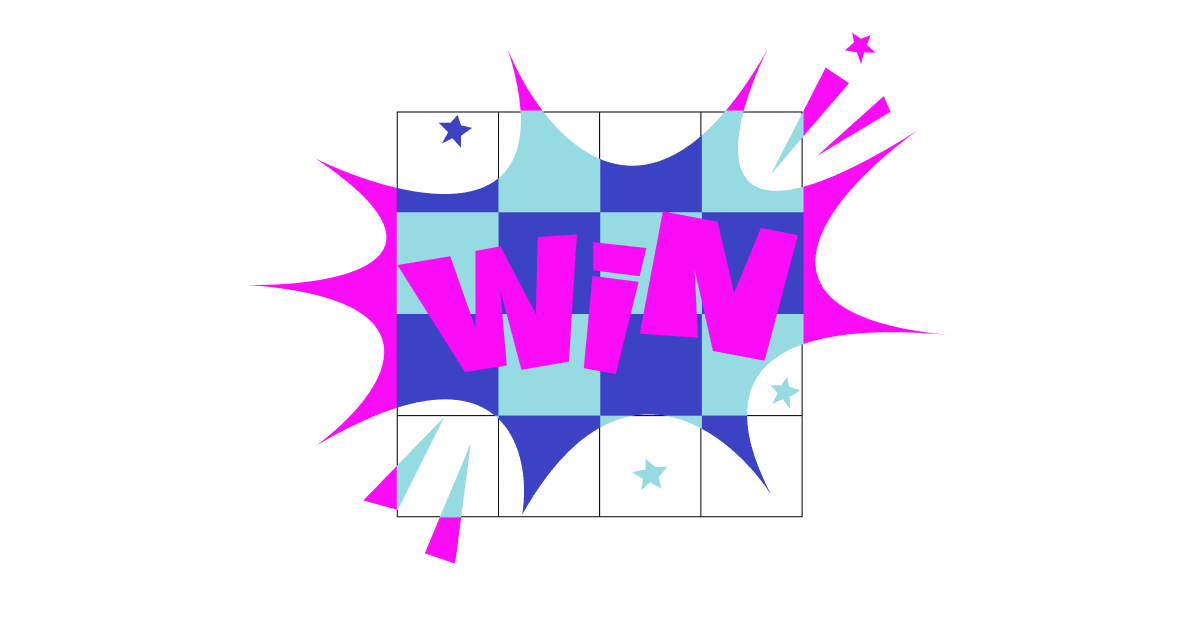 Are you hungry for a smart way to attract 1,000 or more quality leads and boost your engagement by up to 1,200% without running costly Instagram ads?
Then an Instagram giveaway, paired with Instagram DM Automation, could be the answer.
In fact, according to Tailwind, an Instagram contest or giveaway can help you grow your followers 70% faster in three months than if you don't run one at all.
In addition, of the Instagram accounts Tailwind studied, 91% of the posts that received 1,000 or more comments were Instagram contests.
So, if you've grown weary of the "like, comment, share" prompt with no real way to track leads, then using this easy 12-day giveaway strategy from 6ft6 Wines and their agency, Chat Response, is what you've been searching for.
Overview
6ft6 Wine – a boutique wine brand based in Moorabool Valley in Victoria, Australia – makes the majority of its sales through 2,000+ stockists across Australia.
In a competitive wine market, 6ft6 Wine strives to maintain relevancy and be front of mind for customers looking for delicious, locally produced wine.6ft6 partnered with Melbourne-based Chat Marketing agency, Chat Response – which specializes in Manychat builds for eCommerce, events, and hospitality – for this 12-day campaign.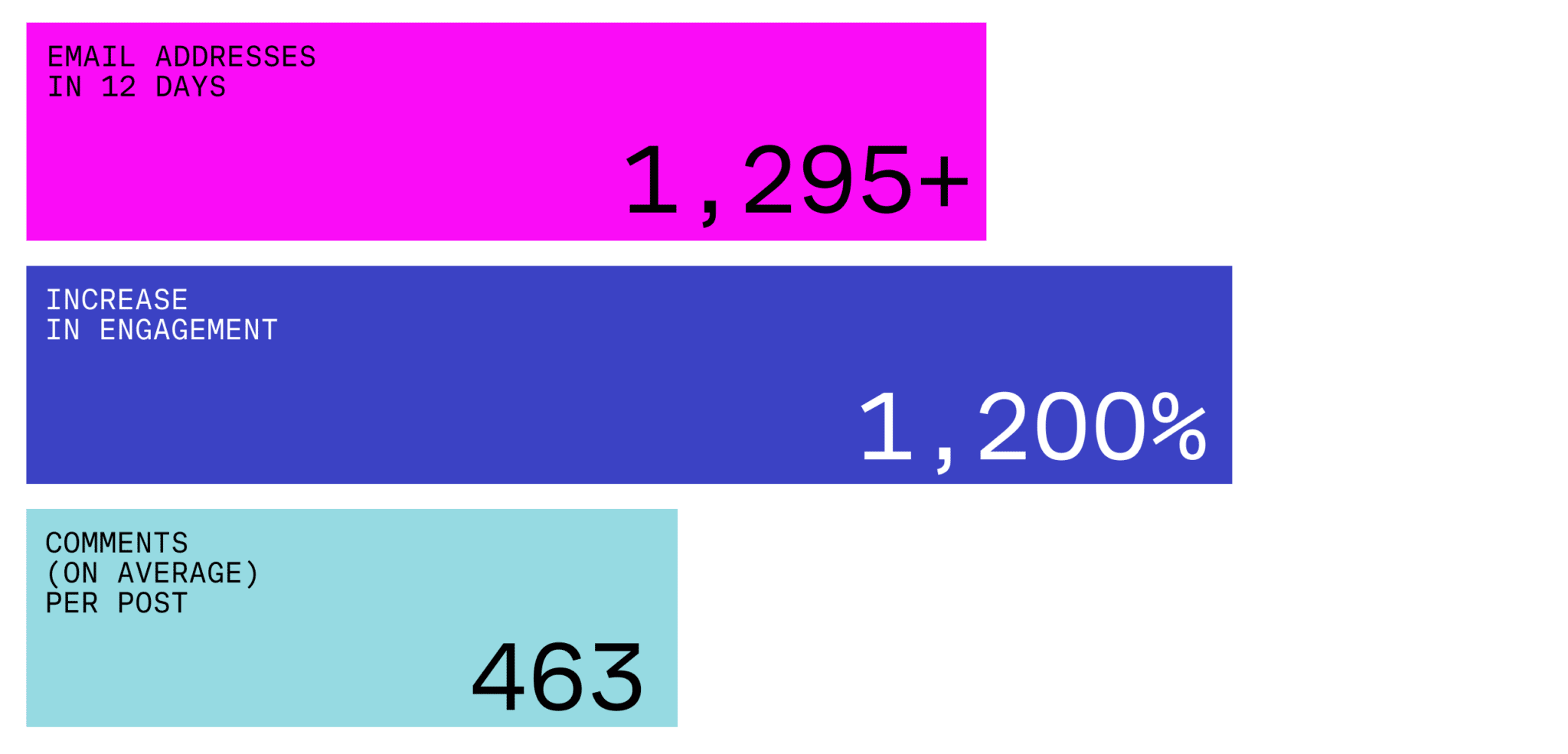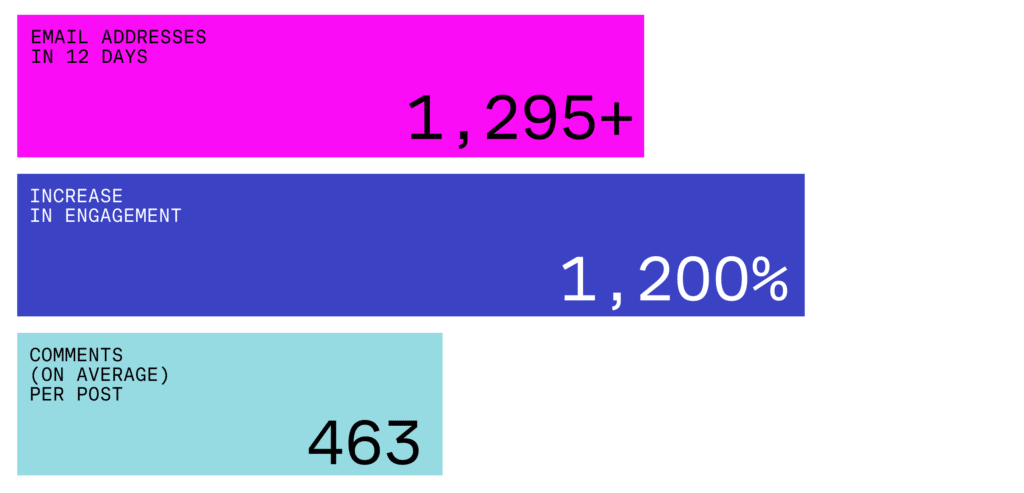 1,295 email addresses in 12 days
1,200% increase in engagement
463 comments (on average) per post
… All with $0 ad spend
The challenge
In order to help drive brand awareness and maintain its engaged customer base, 6ft6 Wine collaborates with local businesses – looking for innovative ways to increase their awareness and reach, and support the business community.
"They even sought community input to name their chat assistant, Chardy B," says Chat Response founder, Dan Pinne. "And they had a sister brand, Austin's Winery, that was well-known in the Bellarine area."
These collaborations and grassroots connections helped them create a 12 days of Christmas giveaway.
"They were getting customers to leave comments on Instagram to enter the 12 days giveaway," explains Dan.
"We helped them capitalize on it and produced meaningful data and results for the business using Manychat."
The goal
Chat Response's goal was to capture email addresses of entrants so the 6ft6 team could nurture them within their funnel.
By utilizing Manychat, 6ft6 Wine could capitalize on simple entry points, such as comments and Instagram Story replies, to start a conversation in Instagram DMs.
"Because the competition ran daily for 12 days and only used organic posts, it was a low-risk and low-maintenance solution that didn't need a new landing page, competition systems, or complicated funnels," says Dan.
The family-owned wine brand wanted to track all interactions from the giveaway and record the data in a Google Sheet to measure and report on later.
"Our main objective was to gather meaningful, relevant data throughout the conversation and attribute source tracking, so we know where the lead entered from," adds Dan.
The strategy
Initially, 6ft6 was going to gather Instagram giveaway entries using the call to action of 'leave a comment to enter'. Chat Response explained that Manychat was able to easily capture entrants' data so they could build a robust email list.
For each of the 12 days, 6ft6 would post the prize and the prompt to enter the giveaway on Instagram.
To enter, users had to:
Leave a comment on the post, tagging two friends
Follow 6ft6 on Instagram
Confirm their entry in their DMs via Instagram DM Automation
Manychat was set up to reply to all comments on each daily newsfeed post.
The automation asked for each entrant's name, email address, and state. It also checked if they followed 6ft6 and prompted them if they didn't, and confirmed if they'd previously entered that day's competition.
The post was also shared to stories, where they could send a reply with the keyword "XMAS" that would trigger the flow.
The results
Over the course of the 12 days, 6ft6 Wine gathered 1,295 email addresses, with a whopping 80% of them being new subscribers.
By gathering entrants' postcodes, 6ft6 Wine was able to encourage leads to use the store finder functionality that Chat Response built within Manychat so they could find the nearest 6ft6 stockist.
Key takeaways
In addition, each post generated 463 comments on average, resulting in a 12,000% increase in engagement – all with $0 ad spend.
"Next time we run a competition on Instagram, we'll also use Instagram Recurring Notifications," says Daniel.
"This is so we can follow up with entrants and have them perform different actions, such as find their local store, opt-in for current offers, and update their contact details to create accurate customer profiles."
The contents of this blog were independently prepared and are for informational purposes only. The opinions expressed are those of the author and do not necessarily reflect the views of Manychat or any other party. Individual results may vary.
Los contenidos de este blog han sido elaborados de forma independiente y sólo tienen fines informativos. Las opiniones expresadas son las del autor y no reflejan necesariamente los puntos de vista de ManyChat o de cualquier otra parte. Los resultados individuales pueden variar.